Wales is a country bursting with ancient culture and beautiful landscapes. It is home to a vibrant people, who are intensely proud of their heritage. It sounds like the perfect place for many a traveller to visit – so why then, has it long struggled to attract foreign tourism?
In 2017, more than one million trips were taken to Wales by overseas visitors. This very modest 0.5% increase on 2016 was accompanied by a steep drop in international tourists' spending – down by 17% from £444m to £369m. These figures were in sharp contrast to London (up 14% to £13,546m) and Scotland (up 23% to £2,276m).
Dwelling too much on this disparity – when both London and Scotland are better connected and internationally more visible – would be a self-flagellating enterprise. But Wales may have expected better after a £5m Welsh government spend on a "Year of Legends" marketing campaign. Putting the heritage of Wales – its legends, landscapes and castles – at the fore was meant to highlight some of its unique selling points.
But while the nation tried to market its "Welshness" abroad, at home it was confused as to what this even meant. Proposals including a giant "iron ring" sculpture at Flint Castle and a nostalgic flirtation with marketing Wales internationally as a "principality" were met with anger and accusations that the devolved government had forgotten the very history it was trying to sell.
Sadly, however, none of this is a new problem – Wales has been struggling with foreign tourism for decades – and it is largely down to this disconnection.
Years of failed promises
During the 1970s and 1980s, Wales's share of the total amount spent by international visitors to the UK never hovered much higher than about 2%. Then as now, focusing on heritage and culture was seen as a way of addressing the changing tastes and trends which had eaten away at the traditional rural and coastal resort market.
Much has been made of the series of themed years which began in 2016 with the "Year of Adventure". But Wales has also done this before: 1976 was the "Welcome America Year" while 1983 was the "Year of the Castles". What was intended as an unproblematic tourist promotion, the year of castles actually became a matter of some controversy in Wales – the castles were mainly built by invaders leading some to criticise it as a celebration of the 1282-3 conquest of the native principality of Wales, and its subjection to the crown of England.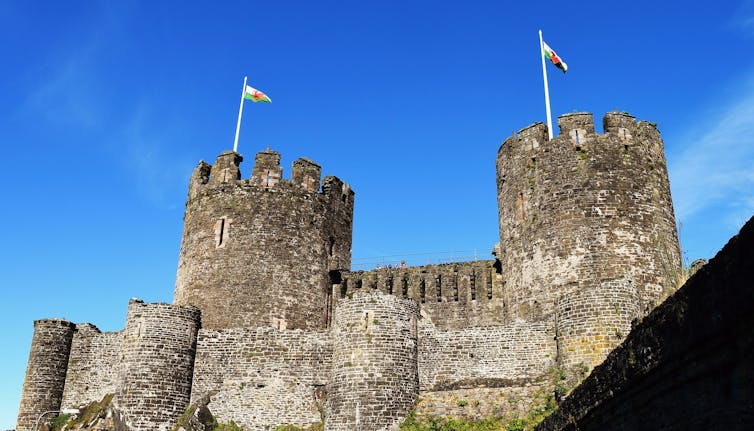 Nevertheless, the plan went ahead, with a year-long festival – Cestyll '83 (Castles '83) – at its heart. Though directed and publicised from above, it largely relied on the action of local authorities and voluntary organisations. The only directive was that any activities – from charity pram pushes to medieval pageants – should "take place in or near a Welsh castle". The Wales Tourist Board would eventually claim that some 200 events in Wales during 1983 were inspired by the festival.
Festival of shame
Using a castle-shaped stand, the festival was launched at the World Travel Market in London in December 1982. This was followed, at the end of February 1983, with a domestic and royal launch attended by Charles and Diana, the Prince and Princess of Wales, at Caerphilly Castle. Like all commemoration it had a whiff of self-congratulation and a gratuitous swagger. It was also all too easy for the Wales Tourist Board to slip in that the festival was a celebration of the seventh centenary of the building of some of Wales's most famous castles – such as Conwy, Caernarfon and Harlech – all of which were built by Edward I to secure his conquests.
As a result, the festival was dubbed a "festival of shame". Modern grievances were transferred onto Edward's castles. Weren't these, questioned some, the first English holiday homes in Wales?
That's not to say it wasn't a success – on the commercial side, the increase in visitors and buzz it created played a key role in the establishment of the government's historic environment service CADW to maximise the tourist potential of the country's heritage. On the cultural side, it highlighted that the medieval heritage of Wales could not be treated as unproblematic. While making mistakes and forgetting its history might be an indicator that Welsh nationhood is alive and kicking – under French historian Ernest Renan's famous definition of what makes a nation – the castles of Wales remain saddled, it would seem, with a heritage which is both a blessing and a curse. In the present as in the past, Welsh castles have been a source of conflict and cultural exchange.
Tourism may be about commodifying locations – but if Wales wants its own people on board it needs to ask itself what it wants from the country's heritage beyond potential economic gain. Locals and long-distance travellers might pay more attention to the country if its public history was known for its debate and controversy – and not as a bland footnote to English and British history.
Either way, Wales needs to come up with a solution that both the Welsh agree with and foreign visitors can engage with. The ongoing disconnect is evidently doing nothing to sell the nation to the world.