Could the unthinkable be happening? That there is actually a conversation going on about the election, and that it is happening between the Media Panel right here at The Conversation and Col Allan himself? There are too many coincidences. Since Monday our articles have been characterising Col as a Lieutenant, Five Star General, Col Pot, and Murdoch's hard hitter. Could the Hogan's Heroes front page in the Daily Telegraph, depicting Kevin Rudd as Col. Clink be a gesture of externalising his own image and not a parody at all?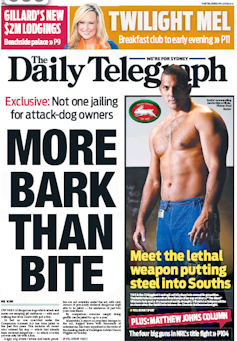 Yesterday, I suggested that Col Allan's strategy of going really hard against Labor in Western Sydney might backfire. Readers might not buy into such a blatant offensive, and identify with Labor as the underdog, in the midst of its attempted humiliation by the paper. Perhaps Col is out of touch with Sydney? He edited the paper in the 1990s and has reportedly criticised the Tele for not having enough punch in his absence.
Today, after 4 days of hard hitting against Labor, there is not a trace of electoral politics on today's front page, nothing at all. Could the Media Panel be shaping News Corp's editorial strategies in Sydney?
It is a shame however, that today's front page has been distracted by a dog-attack story and the beefy torso of the Rabbitohs' latest recruit. There is an election campaign happening and getting some policy coverage out there, and scrutinising both major parties really is a missed opportunity.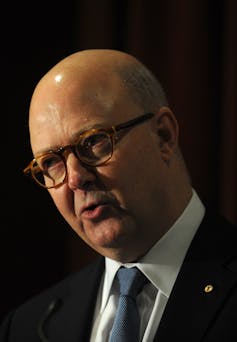 In February, News chief executive Kim Williams told Lateline that News was being targeted by Conroy's media reforms, which he viewed as lacking "public responsibility". At the time, the Daily Telegraph had just put out yet another infamously collectable front page comparing Senator Conroy to Stalin and Mao Zedong.
The battlelines between Labor and News Corp were really being defined back in February and March. This makes it all the more remarkable that it is Kim Williams who has just announced his resignation from News Corp in the last hour, in the midst of the opening salvos of such a malicious tabloid election campaign.