Serena Williams creates a stir in the crowd. There is a buzz in the stadium as she is expected to emerge from the rooms out to the net. The excitement is not related to her skill, talent or professionalism: it's about what she'll wear next.
Tennis has shifted. What used to be an elite sport embedded in a history of rules about what not to wear and has become a domain for style expression.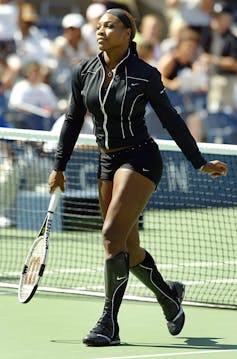 Dressing to win
It is vital in the modern game that players establish their own advantage in any way possible. I watch with interest the popularity of the Williams sisters' style, the confidence they exude as they enter the court with a visual representation of the lioness about to take its prey. An "I don't give a damn" attitude exudes from every seam – "I will wear what I like, how I like it and you will just watch me."
Like a belligerent teenager who argues when a parent says "you are not going out wearing that", their attitude screams "try and stop me". The scene immediately becomes confrontational; Serena and Venus are the provocateurs.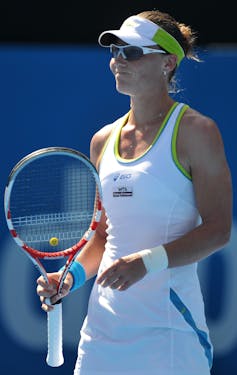 The development of tennis fashion has become a force to be reckoned with as part of the psychological edge a player exploits.
Discussions of fashion choice centre almost solely on the female athletes of this premium sport. Rarely do their male counterparts garner the same level of public or media interest with regard to their sartorial decisions. Whether it be dinner party conversation starters or social media channels, the public has become the commentator as discourse flourishes on what they like and dislike.
That could be the overt sensuality of Caroline Wozniacki, Ana Ivanovic and Maria Sharapova, the independent style of the Williams sisters or the traditional interpretations of Sam Stosur and Li Na.
A sponsor's paradise
The current trends in tennis fashion are perpetuated by the influence of media and sponsorship. It's a sponsor's dream as the media congregate to capture the moment a female tennis player walks onto the court. The more provocative, outlandish and visually challenging her outfit the better, because their logos will be beamed across the globe onto a television screen or front page newspaper near you.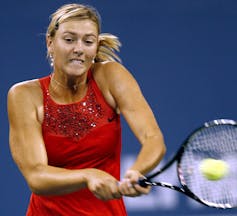 The proliferation of visual imagery that constitutes modern media means the days of all-white, traditional garb no longer have resonance. To gain significant attention outfits need to be bold with a healthy dose of daring.
Maria Sharapova may not have defended her US Open title in 2007, but she won the hearts and souls of her sponsors as her Nike dress encrusted with 600 Swarovski crystals, inspired by the Manhattan skyline, was showcased by outlets across the world.
Courting controversy
Tennis has always been at the forefront of provocative fashion. As the sport rose in popularity in the 1800s women wore long white dresses, mimicking the fashions of the day. Bustles and petticoats were the norm on the courts. In Patricia Campbell Warner's book When the girls came out to play: the birth of American sportwear, former player Violet Sutton reminisced about professional tennis in the early 1900s:
"It's a wonder we could move at all. Do you want to know what we wore? A long undershirt, pair of drawers, two petticoats, white linen corset cover, duck shirt, shirtwaist, long white silk stockings and a floppy hat. We were soaking wet when we finished a match."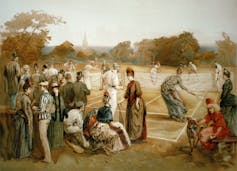 All-white clothing was established as a rule in tennis fashion, born out of practicality and a direct response to being the best colour to avoid visual sweat marks. All-white attire became a symbol of the superiority of tennis as a society sport.
More recently, practicality has reigned over protocol. Skirts have been shortened, petticoats shed and lighter fabrics adopted. As each of these adaptations was embraced, they created a stir not unlike what we see today. In 1919, Suzanne Lenglen won Wimbledon in a knee-length dress with three-quarter sleeves and a bandeau. Women reportedly walked out, calling the display "shocking".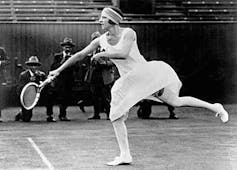 Standard tennis controversies over women's tennis fashion were turned on their head in 1985 when Anne White wore a white unitard to distract opponent Pam Shriver. The outfit covered White from neck to toe, but nonetheless left little to the imagination.
But in 2012, the icons of tennis style are Serena and Venus Williams, spearheaded by Serena in 2002 when she entered the courts for the US Open wearing an outfit described by journalist Lauren Murrow as a "shiny, skintight black bodysuit: the infamous 'catsuit'." Ten years later at the Australian Open, her fashion choices are still making headlines.
Traditional tennis whites are gone forever. Now we eagerly anticipate what Serena will wear next.