A Riverdance troupe vibing their "dancey energy" to win the lottery, marriage as market research, the tender witnessing of a lover's last breath and a raunchy female take on James Brown's Sex Machine – these were potent highlights of the improbable union of two art forms (dance and radio) that "have no business being together", according to the eponymous Radio Host, Ira Glass. Not that the audience at the Sydney Opera House cared.
Over two hours, the host of the legendary radio show and podcast This American Life seduced his fans with confessional ruminations that segued into tightly produced audio clips – but this time the classic radio three-act structure was ratcheted to another level by the verve and personality of dancers Monica Bill Barnes and Anna Bass.
The pre-produced audio content was trademark Glass: a mixture of whimsy, intimacy, reflection and revelation, where life's big and small moments are captured via intensely personal storytelling. A teenager recalls the excruciating mating rituals of the school dance. A poet describes ministering to his dying wife as "she stared silent goodbyes".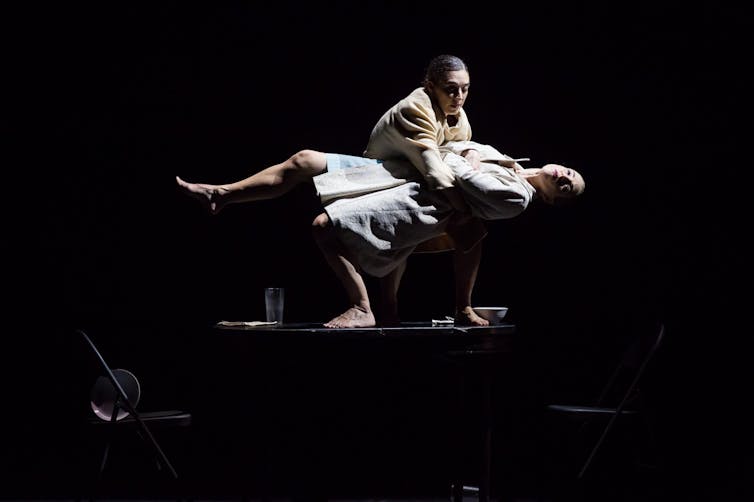 Both these scenes lent themselves powerfully to the interpretation of dance. In the former, Barnes and Bass recruit audience volunteers for a glitzy, bopping prom, while the latter has the pair spotlit on a table, a moving tableau of the aching slowness of death.
What was different was that Ira offered a meta-narrative to accompany the clips. In one segment from the 1990s, a stiffly correct salesman uses marketing techniques to test how his marriage is working, by holding a focus group of one with his wife, "the customer".
Ira riffs off this incongruity to reveal compelling truths about his own marriage (at an all-time low three years ago when the show started, but much better now) and chides himself: "the gap between my feelings for my wife and my ability to express them has been pointed out". It's a poignant moment that further bonds him to the adoring crowd, because after all, he notes, "on the radio, I play a sensitive guy".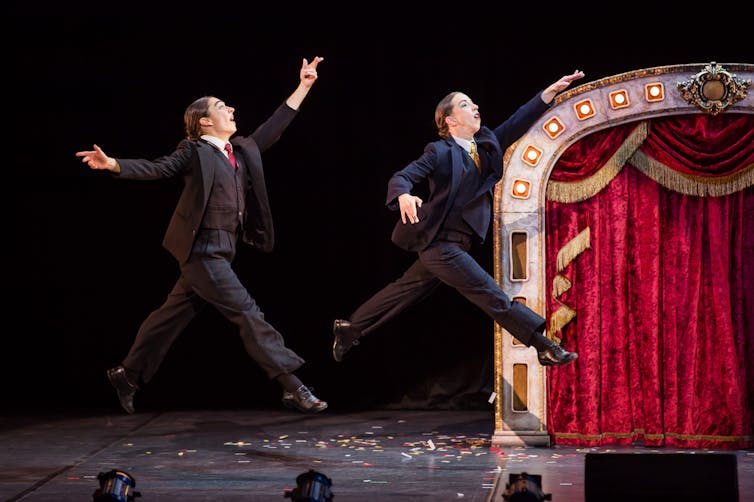 Over the show, Monica and Anna's perspectives emerge through carefully choreographed interview audio, deepening our appreciation of what they bring. "Is dancing while balancing a chair meant to be impressive – or sad and desperate?" "I'd rather not say", comes the riposte. What Ira makes clear is that all three share an urge to be real about interpreting the real feelings of real people through their art.
When Ira launched his show over twenty years ago, his mother begged him to be a doctor instead, or at least work in television. Much has since been written about its extraordinary success, and that of its spin-off, Serial. He made sly references to both, asking people who had never heard of him but been dragged along on a date, to raise their hands. "You totally deserve sex for this," he tells them.
A bout of mood-altering animal balloon making leads to a chat about blow jobs and he informs us approvingly that his Melbourne audience instructed him to use the term "head job" instead. By this stage the Argentinian woman beside me is lost. "What is 'dick'?" she asks me – a word he has used six or seven times.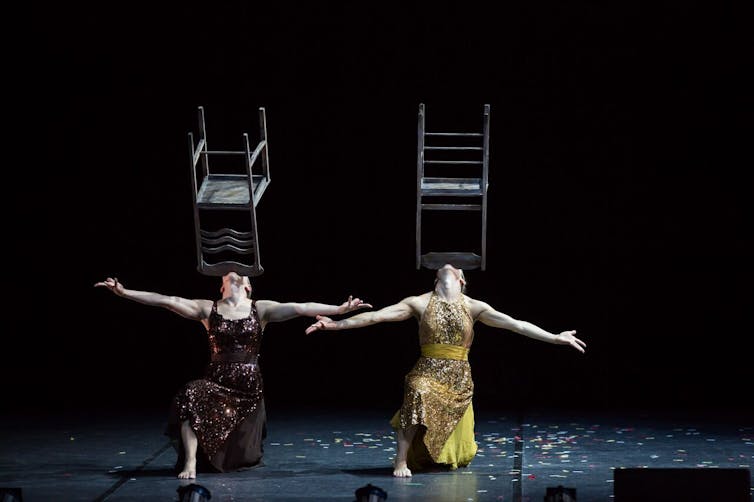 Not everyone enjoys This American Life's now formulaic style. A survey I conducted of experienced radio and podcast producers revealed that many were fed up with how podcasting had enabled the show to colonise narrative storytelling outside the US. One Australian respondent wrote:
An unbelievably boring set of Ira Glass-alikes have invaded and crap on endlessly about story-telling … they over-insert themselves into any story, use that choppy me-them-me them editing technique.
US radio scholar Jason Loviglio wrote in Public Radio, This American Life and The NeoLiberal Turn,
The program's genius lies in its oscillating currents of empathy and interiority, emotional depth and disjunctive irony, journalistic precision and self-indulgent memoir.
But he also slams it for pandering to an affluent, educated post-liberal generation's preference for "connection" over political commitment and nuanced analysis of sociological dilemmas – what he sees as "the exchange of political faith for a gauzy commitment to human 'complexity'."
"Making a show is an act of faith", Ira told us. Judging by the whoops and cheers, by elevating personal storytelling through the sparkle and physicality of dance, he has found his true believers.