Each year, the Academy's announcement of Oscar nominees leads to an inevitable public outcry. Critiques of the Academy Awards' lack of diversity have become a well-rehearsed response to the revelation of nominees. Last year, I wrote an article about the white, male face of 2015's Academy Awards and the frustrations it evoked – and, at first glance, it seems like a very similar story can be told about this year's event.
When the Academy of Motion Picture Arts and Sciences presented this year's nominees on January 14, we were, predictably, presented with a homogenous group of predominantly white, male contenders across all categories. The all-white line-up of this year's acting nominees is perhaps particularly noticeable – but considering that only 8% of nominations in all acting categories have gone to black actors over the past 20 years, this is hardly news.
Following this year's announcement, there has been the familiar (white) liberal handwringing, with broadsheet newspapers contemplating the marginalisation of women and racial minorities in particular. But there is also something different going on. Something more profound and potentially punchier.
It is a more overtly angry, activist response from within the industry – from black directors and actors who've simply had enough. Most notably, director Spike Lee and actor Jada Pinkett Smith have announced that they will not attend the main Oscar ceremony in February. Pinkett Smith has also called for a boycott: "people of colour" should not attend the event in protest of what Lee calls the "lily-white" awards show.
The president of the Academy, Cheryl Boone Isaacs, even issued a public apology over the lack of nominee diversity. She also announced that steps would be taken to alter the Academy membership in order to address the lack of diversity among the group of people who vote and decide who is nominated.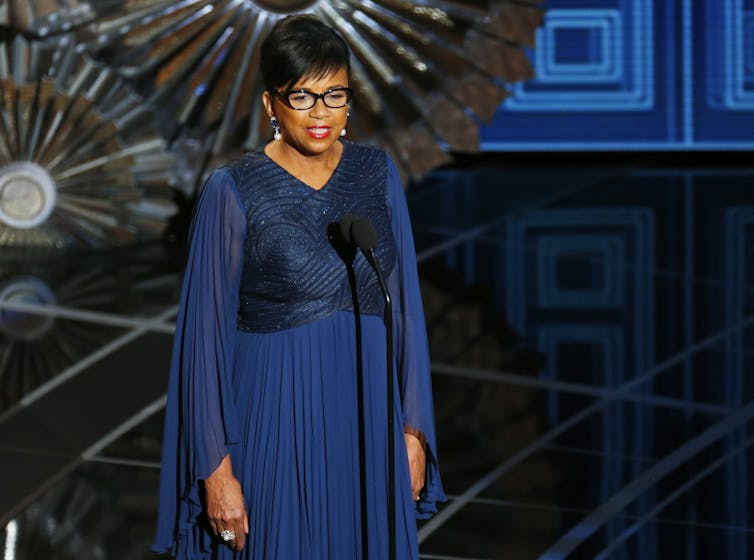 Changing awards culture
Boone Isaacs is an African-American woman. She became president of the Academy of Motion Picture Arts and Sciences in 2013. As the public face of the organisation, her presence is encouragingly refreshing. It seems to indicate progress, diversity and openness. The overwhelming majority of Academy members, however, are white (94%) and male (77%) – and only 14% of voters are under 50.
One argument goes that a more diverse group of voters will change voting patterns and lead to more diverse nominations, as well as public recognition of a wider range of filmmaking practices. And this may well be true. Awards are not "objective measures of excellence". They reflect the values of those whose voices (and votes) count.
But attempting to change the faces of voters and nominees is a bit like treating the symptom rather than the root cause of the problem. It is the make-up of the film industry as a whole that needs to change – and Boone Isaacs has recognised this. Not only has she pushed for more diversity in Academy membership (she removed restrictions on membership numbers, leading to an influx of younger voters from a diverse range of backgrounds in 2014). She has also launched A2020, a new initiative that aims to increase diversity in Hollywood over the next five years.
Changing the industry
Especially when it comes to decision-making, gate-keeping and key behind-the-scenes roles within the mainstream film industry, women and ethnic minorities continue to be severely underrepresented. This is not to say that an increase in black producers and directors, for instance, will automatically lead to more (and more prestigious and diverse) roles for black actors and, eventually, to more awards and other kinds of recognition. But the presence of a wider range of different perspectives and experiences will no doubt, over time, challenge the white, male norm that is intrinsic to Hollywood's institutional structures and practices.
I am cautiously optimistic that the tangible sense of anger and revolt that seems to gather more and more momentum will speed up this process –- so, maybe next year, or the year after that, an article like this one won't be necessary anymore.