United vs City, red vs blue, Jose Mourinho vs Pep Guardiola – the Manchester derby is one of football's epic contests. It was first played in 1881 and is today a match that's about far more than football. Pitting people, businesses and brands against each other, there are big commercial, financial and managerial implications to the game.
There's a heightened expectancy around this season's first encounter of the two clubs. Both are on winning streaks and the rivalry between their managers, Mourinho and Guardiola, goes back to when they managed Spanish rivals Real Madrid and Barcelona. The previous encounters between the Portuguese pragmatist and the Spanish stylist were often irritable, fractious affairs. But the meaning of this Manchester derby runs much deeper than the potential for physical confrontation between the two of them.
The cult of manager has always been a peculiarly English phenomenon, a narrative into which Mourinho and Guardiola play very nicely. It is a narrative that seems to have emerged in a 21st century form with the two of them rapidly being positioned as the world's leading football management brands.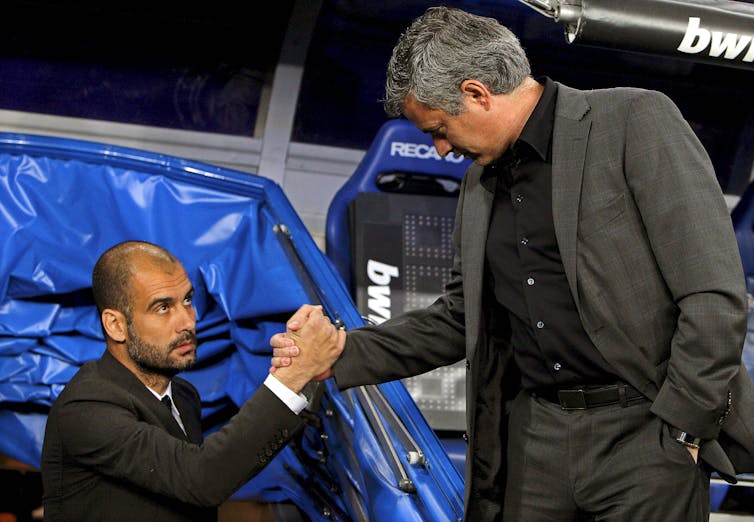 Mourinho: the self-styled "Special One" is known for being emotional and confrontational. Guardiola: a man with the efficiency of a successful CEO, known for being obsessive and high maintenance.
Battle of the brands
At the same time, an equally intriguing battle of their respective brands has emerged on the field of play, which is reminiscent of their previous Spanish clubs. Over the last decade, Real Madrid has branded itself as a team of "galacticos", repeatedly breaking the world transfer record to buy-in superstars such as Cristiano Ronaldo or Gareth Bale. Whereas Barcelona, especially under Guardiola, were always more team oriented.
Something similar is taking place in Manchester's battle of the brands. United brought in big summer signings Paul Pogba and Zlatan Ibrahimovic. Pogba's transfer was a record breaking £89m, accompanied by marketing fanfare by Adidas which put out a music video featuring another high profile client, grime artist Stormzy. Ibrahimovic, meanwhile, came laden with a bad boy turned elder statesman tag that sees him still fronting a whole range of commercial deals.
City on the other hand come more as a team, which is entirely in keeping with Guardiolian philosophy and no surprise given that the club's chief executive, Ferran Soriano, was previously director of finance at Barcelona. These differing approaches to creating winning teams and global brands are emblematic of the broader strategies being employed by the two clubs.
Different business models
United is historically the commercially stronger and richer of the two – although City is catching up fast. Indeed, in the various rankings and money leagues produced each year both are among the global football elite, at least in commercial terms.
United, though, has always tended to focus on revenue generation by engaging in, for example, the global sale of association rights, which see the club's name on products ranging from soft drinks to paint in different countries across the world. This has served the club well and generated big money, although some observers remain critical of the owners' and management's exploitation of the United name.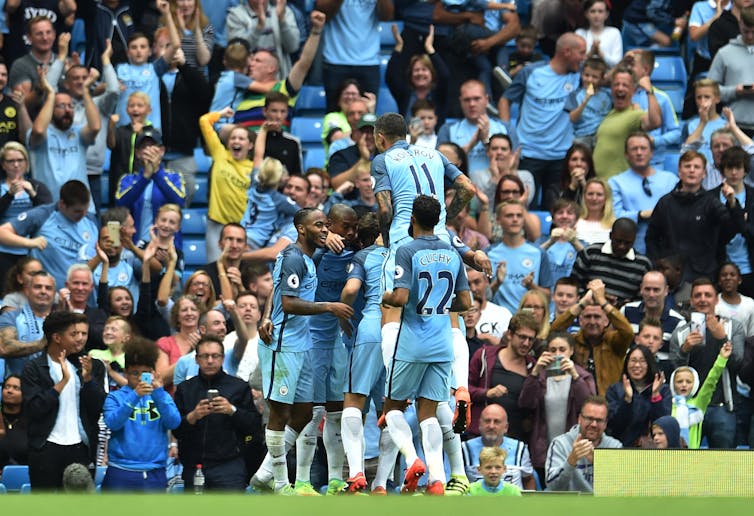 Over in the blue half of Manchester, the strategy has been rather different. While revenue generation is no less important to City, the club has adopted a relationship-driven approach to financial, as well as on-field, success. This is epitomised by City's franchising model, which has resulted in satellite clubs being established in New York, Yokohama and Melbourne (with speculation growing that Shanghai will be the next destination).
A constellation of rivalries
Among this already crowded constellation of brands sits a series of other commercial battles that will be played out in the Manchester derby. As massive global television and social media audiences look on, Adidas (and its key properties of United and Pogba) goes head-to-head with Nike (and its representatives City and the likes of Raheem Stirling).
This is a contest that should not be underestimated. The sportswear brands have spent big on their respective clubs; indeed, Adidas chiefs have been known to comment on United's playing style, while some have speculated that the German sportswear giant was behind the Pogba signing – the company now has a leading Adidas player in a leading Adidas team.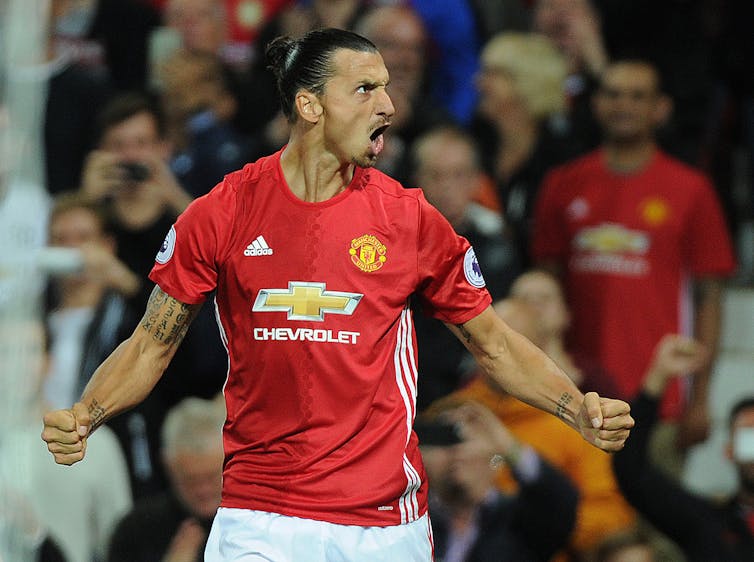 Otherwise, look out for the car confrontation between Chevrolet (United's shirt sponsor) and Nissan (City's "Official Automotive Partner"); the airline assault involving Etihad (City's shirt sponsor) and Aeroflot (United's "Official Airline Carrier"), and numerous others. The Manchester derby is not just a battle for the hearts and minds of fans, it is a contest for their wallets as well.
With big money being paid out to attract Mourinho and Guardiola to Manchester, even bigger money being paid for their star players, and the millions being thrown into the mix by global corporations, one is left to ponder the huge value that's tied up in it.
Spain's El Classico (between Real Madrid and Barcelona) is normally identified as the world's biggest club game. But their two former sons now seem to be spearheading a shift in football's global power balance. The Manchester derby's historic rivalry is only set to get bigger and bigger.