In 1972, Maxwell Confait was murdered in London and his flat and set on fire. This case doesn't have the profile of the Birmingham Six or the Guildford Four but it was to have wide ramifications for the legal system. An 18-year-old and two juveniles were convicted of offences related to the crime on the basis of confession evidence that was later found to have been obtained under duress. The case led to the introduction of a new framework for the detention and the questioning of individuals in police custody governed by the Police and Criminal Evidence Act 1984.
You're probably familiar with some the key elements of this legislation from police shows - such as the tape recording of interviews, limits on how long people can be detained without charge and the right to legal advice. And these days it is standard practice to have a solicitor present during questioning.
But the legislation also provided for the role of an "appropriate adult" to ensure that those who are identified as being particularly vulnerable – juveniles (aged 10 to 16), adults with mental health problems and adults with learning difficulties – are accompanied during police interrogation. This is in addition to the right to be represented by a solicitor. While someone who is a juvenile is easy to identify, this is not the case when it comes to identifying adults with mental health issues, especially by police who are increasingly under pressure from the number of people with mental health issues in the criminal justice system and in need of more training.
The role
The Home Office outlines the role of an appropriate adult as someone who supports, advises and assists the detained person, particularly while they are being questioned; observes whether the police are acting properly, fairly and with respect for the rights of the detained person, and to tell them when they are not; assisting with communication between the detained person and the police; and ensuring that the detained person understands their rights and that the appropriate adult has a role in protecting those rights. People from a wide variety of backgrounds take on the role, including family members, volunteers, social workers and members of youth offending teams.
Despite this, a recent Home Office report, produced by the National Appropriate Adult Network (NAAN), suggested that up to a quarter of a million adults with mental health issues are not being supported by an appropriate adult while in police custody and that there was huge variation across the country in the provision of this service. The NAAN report estimated that 11% of adults detained by the police required an appropriate adult, but one was only present in 1-2% of interviews. The report also found that there was inadequate identification of suspects' vulnerabilities and their need for an appropriate adult.
Vulnerable people in custody
People with mental health problems are particularly susceptible to stresses and pressures in custody. In addition, juries find confession evidence very powerful testimony.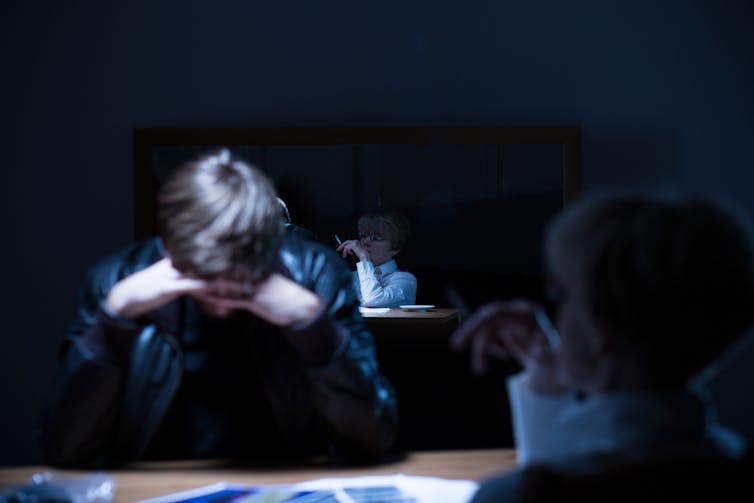 A number of historic cases in the UK demonstrate the pitfalls of inadequate support for individuals who are particularly vulnerable in police custody. This includes not only juveniles but also adults with mental health problems or learning difficulties. Some of the most notable include Stephen Downing who, despite having learning difficulties and a reading age of 11, was questioned for nine hours before confessing to the murder of a legal secretary. He was convicted in 1974 and spent 27 years in jail before his conviction was overturned in 2002.
Stefan Kiszko was convicted of the sexual assault and murder of an 11-year-old girl and spent 16 years in prison before forensic evidence revealed he could not have been her killer. Kiszko had confessed after intense police questioning. During this period he was not represented or supported – despite a request to have his mother present. Another man was subsequently found to have committed the crime. If the role of the appropriate adult has existed at the time, they would have been able to intervene to ensure the welfare of these vulnerable men.
Acting as an appropriate adult is clearly a very important but also challenging role. The most high profile (and extreme) illustration of this was the case of serial killer Fred West, when the woman who acted as his appropriate adult was called to give evidence in the trial against West's wife and fellow accused, Rose West. This was the subject of a harrowing television drama, Appropriate Adult, about the experience of volunteer Janet Leach.
There were also concerns about cases involving 17-year-olds in police custody – who weren't treated as juveniles and so were not automatically entitled to an appropriate adult. Joe Lawton, 17, took his own life following his arrest for drink driving in 2012. He did not have an appropriate adult because of his age at the time of his arrest and his parents were not informed of his arrest for the same reason. His parents campaigned for a change in the law and after a ruling by the High Court in 2013 those aged 17 will be treated as juveniles in custody.
Police officers are increasingly under pressure with the high number of people with mental health issues in the criminal justice system and there are wider problems.
As well as recommending a new national strategic approach the NAAN report recommends establishing a statutory duty to ensure provision of an appropriate adult when requested by police and to create parity with children's services. Without the creation of some form of statutory duty for the provision of such services we will not begin to tackle effectively the serious issues in the system – or as NAAN puts it, appropriate adults "can sometimes be the difference between life and death."