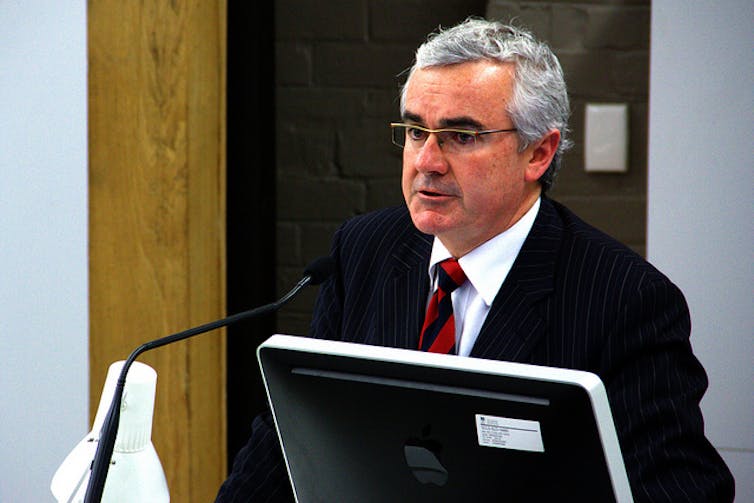 It's no small irony that Julia Gillard began this hung parliament with a deal to contain poker machine gambling, on which she later welshed, and towards its end has ordered a ban on the promotion of betting odds during broadcasts of live sporting matches.
With the election bearing down and public opinion strong, a compromise move on sports betting became imperative for the government. A Labor backbench that had feared pokies reform wants action on this. Tom Waterhouse's ubiquitous face is an easy target.
Tasmanian independent Andrew Wilkie, who tore up his agreement with Gillard after her broken promise, has welcomed her sports betting move as "a positive but small step".
"But the much bigger issue is gambling promotion in G-rated television broadcasts more broadly, and the abolition of live odds alone simply does not address that", he said on Sunday.
Before the sports betting decision, Wilkie sat down with The Conversation to reflect on the last three years.
Of all the House of Representative crossbenchers Wilkie, 51, is the "accidental politician". When in 2003 he spectacularly walked out of the Office of National Assessments to denounce Australia's participation in the Iraq war no one, least of all Wilkie himself, could have imagined the trajectory ahead.
"When I left ONA, it was entirely about Iraq", he says. "I definitely didn't walk out of ONA thinking I would become a politician," though he had always been interested in politics, studying political science at university and being a member of the Young Liberals in the 1980s.
After leaving ONA he sought a meeting with Labor's John Faulkner and discussed the possibility of joining the ALP and running against John Howard in Bennelong.
"But he wasn't interested. So I moved on." The leader of the Democrats, Andrew Bartlett, asked him to join them. "But ultimately I settled on the Greens. - I suppose more for their position on Iraq than anything else."
He ran for the Greens against Howard in 2004, then moved to Tasmania the following year and was number two to Bob Brown on the 2007 Senate ticket. The following year he left the Greens - "I think I was a bit moderate for some." In 2010 he contested as an independent at the Tasmanian state election; later that year he won the federal seat of Denison.
Famously, in those extraordinary days of negotiation afterwards, he declined Tony Abbott's offer of $1 billion for a new Hobart hospital.
He has no regrets about spurning Abbott. Apart from anything else, he says, it turned out that the state government wanted to rebuild the old hospital - a much lesser amount of federal money helped with that.
Wilkie has found being one of the swing votes in this parliament "the hardest thing I've ever done in my life" - much harder than leaving ONA over Iraq - unrelenting work to keep up with things and a lot of pressure. At a personal level, it has cost him his second marriage.
The overwhelming political disappointment has of course been the failure to get mandatory pre-commitment for poker machine gambling.
The original plan was that people would have been "compelled to set a binding limit [including the option of no limit] and when you reached that limit machines locked you out. What we got was voluntary pre-commitment [still some years away], which is useless".
But there is a provision that machines will over time be fitted with technology allowing a change to mandatory pre-commitment. Wilkie holds out the hope that "a future federal, state or territory government will flick the switch". Given the muscle the gambling industry has shown, that does sound like the triumph of hope over experience.
Wilkie remains angry with Gillard over her breach of faith. "I think she misled me deliberately". But "with the benefit of hindsight I understand that the Prime Minister's very political survival was at stake – that if she had honoured the agreement she might have been removed by the party, because it was such a big deal for so many of her parliamentarians".
The fury was mutual. When Wilkie weighed into Gillard and tore up his agreement, Leader of the House Anthony Albanese rang him to say he had known Gillard since university days and "had never seen her so white hot angry with anyone as she was with me that day".
The earlier warmth has never returned. "She's been a bit cool with me ever since. But that's OK – I'm a bit cool with her as well."
More broadly, Wilkie gives Gillard "a mixed report card" with the biggest tick for turning "a hung parliament into a working parliament … that is a massive achievement".
Wilkie admits with hindsight he'd have done some things differently. At a personal level, he'd have looked for ways to try to keep his marriage together. "The chaplain here [in Parliament House] tells me the rate of divorce among parliamentarians is double the national average".
Politically "I probably would have negotiated harder at the start. I probably underestimated how much power I had in those negotiations". He thinks he could have demanded more for Tasmania – and he should have been "more careful to put in place safeguards against trickery. For example with the poker machine reforms, I would've had a much tighter timeline."
But, he adds, "they aren't so much regrets. I've learned". Looking back, he would still have supported Labor but "I might not have entered into an agreement with either party".
Since he tore up his agreement "I reckon I have had just as much influence in the parliament, and I have certainly attracted just as much investment for my electorate and Tasmania".
When Abbott moves his promised no-confidence motion, he won't be getting Wilkie's support (although he says he will listen to the argument). Apart from anything else, "an election before August 3 would only be for the House of Reps", and the election date is very close anyway, so "what's the point?"
Wilkie notes that of the crossbenchers: "I'm the only one who got elected with no parliamentary experience or no party support. Given my inexperience and in some cases naivety, I think I've survived pretty well."
With the hung parliament in its last months, the days of power are almost over for the House crossbenchers on whom so much has depended.
While the government has retained the crossbench support it has needed to stay in office, the crossbench itself has seen changes during the course of the Parliament.
It began with six occupants, including Wilkie. Three had been at one time or another members of the National party, and had served in state parliaments – Tony Windsor, Rob Oakeshott and Bob Katter. Another, Tony Crook, was a West Australian National. The sixth was the Greens' Adam Bandt.
Besides Wilkie, three others (Windsor, Oakeshott, Bandt) had agreements to guarantee the government supply and support against a no confidence motion (Bandt's was in the form of a wider agreement between the government and the Greens, which has now fractured).
Later, the crossbench was joined by disgraced Labor MP Craig Thomson, suspended from the ALP, and former Speaker Peter Slipper, both of whom are currently before courts. Katter became his own party. Tony Crook moved to the ranks of the Opposition.
For the crossbenchers, the challenge now is to try to survive.
Thomson plans to struggle as an independent - in a doomed bid but one leaving him eligible for severance pay. Slipper says his present intention is to run – he would also lose, with severance pay.
Oakeshott is not expected to hold his seat, but Katter is.
The other three face the fights of their lives. Bandt's future will hang on how the voters judge his performance and what the Liberals do with their preferences. Windsor is in an epic contest against the high profile National Barnaby Joyce (at the weekend the Nationals overwhelmingly won a state seat within his electorate).
The fate of Wilkie, who got Liberal preferences last time, will again depend on preferences. "I'm not going to enter into any preference negotiations with the Liberals but again it's hard to see them preferencing Labor or the Greens ahead of me, plus my primary vote will be up. So although I don't know for sure and I'm certainly not taking anything for granted, I think I'm travelling well and I give myself a reasonable chance of holding the seat".
ABC electoral expert Antony Green agrees with him.