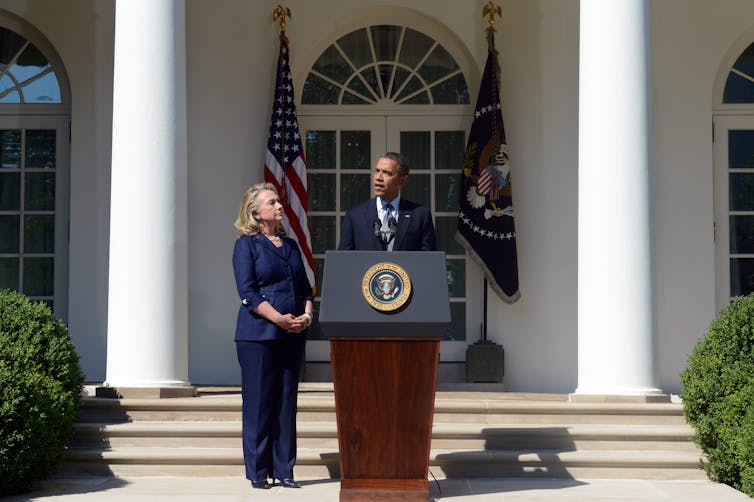 "Governor Romney seems to have a tendency to shoot first, aim later."
So declared President Obama in an interview this afternoon. And that's the consensus developing not only in the media but among foreign policy experts in both parties.
Romney's response to the embassy attacks in Egypt and Libya dominated political coverage in the U.S. today. The Republican nominee released the following late last night as events in North Africa were still unfolding:
"I'm outraged by the attacks on American diplomatic missions in Libya and Egypt and by the death of an American consulate worker in Benghazi. It's disgraceful that the Obama administration's first response was not to condemn attacks on our diplomatic missions, but to sympathize with those who waged the attacks."
Romney stood by those remarks this morning. One of his senior advisers explained, "This is an opportunity and a chance for us to debate existing administration policy."
While it is not surprising the campaign saw political opportunity in the attacks, the brazen and clumsy way Romney has played on that opportunity has drawn criticism from across the political spectrum. It's one thing to criticise the administration for its foreign policy. It's another to do so as the crisis is unfolding.
What's more, Romney released his comments to the press in the evening but initially embargoed them until midnight. He did this so they would not be released on September 11th, apparently to ward off criticism that he was playing politics on a day of national mourning. But timing the release for September 12th at 12:01 am on the East Coast only reinforces the political opportunism.
While foreign policy is hardly at the heart of this election, Romney has now made so many unforced errors in the field that it may well start to damage his campaign. There was his bungled trip to Europe, the omission of Afghanistan in his acceptance speech, his statement that Russia is the country's "number one geopolitical foe" (for which Russian President Vladimir Putin thanked him yesterday).
Mitt Romney, persistently a few points behind in the polls, is looking for a game-changer. Some pundits think this is it, though not the sort Romney wants. I've seen his comments compared to McCain's decision to suspend his campaign during the financial crisis in September 2008. That moment demonstrated for many that McCain lacked the steady hand the nation needed during the meltdown.
I'm not quite ready to go that far. Foreign policy isn't at the centre of this election the way the economy was in 2008. But Romney's comments reinforce an already-negative narrative about his candidacy: that neither he nor his campaign has a core, that this race is about winning rather than governing. That's one image he hasn't been able to etch-a-sketch away, and it's emerging as the central weakness of his campaign.