In his biography of Sir Thomas More, Peter Ackroyd audaciously asks us to imagine pre-Reformation London as the street markets of Marrakesh. Cheapside would have been a bustling surge of traders and customers, alive with noise and smells, packed with barrels and panniers of fish, fruit and spices, more like a bazaar than the modern city. Equally, to imagine the interiors of English churches in the 1520s, think Andalusian gaudy rather than Hawksmoor's classicist austerity, the walls covered in brightly painted scenes, the chapels filled with statuary and icons.
Early Tudor London was a bright, brash and bustling place, unlike its whitewashed Protestant successor, and its inhabitants behaved in similarly extravagant fashion. Foreign ambassadors were surprised by Englishmen's capacity to weep openly and publicly at the slightest provocation. Satirists condemned the aristocracy and burghers for wearing too much bling: flaunting their status in chains of gold so heavy you were amazed they could walk at all.
Hilary Mantel catches a lot of this passion and swagger in Wolf Hall. Writing in the Guardian, she reminds us that Thomas Cromwell was part of this world too:
The scowling asocial Cromwell is an invention of posterity, over-influenced by Holbein's dour portrait. His contemporaries saw easy charm and social adroitness. He was ingenious, keen to please, irreverently funny; his energy seemed inexhaustible.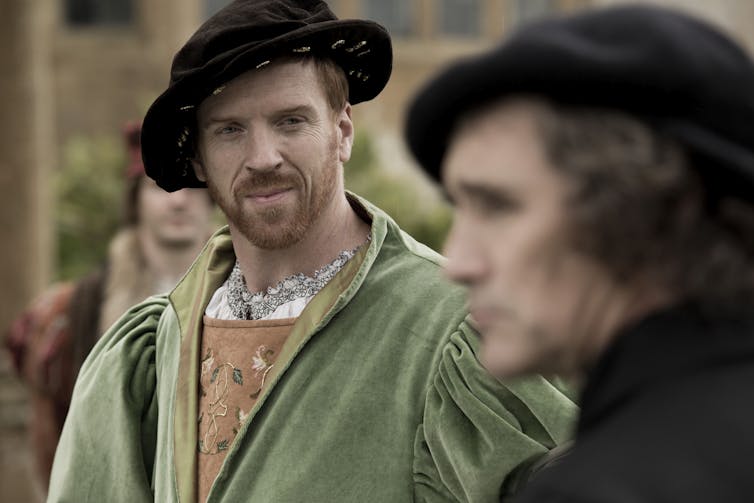 Sadly, no one seems to have given Peter Kosminsky, the director of the keenly anticipated BBC adaptation of Wolf Hall and Bring Up the Bodies, the memo on this. According to episode one, Cromwell's London was a drab, homespun place, and its residents equally understated in dress and demeanour. Far from easily charming, Mark Rylance's Cromwell is a dour, taciturn figure, of few words and fewer smiles. When asked if he thinks it's a peculiarly English trait to set up great men only to pull them down, he replies, addressing no one: "It's not the English; it's just people".
A recurrent motif has Rylance striding towards the camera in long tracking shots, or away across courtyards, too busy for more than a word of conversation or instruction ("fetch dry kindling", "I need to get a seat in parliament"), scowling anti-sociality personified. He seems habitually uncomfortable, prone to pick fights rather than set folk at their ease. He drives More from the dinner table with a belligerent: "You've become Lord Chancellor… what's that, a fucking accident?" With his superiors he seems merely awkward, performing a stilted bow (what the Tudors called "making a reverence"), always just a split-second too late to seem spontaneous, clutching stiffly at his bonnet to doff it from the rear. No doubt this is based on careful research: that's how "they" would have done it, but it looks clumsy and learned, suggesting the opposite of a convincingly lived world of protocol and deference.
Equally the costumes, beautifully designed and no doubt scrupulously researched, make Tudor society less, rather than more, intelligible. Only Cardinal Wolsey (a melancholic Jonathan Pryce) and Henry VIII (Damian Lewis on imperious form) are allowed bright colours. Everyone else, aristocrat and commoner alike, wear gowns in muted blacks, browns and greens, and so all look much the same – especially as so many scenes take place in near-darkness.
Because of this the social gulf that divides a commoner like Cromwell from the aristocrats (and drives the plot of Wolf Hall) is largely invisible at first glance. Bernard Hill has to tell us he is the Duke of Norfolk, and a gentleman – and that Cromwell is not – for us to get the point. Research seems to have got in the way of storytelling here, where the novel elegantly combined the two. As with the sparsely populated outdoor settings, the details may be correct but that sense of Cromwell's world as bright and bustling has been lost.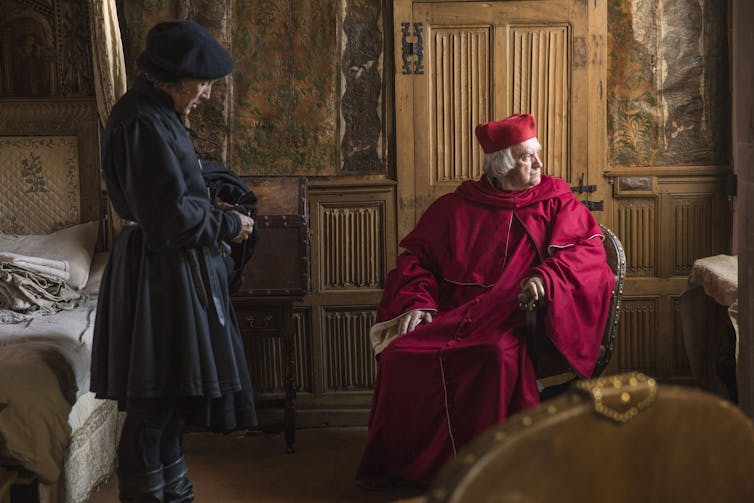 Similarly, where Mantel writes with warmth and passion, Kosminsky seems determined to leach it all out. Compare the striking opening scene with its counterpart in the novel. Norfolk and Suffolk arrive to deprive Wolsey of his seal of office ("Wolsey, you're out", Hill roars in a jarringly modern opening line). Cromwell convinces them they cannot unless they bring the Master of the Rolls.
In the novel, Mantel has master and servant embrace each other in fleeting triumph. When the dukes go, Wolsey turns and hugs him, his face gleeful. Though it is the last of their victories and they know it, it is important to show ingenuity; 24 hours is worth buying when the king is so changeable. Besides, they enjoyed it. "Master of the Rolls", Wolsey says, "did you know that, or did you make it up?"
In the adaptation, on the other hand, Wolsey stays seated and Cromwell stands, invisible behind him.
– Did you know that, or did you make it up?
– They'll be back in a day.
– Well, these days 24 hours feels like a victory.
Melancholy replaces childlike glee. And we also lose the crucial sense of friendship that underpins Cromwell's fierce loyalty for his master, and that lasting, bitter resentment of those who hounded him to his death which will drive him in Bring Up the Bodies.
So, what we are left with, despite Mantel's best efforts, is the scowling asocial Cromwell of posterity restored. The episode ends with his first brief encounter with Henry and the sense that the king has noted him as someone who could be useful. The world of colour and swagger is beckoning, but Cromwell is off again, alone.