A big thank you to our five zippers who bravely jumped off two of Sydney's tallest buildings on the weekend to raise money for The Conversation's science and tech coverage.
Lindy Shelmerdine, David Moffatt, Rhiannon Shepherd, Adele Storch and James Hutchinson zipped between the the top of the AMP 50 Bridge St Building (47-storeys) and top of the AMP 33 Alfred St Building (26-storeys) in Sydney. It wasn't a feat for the frail of heart, with the 125 metre zipline dropping at a 45 degree angle.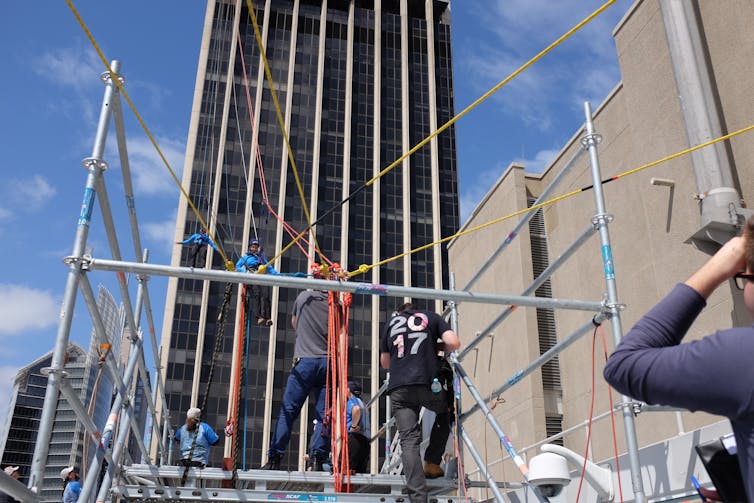 Support the zippers, support science at The Conversation
We'd like to thank all our zippers for fundraising and volunteering to take part in this challenge, and remind our readers there's still one week left in which you can sponsor our zippers and show your support.
Adele and Rhiannon still need your help to reach their fundraising target of $5000.
We take science seriously at The Conversation and have made it our mission to report it accurately. Our work demonstrates the strong link between high levels of public interest in science and investment in research.
It's also something Adele and Rhiannon care about.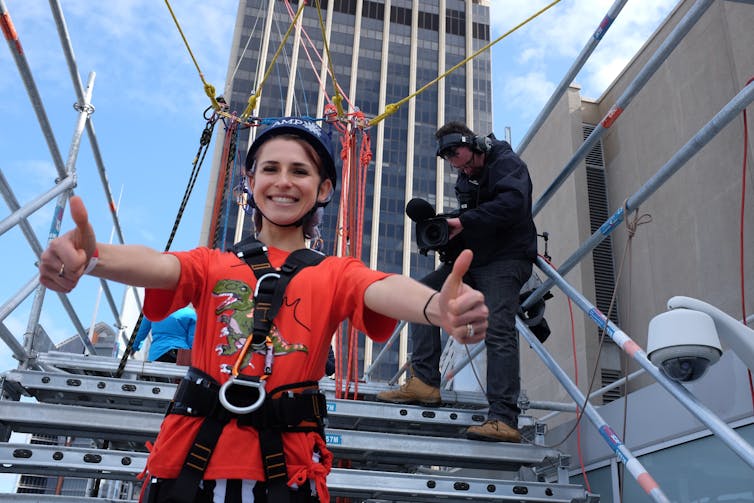 "It's time that independent, high-quality journalism really works with university, CSIRO and research institute experts to encourage Australians to have awesome conversations about the incredible projects that are going on around the world, and important they are to our everyday lives," Rhiannon says.
"Any contribution you make makes a difference, and is highly appreciated!"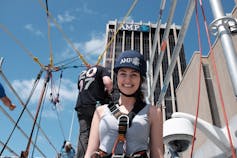 Adele says she sees the impact of good science reporting in her job.
"As a doctor working in mental health, I am especially passionate about reducing the stigma surrounding mental illness. As a female doctor, I am also passionate about women's health and females in leadership. These are some of the topics that we need to talk about," she says.
You can donate by clicking through to Adele and Rhiannon's fundraising pages.