Kazimir Malevich unveiled his now iconic pared down painting of a black square on a white background in 1915. This was a moment that not only represented a turning point in art, but in politics too.
This is what the Whitechapel Gallery's latest exhibition sets out to show. Adventures of the Black Square: Abstract Art and Society 1915-2015 ambitiously charts the journey of abstract geometric art from its public debut in the seething turmoil of pre-revolutionary Russia in 1915 through its spread in Western and Eastern Europe, North and South America and Asia and up to the present day, which Pepe Karmel has announced as "the golden age of abstraction".
The exhibition reveals how the language of geometric abstraction – the proverbial black square – was simultaneously a political, aesthetic and social tool for a century of artists around the globe.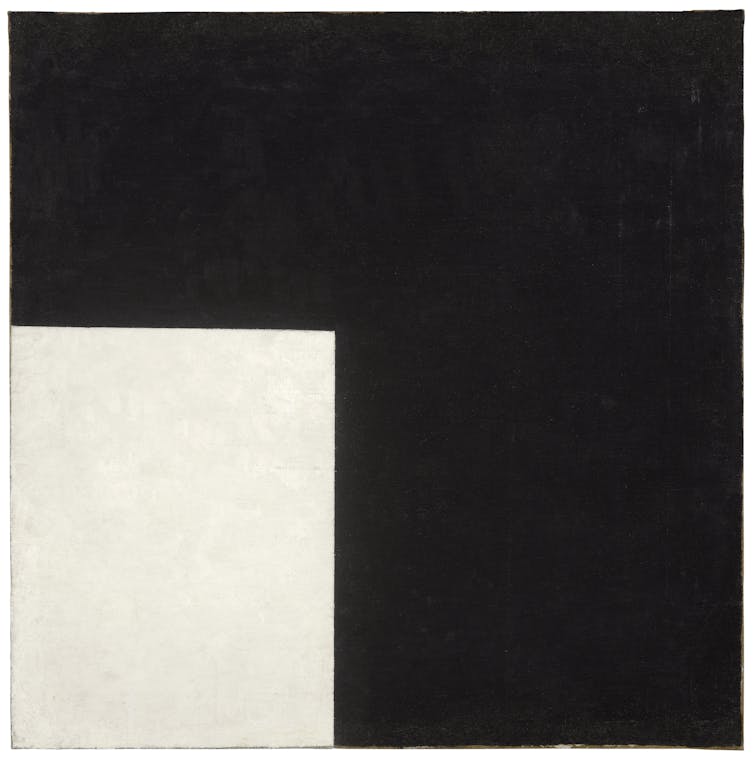 How art relates to the society it emerged from remains a hotly debated topic in the art world, especially because abstract art does not, literally, depict anything. Instead, it develops a language consisting of a series of coded geometric symbols. The exhibition features works from Piet Mondrian to Gabriel Orozco, and Lygia Clark to Hannah Starkey, providing different examples of how abstract art reflects the society from which it emerged.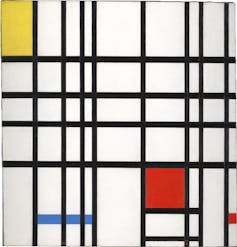 Many of Mondrian's paintings from the late 30s and early 40s, for example, use a language of intersecting geometric lines based on the New York urban grid system. As such, the paintings are a visual diary of the impact of this extreme urban environment on a Dutch painter living in exile there during World War II.
More radically, the exhibition shows how the language of geometric abstract art has the potential to influence society itself. In the political heat of Paris in May 1968, for example, Daniel Buren applied repetitive stripes to urban and gallery contexts. Included in the Whitechapel Gallery's exhibition is a performance work of Buren's in which a number of participants walk through the exhibition space waving a banner sporting Buren's stripes. It looks as if they are protesting about the limiting context and conventions of the museum and gallery system as they pass through it in order to access the street outside.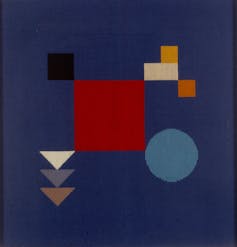 Instead of confining the argument to painting, Adventures of the Black Square pursues it across myriad disciplines and mediums: photography, film, drawing, magazine design, product design, sculpture and performance all feature. This open approach reveals how geometric abstraction is perhaps most effective when used by artists to bridge the gap between art and design. Using geometric coloured form to create the weave for a wall hanging and rug in 1918, Swiss artist Sophie Taeuber-Arp demonstrated how abstraction could be integral to the everyday rather than merely being an aesthetic supplement to it.
As well as the Russian Constructivist group of which Malevich was a part, the German Bauhaus and the Dutch De Stijl (with whom Taeuber-Arp collaborated) all brought art and design together. They conceived abstraction in communal terms, making it applicable to everyday situations. Lending itself easily to industrial design, the language of geometric abstraction has, the exhibition affirms, guided the design of key pieces of modern and contemporary furniture, and both domestic interiors and civic spaces.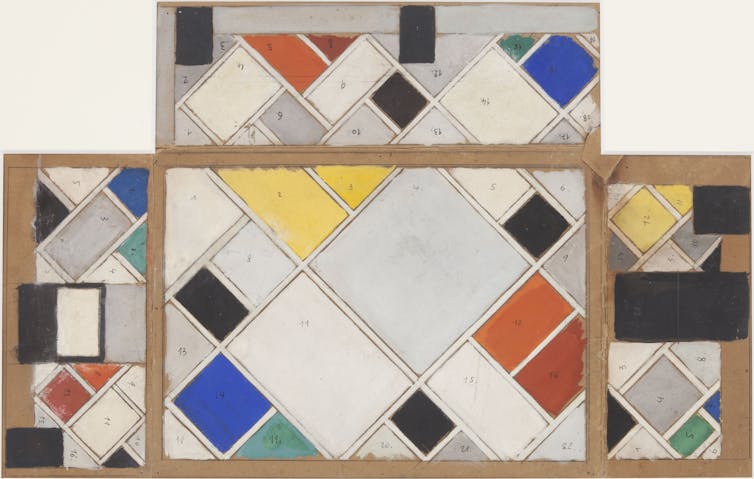 Two of the works included are indicative of the more open contemporary approach to geometric abstraction forged by the curators. One work by David Batchelor uses spreads from the first issue of the respected MIT Press academic art history journal October as a surface to paint on – and by extension a context to comment on. The artist highlights how the journal seldom discusses the language of abstract geometry and how on the few occasions that it does, fails to acknowledge its application in both everyday and design contexts.
Batchelor's other work presents a series of images charting how the language of abstract geometry is woven throughout the everyday urban environment – making an appearance in, variously, the form of a monochrome door set off against a dark brick wall or a weathered rectilinear road sign reduced to a monochrome because its lettering has faded in the rain and sun. The adventures of something as ostensibly simple as a black square could, it seems, not be more complex.