In less than a week since actor Emma Watson's stirring United Nations speech on gender inequality, two big things have happened – but you've probably only heard about one of them.
The first, which has driven days of global headlines, is that the 24-year-old actor (best known for her role in Harry Potter films) soon copped a backlash, including what appeared to be an online threat to publish naked photos of her. That's now been shown to be a complicated hoax; more on that and what it has revealed shortly.
The other big thing that's happened has received far less attention, but it's much more heartening.
In only a few days, more than 126,000 men and boys have pledged their support for the new HeforShe campaign to end gender inequality – beating the original target of 100,000 supporters.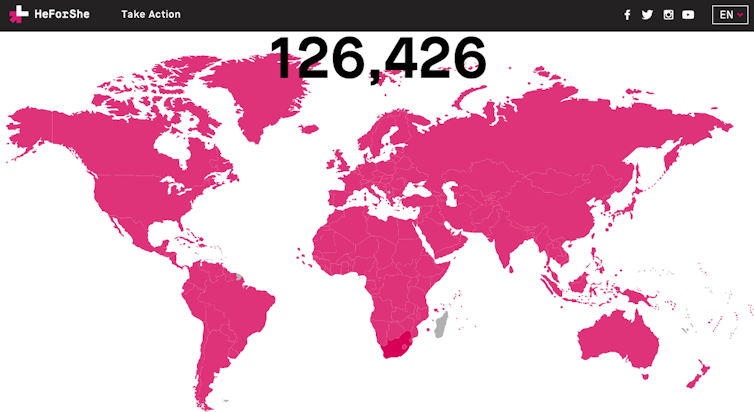 You can see how many have signed up in your country on the site's interactive map. The campaign's male supporters include fellow actors Matt Damon, Patrick Stewart, Russell Crowe and Keifer Sutherland, and now thousands more from around the world.
Watson's passionate and moving speech at the United Nations Headquarters in New York, above, has already been viewed more than 4 million times on YouTube. You can read it in full here, but highlights include:
I started questioning gender-based assumptions when at eight I was confused at being called 'bossy', because I wanted to direct the plays we would put on for our parents—but the boys were not. When I was 14, I started being sexualised by certain elements of the press. When at 15, my girlfriends started dropping out of their sports teams because they didn't want to appear 'muscly'.
Not limiting the speech to gender difficulties faced by only women, Watson described how gender stereotypes hurt men and boys too:
I've seen young men suffering from mental illness unable to ask for help for fear it would make them look less 'macho'. In fact, in the UK suicide is the biggest killer of men between 20-49; eclipsing road accidents, cancer and coronary heart disease. I've seen men made fragile and insecure by a distorted sense of what constitutes male success. Men don't have the benefits of equality either.
Watson's speech won a standing ovation inside the UN and even greater applause beyond. But it wasn't long before her strong stand on gender equality triggered a backlash.
A double hoax
Only a day after her speech, a mysterious website and a blog's "news" story speculated that a hacker was about to publish naked photographs of Watson, just as happened recently to stars including Jennifer Lawrence.
That sparked a media frenzy.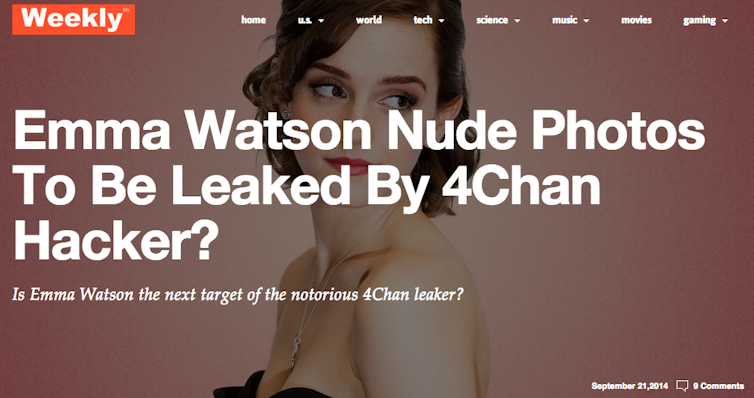 The world watched as the website www.emmayouarenext.com counted down the hours to when purportedly private photos would be released. Just as disturbing as the website itself were many of the comments about it, including "That feminist bitch Emma is going to show the world she is as much of a whore as any woman", and "She makes stupid feminist speeches at UN, and now her nudes will be online, HAHAHAHAHAHAHAH".
Instead of talking about the content of her speech, social media was ablaze with outrage at hackers, particularly the image-based website 4chan, which appeared to be linked to the Watson attack site.
Finally, on Wednesday September 24, the countdown was supposedly over – but there were no naked photos. Instead, users were directed to rantic.com, a webpage claiming to be devoted to shutting down 4Chan, complete with a petition to US President Barack Obama.
And as if it couldn't get any weirder, it now appears that even that "advertising company" rantic.com is actually a fake, and the whole thing is the work of a group of serial internet hoaxers known as socialVEVO.
So what have we learnt from this elaborate hoax, which duped millions of people including many in the global news media?
Easy targets
Why was it so easy to believe that anonymous, angry internet "trolls" would immediately recoil at Emma's suggestion of gender equality, and attack her privacy by publishing naked photos? (If any actually exist, that is.)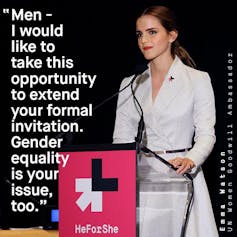 Unfortunately, it was easy to believe because too often women are victimised online, particularly in sexualised ways, and particularly when they take a stand on gender equality as Watson did.
It is ironic that in her speech, Watson declared:
I think it is right that I should be able to make decisions about my own body.
This is the exact sentiment that was threatened. The fact that this threat was just a hoax – the motives for which are still unclear – does not excuse the manipulation used to generate this attention.
Whether intended or not, the message to women that's been reinforced over the past few days have been all too clear: speak out and you will be targeted.
And even if the website was a fake, the public response to it – which included vicious and perverse comments about Watson being a whore – were sadly all too real.
But if there is one glimmer of good news out of all this, it's that the extra attention garnered by the controversy has driven more people – particularly men and boys – to back the HeforShe campaign, on its website and on social media. These are just some of the thousands so far.
But amid so much focus on nude photos and hoaxes, we shouldn't forget what Watson's speech was all about: gender inequality.
Too many men and women around the world still live with emotional and social restrictions because of gender stereotypes – and that has to end.
The last word should go to Watson, who answered her critics and her own self-doubts in her speech.
You might be thinking who is this Harry Potter girl? And what is she doing up on stage at the UN? It's a good question and trust me, I have been asking myself the same thing. I don't know if I am qualified to be here. All I know is that I care about this problem. And I want to make it better … English Statesman Edmund Burke said: 'All that is needed for the forces of evil to triumph is for enough good men and women to do nothing.' In my nervousness for this speech and in my moments of doubt I've told myself firmly — if not me, who? If not now, when?