At a time when many black British actors are leaving their home country to travel to the US in search of recognition, it's important to pay tribute to the memory of the first black actor to play Othello on the London stage – a man who left New York to seek his fortune in what he hoped would be a more tolerant country.
Ira Aldridge, who died on August 7, 1867, has been honoured with a blue plaque in Coventry where he was manager of the city's main theatre. He is a pivotal figure in theatre history, credited as Britain's first black Shakespearean actor, who used the stage as a platform to speak out against slavery and racism.
Aldridge was born in New York in 1807 and first took to the stage as a member of the African Grove theatre company, which operated between 1821 and 1823, eventually being hounded out of business by the managers of a nearby whites-only theatre.
Aldridge travelled to England to escape the violence of pre-Civil War America. But Britain at this time was engaged in intense debates about the system of slavery in America and in the Caribbean colonies and the arguments often took on a racist tone. This prejudice found its way into reviews of Aldridge's performance. A reviewer for The Times on October 11, 1825 wrote:
Owing to the shape of his lips, it is utterly impossible for him to pronounce English in such a manner as to satisfy even the unfastidious ears of the gallery.
Aldridge subsequently left the capital and headed to provincial theatres where he found a more generous reception. Wheeler's Manchester Chronicle on February 17, 1827 recorded, in a complete contrast to the review in The Times, that Aldridge's reception "was favourable, and he obtained considerable applause in the declamatory scenes".
Playing the Moor
Aldridge's reputation is generally filtered through the lens of one very specific incident: his appearance as Othello on April 10, 1833, at the Covent Garden Theatre in London. This was one of the two theatres operating under royal patent in the capital and permitted to stage spoken drama. In 2012, the nastiness of the press response to this performance was dramatised in Lolita Chakrabarti's play, Red Velvet, starring Adrian Lester as Ira Aldridge.
Bell's Weekly Messenger described the evening as a "disgrace to the English Stage" (April 14, 1833). Even before Aldridge appeared on stage, the rumour of his performance produced vitriol from the pen of the Figaro reviewer:
This wretched upstart is about to defile the stage, by a foul butchery of Shakespeare, and Othello is actually the part chosen for the sacrilege.
The vituperative press reaction to that appearance led to poor audiences for the second night – and theatre manager Pierre Laporte pulled the play. Aldridge never again appeared in either of London's patent houses.
Instead, he enjoyed a long and expansive career in provincial theatres. The circuit of regional patent theatres stretched from Edinburgh (the first outside London to be granted the status of Theatre Royal, in 1767), Liverpool, Manchester, Hull, and Newcastle to Bath and Brighton, and Aldridge trod the boards in them all. He also travelled across Europe and Russia on several tours and was greeted, overall, with acclaim and award – he was made a Chevalier by the Duke of Saxe-Meiningen in 1858.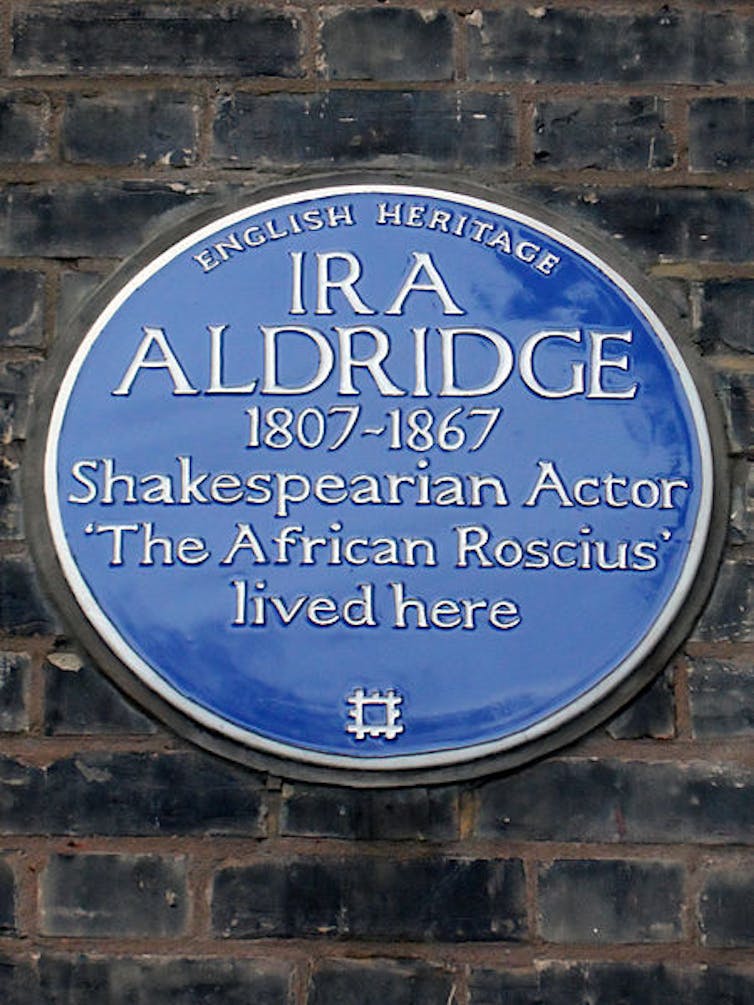 Facing prejudice
Marking Aldridge's professional theatrical career on the anniversary of his death is crucial now. This year, the Tony theatre awards failed to recognise any major black artists, apart from a posthumous award to August Wilson. The successes of 2016, associated with the musical Hamilton, are now in danger of appearing as a blip in a longer history of struggle against explicit prejudice and implicit bias.
In an article for The Conversation written in 2014, Tony Howard suggested black British actors were facing an "ironic reversal" of Aldridge's experience, expressing concern that they could only prosper in America. And since Howard's article was published, Idris Elba, David Oyelowo and Chiwetel Ejiofor – among others – have also claimed that targeting America was their only route to success.
But the facts are clear: black actors are struggling for professional recognition, as Aldridge did, on both sides of the Atlantic. And Hamilton itself has been troubled by questions of prejudice. The musical's casting call for non-white actors agitated many commentators. But we should consider the consternation around Hamilton's casting against the myriad ways that black actors experience racism constantly. And we should celebrate Hamilton, one of the most successful productions on Broadway – and now in Britain – for its diverse casting initiative.
It is vital at this time to tell the full story of Ira Aldridge who, over the course of his 40-year theatre career, encountered race prejudice in England as well as in America, but succeeded in negotiating a series of complex political landscapes to establish himself as a professional with commercial and artistic viability. Aldridge's ultimate legacy is his demonstration of how theatre works as a space where racism in society can be challenged and redressed.