Generation Y has grown up in a rapidly warming world. According to the US National Climate Data Centre, every month since February 1985 has seen above average global temperatures, compared with the twentieth century. I have no memories of a "normal" month.
2016 is on track to be the hottest year on record, surpassing the previous records set in 2015 and in 2014. These are just a few of the flurry of recent record temperatures, which includes Australia's hottest day, week, month, season and year.
The question now is what the future will look like. At some point in the decades to come, these record-breaking temperatures will not be rare; they will become normal. But when exactly?
In a new study just released in the Bulletin of the American Meteorological Society, I (together with co-authors Andrew King and Sarah Perkins-Kirkpatrick) find that on the current greenhouse gas emissions trajectory, global temperatures like 2015 will by normal by 2030, and Australia's record-breaking 2013 summer will likely be an average summer by 2035.
While we still have time to delay some of these changes, others are already locked in - cutting emissions will make no difference - so we must also adapt to a warmer world. This should be a sobering thought as world leaders gather in Marrakech to begin work on achieving the Paris Agreement which came into force last week.
Today's extremes, tomorrow's normal
The recent record-breaking temperatures have often been described as the "new normal". For example, after the new global temperature record was set in 2016, these high temperatures were described as a new normal.
What is a new normal for our climate? The term has been used broadly in the media and in scientific literature to make sense of climate change. Put simply, we should get used to extremes temperatures, because our future will be extreme.
But without a precise definition, a new normal is limited and difficult to understand. If 2015 was a new normal for global temperatures, what does it mean if 2017, 2018, or 2019 are cooler?
In our study we defined the new normal as the point in time when at least half the following 20 years are warmer than 2015's record breaking global temperatures.
We examined extreme temperatures in a number of state-of-the-art climate models from an international scientific initiative. We also explored how different future greenhouse gas emissions impact temperatures.
We used four different greenhouse gas scenarios, known as Representative Concentration Pathways, or RCPs. These range from a business-as-usual situation (RCP8.5) to a major cut to emissions (RCP2.6).
It is worth emphasising that real-world emissions are tracking above those covered by these hypothetical storylines.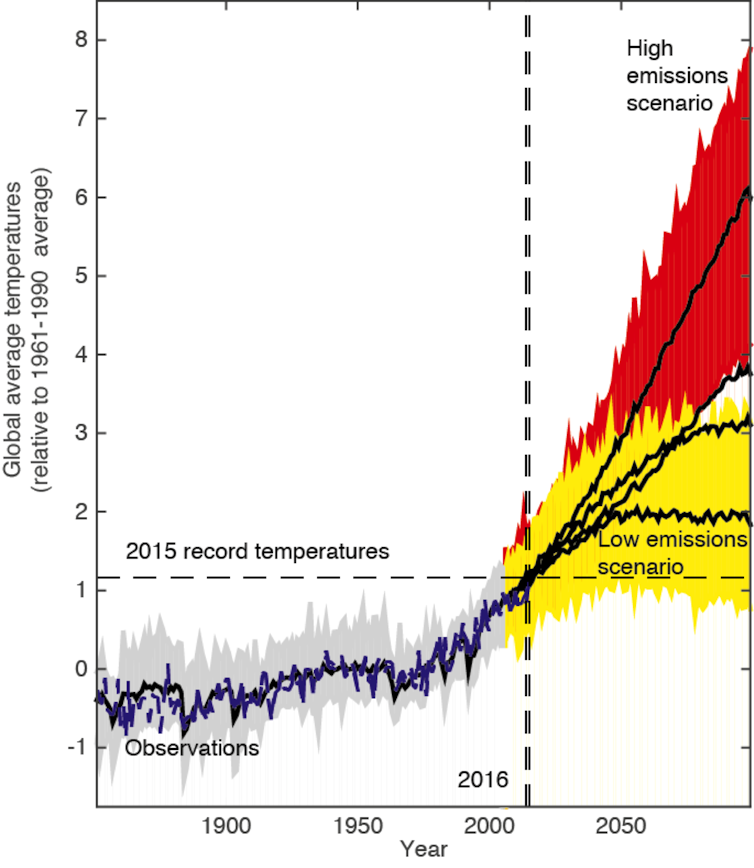 Future extremes
Our findings were straightforward. 2015's record-breaking temperatures will be the new normal between 2020 and 2030 according to most of the climate models we analysed. We expect within a decade or so that 2015's record temperatures will likely be average or cooler than average.
By 2040, 2015's temperatures were average or cooler than average in 90% of the models. This result was unaffected by reducing greenhouse gas emissions or not - we are already locked in to a significant amount of further warming.
We also looked at the timing of a new normal for different regions. Australia is a canary in the coal mine. While other regions don't see extreme temperatures become the new normal until later in the century, Australia's record-breaking 2013 summer temperatures will be normal by 2035 - according to the majority of the models we looked at.
At smaller spatial scales, such as for state-based based temperature extremes, we can likely delay record-breaking temperatures becoming the new normal by committing to significant greenhouse gas cuts. This would clearly reduce the vulnerability of locations to extreme temperatures.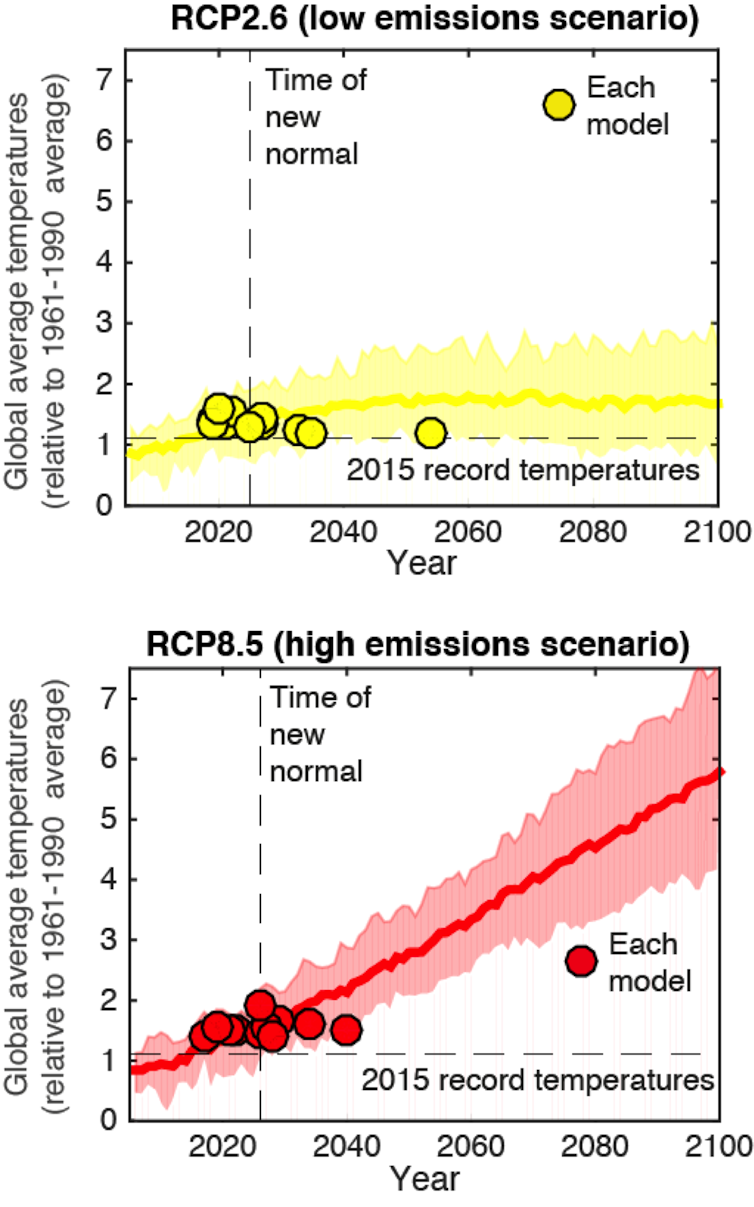 Living in a warmer world
If you like heading to the beach on hot days, warmer Australian summers seem appealing, not alarming.
But Australia's position as a hot spot of future extremes will have serious consequences. The 2013 summer, dubbed the "angry summer", was characterised by extreme heatwaves, widespread bushfires and a strain on infrastructure.
Our results suggest that such a summer will be relatively mild within two decades, and the hottest summers will be much more extreme.
My co-authors, Andrew and Sarah, and I all grew up in a world of above-average temperatures, but our future is in a world were our recent record-breaking temperatures will be mild. Our new research shows this is not a world of more pleasantly hot summer days, but instead of increasingly severe temperature extremes.
These significantly hotter summers present a challenge that we must adapt to. How will we protect ourselves from increases in excess heat deaths and increased fire danger, and our ecosystems from enhanced warming?
While we have already locked ourselves into a future where 2015 will rapidly become a new normal for the globe, we can still act now to reduce our vulnerability to future extreme events occurring in our region, both through cutting emissions and preparing for increased heat.