A record number of women are headed to statehouses and Capitol Hill in 2019. One hundred women were elected to the U.S. House, which means that at least 121 women will serve in the 116th Congress – up from the current 107.
Twelve women were elected to the U.S. Senate. This new record shatters the 1992 "year of the woman" in which five women were elected to serve in the Senate.
Media outlets have been quick to attribute women's candidacies and successes to the Democratic "blue wave." This generalization ignores places like Alabama, where voters elected a Republican woman as governor and passed a measure that recognizes and supports "the sanctity of unborn life and the rights of unborn children" and another measure that allows the display of the Ten Commandments on public property and in schools.
In South Dakota, voters also elected a Republican female governor and rejected progressive-backed measures that would have revised campaign finance and lobbying laws as well as increased taxes on tobacco products.
As a scholar of politics and social movements, I'm often asked to explain these contradictory outcomes.
Here are three things to keep in mind about women and politics as a new Congress prepares to take office.
1. Women vote more than men, and not all are Democrats
How women vote is often not well explained in news coverage. Journalists emphasize that women vote more than men and that more women tend to identify as Democrats.
This is true. If you look at gender alone, 54 percent of women identify as Democrats or lean Democrat, and only 38 percent of women identify as Republican or lean Republican.
The problem is that these numbers miss key demographic differences that divide women's votes. A lot of white, married women vote Republican. According to the Pew Research Center, 47 percent of white women identified as Republican or Republican-leaning and 46 percent of white women identified as Democrat or Democrat-leaning in 2016.
This thin margin among white women was clear in the 2016 presidential election: 45 percent of white women voted for Hillary Clinton and 47 percent voted for Donald Trump. Compare this to women of color: 98 percent of black women and 67 percent of Hispanic women voted for Clinton in the 2016 election.
2. Conservative feminism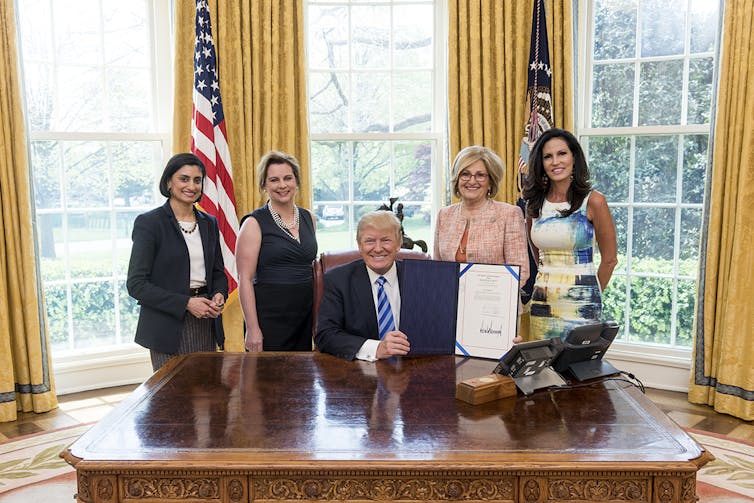 Experts have found that conservative women and conservative women's groups consider themselves part of the "women's movement" even as they reject the traditional goals of that movement: equal rights legislation, legal abortion, some forms of birth control and the ability of women to serve in combat. While these conservative feminists advocate for women's advancement in culture and politics, they celebrate and defend many aspects of traditional femininity including women's roles as family caregivers.
Take the group Concerned Women for America, which I've studied extensively. It was created in 1979 in response to the political successes of the liberal feminist National Organization for Women, which some believed did not represent the political views of all American women.
Concerned Women for America founder Beverly LaHaye, whose late husband was a politically prominent evangelical minister and conservative activist, saw her organization as a way to represent more traditional and religious values in the women's movement. The organization pushed back against legal abortion, the Equal Rights Amendment and infringements on religious expression such as restrictions on school prayer.
Today, Concerned Women of America is a political powerhouse that mobilizes its half-million members to elect Republican candidates. Virtually every Republican running for the presidency since 1980 has stopped in at the organization's annual convention in an effort to gain the group's favor and conservative women's votes.
Concerned Women for America also has a strong presence in conservative states such as Alabama. The efforts of powerful conservative women's groups including Concerned Women for America help explain why voters in Alabama elected only its second female governor in 50 years, Kay Ivey, with 60 percent of the vote and passed socially conservative measures.
Ivey is a Republican whose top two issues, according to her website, were her belief in God and her value of the lives of the unborn. It's a safe bet to say that the women – and men – who voted for Ivey, also voted for the conservative ballot measures.
3. Women's power at the state level
How politically powerful women are varies across the U.S. and, to some extent, reflects ideas about how women and men should act. Historians find, for example, that voters in Southern states tend to reinforce traditional gender norms and frown on women holding political office.
For example, Nevada and South Carolina are politically mixed states but vary dramatically in their ranking on women's equality and political empowerment. According to WalletHub, a personal finance website, Nevada is the fourth best state when it comes to equality between men and women on 16 key indicators, including workplace environment, education, health and political empowerment. South Carolina ranks 45th.
The election outcomes were also very different.
In each state, seven women ran for office in the midterm elections. In Nevada, five women (Democrats and Republicans) won their races outright and another race is too close to call. Only two of the seven female candidates (both Republicans) won in South Carolina. There is a clear difference between the two states in women's degree of political power.
Nevada also has a much better track record of women running and winning. This is not true of South Carolina, where it was seen as an achievement in 2016 when just four women were elected to the state Senate, which has 46 seats.
Women made history in 2018, but there is more to the story than the Democratic "blue wave." The diversity of women and the different contexts in which they operate have implications for politics and policy for decades to come.
This article has been updated to correct that Kay Ivey is Alabama's second woman governor.