When Bobby Fischer became the first American-born world chess champion in 1972, it spurred a dramatic increase in interest in chess. For instance, after Fischer's world championship victory against the Soviet Union's Boris Spassky, membership in the United States Chess Federation swelled from just under 31,000 in 1972 to more than 59,000 the following year.
Could there be a similar effect if Fabiano Caruana defeats reigning world champion Magnus Carlsen, of Norway, in London this month to become the first American-born world chess champion since Fischer? In a Q&A with education editor Jamaal Abdul-Alim, Daaim Shabazz, an international business professor and chess journalist, explains what a Caruana victory could mean for the United States, where an estimated 35 million people are regular chess players.
What characteristics enabled Fabiano Caruana to become a contender for the world chess championship?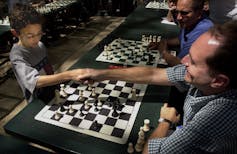 One of the things I saw in Fabiano early on was not being afraid to play the strongest competition available. He didn't fear losing. I once saw Caruana lose a game when he was around 9 or 10 and he didn't seem to carry any of the usual childish pouting from a loss.
This self-control may have been developed because of his early diet of competitive open tournaments. In these competitions you must forget about a bad result quickly or risk distraction in the next game. In a recent interview, he mentioned his ability to come back from losses as one of his top strengths.
In his November 2018 Chess Life article "Caruana versus Carlsen," Grandmaster Ian Rogers described Caruana's "hard-working, calculation-heavy, fearless style."
I believe this to be an essential trait in his psychological makeup. Given the comments made in a recent interview by Chess.com, he seems self-assured in his chances against Carlsen.
What are Fabiano Caruana's odds of winning?
In many chess circles, Carlsen is the considered the favorite. Surprisingly, some predictions are as high as 75-25 in his favor. A September ChessBase.com poll put Carlsen's advantage at 56-43. I have looked at articles showing a number of games between the two, but some offer the safe prediction that the match would be close. Caruana stated at the 2018 Sinquefield Cup that his "chances are about 50-50."
As one who has closely followed Caruana's rise to the top of the chess world, I believe Carlsen is in for a fierce battle. What makes it interesting is that both players are at different trajectories. In the past couple of years, Carlsen has not shown the same dominance that led him to be the top-rated player seven years ago.
Meanwhile Caruana gradually ascended to the number two position some years ago, but battled inconsistency. In the past couple of years, he has stabilized his play, won various top-level tournaments and – as of November 2018 – Carlsen is only three rating points higher than Caruana. The margin is so close that it makes them virtually indistinguishable in terms of their chess ratings, which indicate their strength as chess players. Carlsen has a definite advantage in match experience and tenacity, while Caruana's advantage may come in his composure and theoretical preparation. In my view, Caruana has an even chance.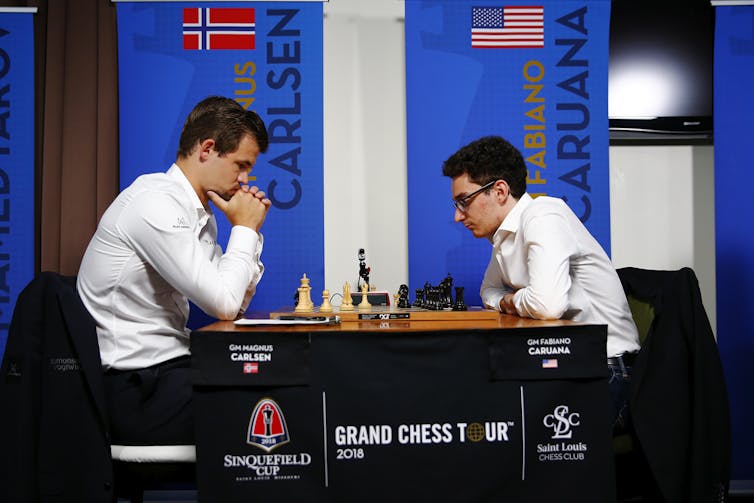 What will be the impact of a Caruana victory?
On an international level, a new champion would shake the seven-year grip that Carlsen has had as the world's top-rated player. This may prove healthy for the global expansion of chess as players from other nations see that they have a chance at the title.
When Fischer broke Soviet domination, it also had similar globalizing effect.
Also, chess may gain more appeal as an educational tool. Caruana was homeschooled and spent time traveling abroad – as did Carlsen – so more people may consider home schooling as a way to position their children for success in life.
On the other hand, a Caruana win may not have a lasting impact on the general public. As Daniel Rensch, an international master and vice president of content at Chess.com, stated in the Fall 2018 edition of American Chess Magazine: "November may come and go with no tangible change for chess in the U.S."
Will a Caruana victory have the same impact as the Bobby Fischer victory in 1972?
Nothing can replicate the "Fischer boom" that occurred after his politically charged Cold War era victory over the Soviet Union's Boris Spassky. With the world gripped in an ideological battle, chess had two combatants who were polar opposites.
The mercurial Fischer mostly worked alone while Spassky had the weight of the Soviet empire behind him. The match almost didn't happen, but last-ditch attempts by high U.S. chess officials got Fischer on a jet to Reykjavik, Iceland, and he won a thrilling match charged with controversy. However, Fischer became the darling of the world and spawned a wave of interest in chess never seen before.
Whether a Caruana victory can spark the same interest in chess remains to be seen. However, his genial persona should do much to dispel the faulty notion – sometimes reinforced by media and popular culture in movies such as "Pawn Sacrifice" – that chess is a game for rarefied geniuses who tend to be socially awkward.
If Caruana wins the championship, it could also lead young players to stick with chess longer than they would otherwise.
If Caruana loses, how long will it be before we see another American contender for the world chess championship?
Given America's recent re-emergence to prominence in chess, even if Caruana loses the championship, we could see another contender within a decade. Caruana is only 26 and currently the No. 2 player in the world, so he'll be back.
Wesley So, a Filipino who represents the U.S., is a possibility, and I believe Hikaru Nakamura still stands an excellent chance to compete for the world championship.
Incidentally, there is a wave of talent emerging in American chess, but the question is one of retention. While at the 2018 Chess Olympiad in Batumi, Ray Robson, a three-time member of the Olympiad team and recent graduate of chess powerhouse Webster University, told me his plans to focus on chess in the coming year to see how far he can go. I reminded him of the young grandmasters like Jeffery Xiong, Samuel Sevian and Awonder Liang nipping at his heels. He acknowledged this and also mentioned several foreign arrivals, such as Cuba's top player Leinier Dominguez, who is now living in the U.S.
There are many scenarios, but American chess will have world champion contenders in the near future.