When it comes to planning better cities for the future there's one simple rule: connect people to places, people to transport and people to people.
The quality and efficiency of our connections have a major impact on how we experience city living. Too often when a city plans for connectivity the needs of people are neglected. We forget the deceptively simple principle that we must ensure that people are at the centre of how we plan, where we live, how we travel and how we get to work.
Despite our obvious need for connectivity, many of us are living in a state of "urban disconnect". Cities have been designed for cars rather than people. Urban disconnect and discontent grow on the back of, and are compounded by, increasing pollution, depleting fossil fuels, rising fuel prices, traffic congestion and traffic fatalities.
As we become more disconnected, we suffer the consequences. These include greater inequality, a rise in obesity and social alienation – not to mention lost economic opportunities.
How to diagnose connectivity
Bringing the people and place connections to fruition requires an accurate diagnosis of current levels of connectivity. Connected places have three key attributes:
People connectivity — this exists where a place promotes social interaction and community engagement; where there is a sense of place, identity, community attachment and social diversity; and where people from all walks of life come into everyday contact with each other. This builds social capital and empathy across the social-cultural spectrum.

Place connectivity — this involves land use that provides easy access to a mix of neighbourhood activities, enabling short-distance travel. This brings place A and place B closer together.

Transport connectivity — this exists where low-impact modes of travel allow for sustainable mobility, which enhances the quality and liveability of places, making the journey between place A and place B safe, efficient and enjoyable.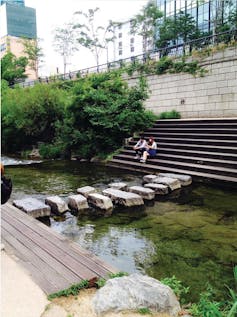 Place and people connectivity encourages place-making and creates vibrant, liveable and attractive urban places.
Place and transport connectivity, on the other hand, is about urban function and describes how accessible urban places are. High place and transport connectivity means that places A and B are brought closer together, or it is faster and easier to travel between them.
To measure the connectivity attributes of places and the success of strategies to meet people's needs, I developed an audit tool for continual quantitative and qualitative evaluation. The tool can be used to measure the "before and after" situation of a place to assess whether strategies to improve connectivity have been successful.
The audit tool incorporates five key dimensions:
city and neighbourhood structure

diversity

walkability and cyclability

place-making

transport.
A case study in connectivity
As an example of using the audit tool, we assessed how King Street in San Francisco performs against the diversity dimension.
Embarcadero Boulevard in San Francisco (which becomes King Street) replaced the elevated Embarcadero Freeway after the magnitude 6.9 Loma Prieta earthquake in 1989.
King Street provides a direct east-west connection between Embarcadero and the I-280 on and off ramps at Fifth Street. The Fourth Street station is a stub-end terminal with six rail platforms. The section I studied runs from the San Francisco Bay Bridge to Fourth Street (highlighted in red in Figure 1).
Figure 1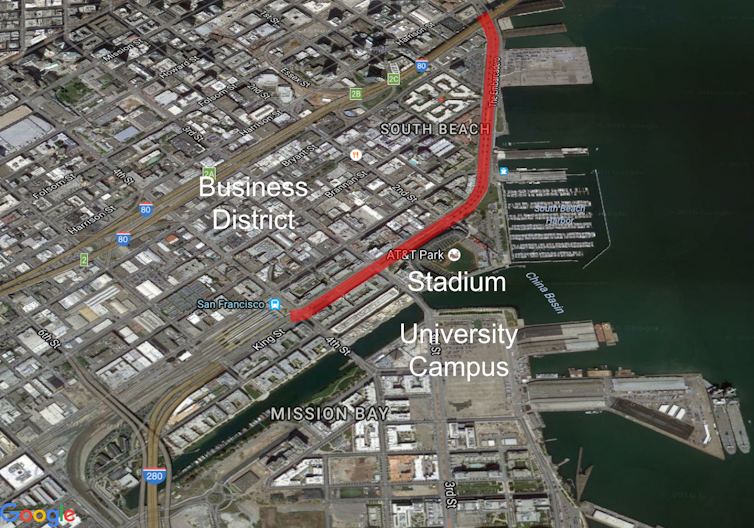 Table 1 illustrates the diversity dimension of the audit tool as applied to King Street.
Table 1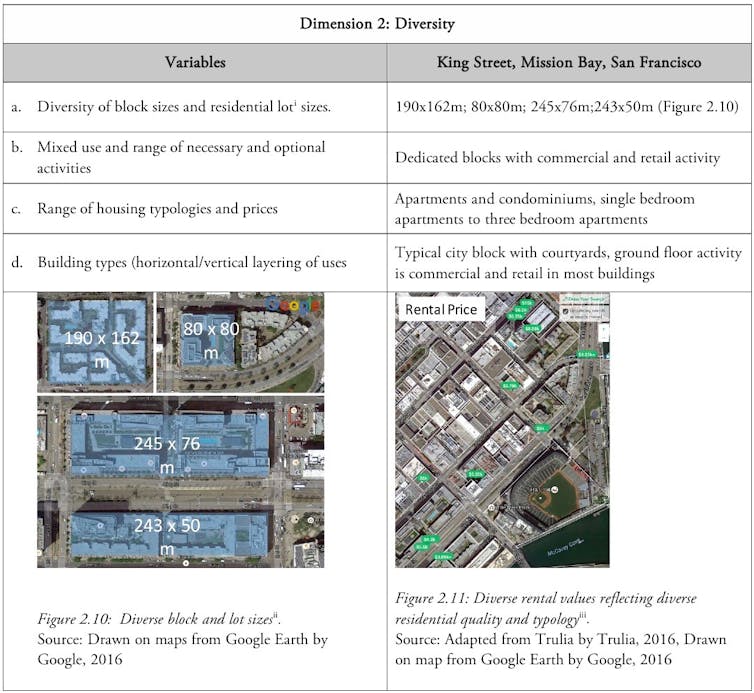 Diversity of block sizes has resulted in a neighbourhood housing information technology companies, media houses, financial institutions, car rental, pharmacy, fire department, retail stores, bowling alley, art stores, design studios, dry cleaners, cafeterias and restaurants. This creates an opportunity for a diverse demographic mix.
Students from the Mission Bay campus of the University of California, San Francisco, a centre for health research and education, together with the mix of office goers add to the diversity and create demand for a number of demographically specific functions and services. Private investments have been attracted to the neighbourhood. Other benefits include jobs, residential growth and increased land prices.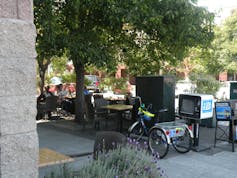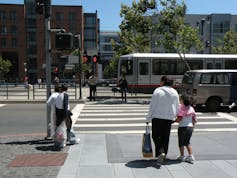 The presence of AT&T Park, home of the Giants Major League Baseball team, plazas and parks enhance the recreational character of the place. This diverse mix of functions attracts people to visit, run businesses, work, shop and live. The result is a vibrant neighbourhood character and economy.
Various medium and high-rise residential condominium projects have been built on King Street. There are also multi-family residential buildings. The different types of apartments are a pull factor for all age groups and family sizes.
This has also resulted in an increase in public transit commute trips. Walking-to-work trips, measured in the influence zone of the streetcar-served Embarcadero Boulevard, have increased by 1.6%.
Similarly, I applied the audit tool to the other four dimensions of connectivity attributes for the boulevard.
A well-connected place scores high on many, but not necessarily all, of the variables. Generally, it is a mixed-use place, of medium to high density with fine urban grain. Importantly, people are able to connect to an efficient and well-integrated transport network with easy access to destinations.
By involving users and residents in place-making, a connected place reinforces the community's positive identity and sense of ownership.
---
Reena Tiwari is the author of Connecting Places, Connecting People: A Paradigm for Living in the 21st Century (Routledge, September 2017, ISBN 9781138213067).