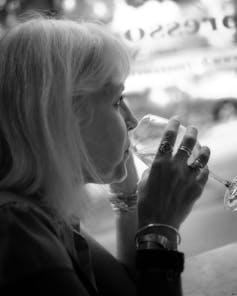 Older women who have one standard alcoholic drink a day may be healthier than their teetotalling peers, a new study has found, but experts have warned that moderation is still key to ageing well.
Australia's National Health and Medical Research Council (NHMRC) recommends no more than two standard drinks a day for healthy men and women, as excessive consumption has been linked to chronic diseases such as cirrhosis and high blood pressure.
In a study published today by the journal PLoS Medicine, Harvard University researchers analysed data on 13,894 women drawn from the US Nurses' Health Study, which has been collecting health information on survey participants since 1976.
To ensure their study focused on the effects of alcohol on moderate drinkers, the researchers included women who had lived to at least 70 years of age but excluded anyone diagnosed with a drinking problem, chronic disease or who failed to provide enough data about their drinking or mental and physical health.
The researchers found that women who drank between a one-third and one standard drink per day had about a 20% higher chance of good overall health when older compared to non-drinkers.
"In this large cohort of older women who survived to at least age 70 years, moderate alcohol consumption at midlife was associated with modestly better overall health status," the researchers said in their paper.
"Spreading out alcohol consumption throughout the week was associated with better overall health whereas drinking alcohol in just one or two days of a week was not."
Easy to misinterpret
Associate Professor Jayne Lucke from the University of Queensland's Centre for Clinical Research warned against misinterpretation of the study's finding.
"It would be easy to misinterpret this study as evidence that drinking is good for you. Rather, the take home message is that regular small amounts of alcohol in middle age might be good for you," said Professor Lucke, who was not involved in the study.
"Also, drinking a small amount of alcohol may not cause women to age healthily – rather women who regularly drink a small amount may also have a number of other characteristics, such as good health, an active social life and a healthy appetite, that all work together to promote successful ageing."
Professor Mike Daube from Curtin University's Public Health Advocacy Institute and the McCusker Centre for Action on Alcohol and Youth said that "nobody should see this as justifying anything beyond very modest levels of drinking."
Dr Lucinda Burns from that National Drug and Alcohol Research Centre at the University of New South Wales noted that the study did not include information on the consumption habits of women who died before 70.
"It may be the case that alcohol, even what may be regarded as a small amount, may have been a factor in these deaths," she said.
Professor Sandra Jones from the University of Wollongong's Centre for Health Initiatives said that while the researchers controlled for a wide range of confounders, there are other factors which are difficult to measure, and control for.
"For example, as the authors point out, other studies have documented a positive association between moderate alcohol use and social contact," she said.
"The beneficial effects found in this study relate to moderate alcohol consumption at midlife (not lifetime alcohol consumption)," said Dr Jones.
"We know that there is widespread lack of knowledge of standard drinks – so many women may define 'moderate' consumption quite differently to the definition used in the study."