In 1930, Enid Blyton edited Tales of Ancient Greece. The endeavour was jolly brave when we consider some of the hair-raising myths of the ancient Greeks. But it was, of course, a darling collection with lashings of light-hearted adventure.
The collection kicks off with Pandora and the Whispering Box:
Long, long ago, when the world was new, and no pain or sorrow was known, Epimetheus lived with his beautiful young wife Pandora. They dwelt in a house made of branches and leaves, for the sun shone always, and the wind was never cold.
Pandora spent most of her time being lovely, surrounded by a doting hubby and the laughter of her friends. But this ended abruptly when a god wandered by and asked Pandora and Epimetheus to mind a box for him. The caveat: "do not open."
Enid's version strays from the original myth right from the beginning: Epimetheus was around a long time before Pandora, they didn't live in a cubby-house, no one was happy and there was never a box – let alone one that whispered.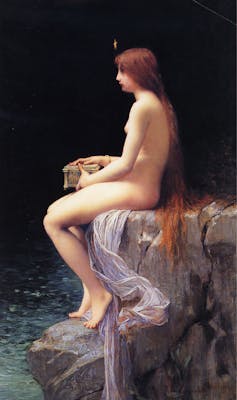 The original myth of Pandora was the tale of the fall from innocence, the hardships of mortal existence and the fear of women. It belonged to an oral tradition and was eventually recorded in the 7th century BC by a gloomy poet called Hesiod. Like many Greek myths, the story was an integral component of belief and ritual, a sacred narrative predicated on divine power.
Pandora, the first woman, was created as a punishment. Before she was made, the earth was a paradise, populated by men who lived free from hardship and enjoyed the company of the gods. But after Prometheus disobeyed Zeus once too often, giving the gift of fire to mankind, the supreme god punished both him and the mortals complicit in his act of defiance.
Prometheus was chained to a rock while a giant eagle nibbled his liver. Men were given women.
The first of the "race of women", Pandora, was a trap – gorgeous on the outside, and evil on the inside – and she marked the end of paradise. Unwavering in her curiosity, Pandora could not resist opening the lid of a jar entrusted to her, releasing all the sorrows of the human condition. Intriguingly, only hope remained trapped inside.
The details of the original myth, sidestepped for the kiddies in Enid's version, may be a feminist's nightmare, but in antiquity such sacred narratives were not uncommon.
In Genesis, Eve was the first woman. Like Hesiod, who told the tale of the first woman twice, with variations and contradictions, there were two Eves (and two Adams) in Genesis.
In Genesis 1:27, man and woman were created together in God's image. In Genesis 2:21-23, however, Adam was created first and later on, Eve was formed from his side, typically his rib.
There are several explanations for the different versions. One argument is that there is no real problem – the first version is simply a preface to the second, more detailed account. An alternative reading is that the two accounts reflect different documents, from different eras, merged by the one compiler.
In Genesis 3 the themes of female disobedience and curiosity rear their problematic heads.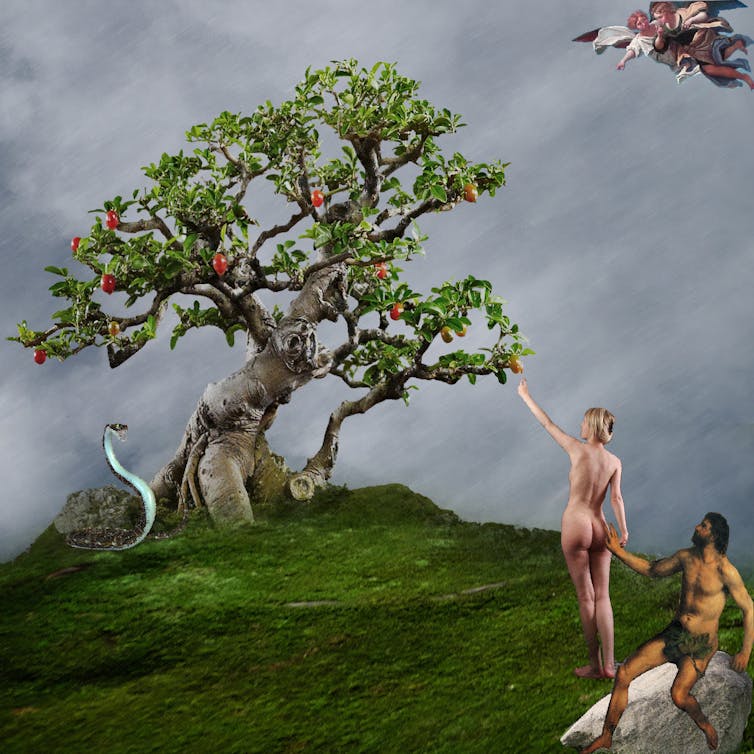 This time there wasn't a jar but a fruit-bearing tree and a talking snake. Like Pandora, Eve could not resist the temptation to disobey. Consequently, a jar was opened in one narrative, and forbidden fruit tasted in another. The end of paradise was the result in both.
Didactic in purpose, both stories expressed societal and religious imperatives: men must work hard because they were complicit in disobeying divine powers; women must be ruled by men because they were disobedient and curious.
But Pandora and Eve pale in comparison to Lilith, the "other woman" in Adam's life. Her story is told in the Alphabet of Ben Sira, an amalgam of earlier accounts of Lilith from the Midrashic tradition. Of uncertain date, possibly between the 8-12th centuries AD, the Alphabet named Lilith as Adam's original wife.
Haughty and defiant, Lilith refused to submit to Adam's authority, refusing to lay beneath him during intercourse.
Disillusioned with her station, Lilith fled. Free from male authority, she embraced her inner-evil, morphing into a child-stealing demon, which most likely had its origins in a myth explaining mysterious infant mortalities.
Lilith was a terrifying first woman because of her sexual rebellion. By refusing to adopt the missionary position, she challenged masculine authority and was most likely suspected of circumventing the opportunity of conception. Worse still, Lilith's subsequent career as an agent of destruction made her a threat to life itself.
Enid Blyton never penned a Midrashic collection for kids. That's just as well. Lilith would have given the Famous Five a run for their money. She did, however, write about Eve in a collection of Bible stories published in 1949. In The Wicked Serpent, Eve, like Enid's Pandora is naughty but nice.
Enid's legacy continues in new books for kids that also tone down the nastier features of these myths, but repeat the same messages. So, perhaps it's time to tell new myths. Better still, to tell the old ones uncensored, in order to lay them bare for interrogation.


We're currently commissioning articles on all aspects of religion and mythology. If you're an academic, and would like to know more, contact the Arts + Culture editor.