Bob Crow, the pugnacious General Secretary of the Rail Maritime and Transport Workers Union (RMT), has died at the age of 52 after suffering an aneurysm and a massive heart attack. His passing has brought tributes from both sides of politics, from his friends and political enemies who saluted a passionate fighter for members' rights who worked his way up through the rank and file to lead one of the most powerful and successful trade unions in modern Britain.
Crow first became involved in union activities when working as a London Transport tree-feller in East London. He became an official for the National Union of Railwaymen when he was elected as a local representative in 1983. His rise through the NUR ranks started in 1985 when he was elected as national officer for track workers.
When the NUR merged with the National Union of Seamen in 1990 to form the RMT, Crow was elected to the national executive and became the assistant general secretary in 1991. He was elected to succeed Jimmy Knapp as general secretary in 2002, having polled almost twice as many votes as his opponents. He was also on the General Council of the Trades Union Congress.
In recent years Crow came under much criticism for living in a council house at the same time as earning a salary package rumoured to be worth around £133,000, something he was unashamed of as, in his view, he did a good job for RMT members. Some argued this amounted to hypocrisy, given his leaning toward the far left. He had been a member of the Communist Party of Great Britain and later joined Arthur Scargill's Socialist Labour Party.
Bob was a vociferous critic of Tony Blair and had no time at all for third way politics. For Crow, all Labour had done was waste a landslide victory and allowed the gap between rich and poor to widen.
Working class hero
Crow was perhaps not the most photogenic union leader; photos of him in a baseball bat with snarling expression are easily found on the internet.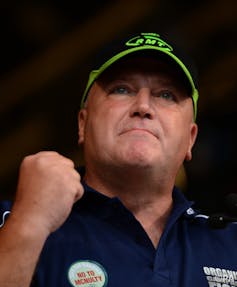 In recent months he was embroiled in the bitter dispute between the RMT and the London Underground over the closure of 240 ticket offices and the loss of around 750 jobs. This inevitably led to personal confrontations between him and his arch enemy, the Mayor of London, Boris Johnson. There couldn't be two more different characters; Crow from east London educated at a secondary modern school, and Johnson born in New York and educated at Eton and Oxford. Despite their differences, Johnson described Crow as "a fighter and a man of character", there was clearly mutual respect between the two of them.
Crow was uncompromising in his defence of RMT members. As far as the London Tube was concerned, the ticket office closures were a step too far and the inevitable strikes were called. In response Johnson and the CBI reiterated their calls for a minimum of 50% of affected members to vote in ballots for industrial action.
Any criticism of the RMT and industrial action was met with a strong rebuff. When the Greater London Authority Conservatives published a report which estimated the cost of the London Tube strikes at £48m a day, the RMT described them as "clowns". As far as Crow was concerned, the reduction in staffing levels on the London Tube would have significant negative impact on services and passenger safety. Crow and the RMT were determined to fight the plans with every tool at their disposal; the union continues to do so.
Paying tribute, former Mayor of London Ken Livingston said, "The only working-class people who still have well-paid jobs in London are his members." He added: "With the passage of time people will come to see that people like Bob Crow did a very good job."
There is no doubt Crow's death will change the industrial relations landscape on the London Underground, as well as on the national railways, and on a wider scale in Britain. He was a determined, old-fashioned trade unionist, who drove a hard bargain. Crow was described by John McDonnell, Labour MP for Hayes and Harlington as "one of the finest trade union leaders of his generation". There is no doubt that industrial relations will sorely miss his enthusiasm and wit.