Two facts can't be disputed: Americans love their sports, and they love to gamble.
According to Gallup, nearly 60% of Americans call themselves sports fans, while ESPN broadcasts continuous sports coverage to almost 100 million homes.
Meanwhile, state-sanctioned casinos, poker rooms and lotteries are only proliferating. Once relegated to Nevada and Atlantic City, casino gambling has now expanded into 31 states, as the state capitals hope to use gambling revenues to address budget shortfalls. In Nevada, where there is legalized betting on the outcomes of sporting events, billions of dollars are wagered annually.
By now, you've probably heard of daily fantasy sports, which currently occupies a legal gray area. Some states have called it gambling, while others claim it's perfectly legal given it's a game of skill.
Either way, there's no denying that money is being wagered. And it should say something that professional poker players are transitioning to daily fantasy sports.
But as someone who has studied the gambling behaviors of young people for over 20 years, I argue that it's the fact that young men are signing up to play in droves that represents the most disconcerting trend.
Gambling's new frontier
With the rise of the internet, gambling has dramatically changed.
Whereas before, there was a dependency on traditional land-based forms of gambling (casinos, slots parlors, poker rooms), technology now has allowed us to wager on virtually anything – whether it's slots, bingo, lotteries, card games, poker or, yes, sporting events – from the comfort of our living rooms.
At a federal level, the Unlawful Internet Gambling Enforcement Act (UIGEA) of 2006 was designed to prevent Americans from engaging in online gambling, especially poker and sporting events.
Fantasy sports were explicitly exempt, with the idea that fantasy sports were "skill-based."
But back then, fantasy sports were different. A group of friends would pick players to form their own teams, which they would follow over the course of a professional season. Entry fees varied; often players wouldn't compete for money at all. In essence, it provided a fun, exciting and interesting way for sports enthusiasts to compete against each other, whether for money, entertainment or bragging rights among friends.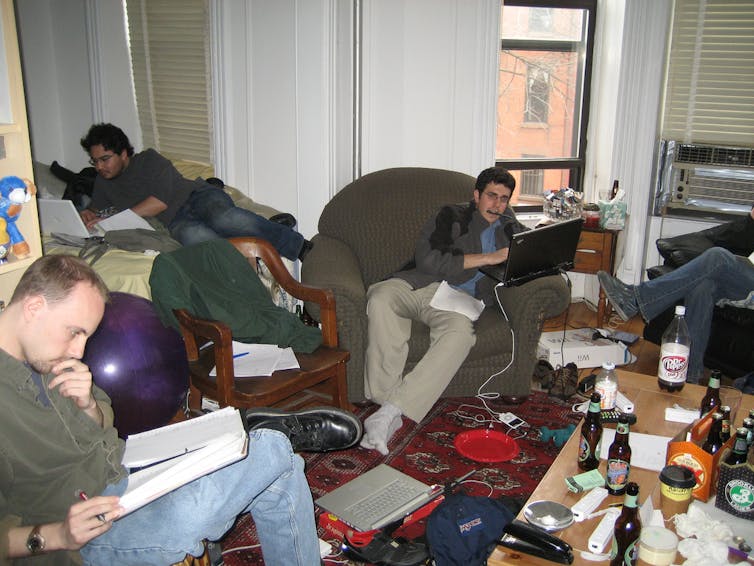 Perhaps identifying a loophole in the absence of widespread legalized sports betting, the season-long fantasy sports model became warped, as sites like FanDuel and DraftKings created "daily" platforms that allowed participants to place new bets and create multiple teams every day of the week.
Much attention has been made of the millions that these daily fantasy sports companies have spent on luring new players.
It's worked. DraftKings, which had roughly 200,000 people signed up last year, has seen a tenfold increase in registered users.
With bets that can be placed with a click on a smartphone, daily fantasy sports represent a potent mixture: they add an extra layer of excitement and intrigue to the sporting events we already love, while also fueling our desire to gamble, offering the opportunity to showcase our prowess at "beating the odds" – without even leaving the living room.
Young men are particularly vulnerable
The Fantasy Sports Trade Association (FSTA) has suggested that upwards of 40 million Americans play fantasy sports, which generates over US$15 billion in entry fees. According to the FSTA, the typical player is male (66%) and someone who spends upwards of 18 hours per week consuming sports, with nine of those hours spent engaged in some form of fantasy sports wagering.
Why are so many young men drawn to fantasy sports wagering? And what makes them particularly vulnerable?
Well, for one, the millennial generation has grown up with all the digital toys at their disposal: smartphones, tablets and laptops. Data is but a touch away. Fantasy sports operators have capitalized on this reality and have developed platforms for both wagering that provide real-time data updates.
But beyond the impressive technological capabilities of daily fantasy sports platforms, gambling research provides some clues why the games resonate so much with this demographic.
Besides the obvious allure of winning lots of money (even I'm intrigued by an ad which boasts of a player starting with $35 and winning $2 million), there has been research suggesting that young males, in particular, find this activity attractive.
According to our research, for these young men playing fantasy sports can:
make the sporting events more interesting
reaffirm their masculinity
offer an escape from daily routines and stressors
allow them to form bonds with their peers
fuel competitive drives
allow them to have more complex experiences
and give them the opportunity for bragging rights.
While most individuals engage in this form of wagering in a socially responsible manner (setting and adhering to personal time and money limits), they're still devoting vast amounts of time to fantasy sports, which precludes them from taking advantage of social and academic opportunities.
In a large-scale study among college athletes from 2004 to 2012, we found a dramatic increase in the number of male and female college student athletes wagering on fantasy sports sites.
While we won't know for sure, it makes you wonder how many of these players will go on to experience actual gambling problems.
This is not to suggest that fantasy sports wagering actually results in a gambling problem; rather, it may well be that young people with gambling problems just view this as another easy opportunity to gamble. However, the amount of time spent on this one activity – along with the lack of robust age verification barriers – is of considerable concern.
Meanwhile, recent research has shown that people under 25 are playing fast and loose with their investments (and don't have much to show for it). Whether or not this is indicative of our culture's larger obsession with risk, it does speak to a certain vulnerability that young people who wager on daily fantasy sports possess.
Ultimately, whether fantasy sports are viewed strictly as skill-based or gambling will be left for the courts to decide.
Until then, the lure – and pitfalls – of engaging in daily fantasy sports remain. After all, for generations the gambling industry has thrived off the same core principle: for every winner, there must be many more losers.