One of the key issues behind the recent debate over UK airports is the unwieldy dominance of Heathrow, both within London and across the whole nation. But the little guys are fighting back. Using a variety of strategies, London's other airports have carved out successful niches for themselves, and the rest of the country has become directly connected to overseas destinations. Whatever its future, Heathrow must beware.
The development of multi-airport systems like London's has been a recent trend in global commercial air travel. All airports in such systems serve a particular metropolitan area, often with overlapping catchment areas. A study in 2008 identified 59 such multi-airport systems around the world, with 25 in Europe.
Multi-airport systems serving the same metropolis always have a dominant or primary airport, with a high, and constant, levels of traffic. As well as having lower passenger numbers overall, traffic at secondary airports tends to be more volatile as they rely on start-up airlines and routes to new markets. These smaller airports often specialise in a particular market segment not shared with the dominant rival. This can be the result of airline strategy, geographical location, government regulation or simply historical precedent.
At the top of the airport food chain is London, Europe's largest multi-airport system. The UK Civil Aviation Authority (CAA) recognises no fewer than six airports as serving the city.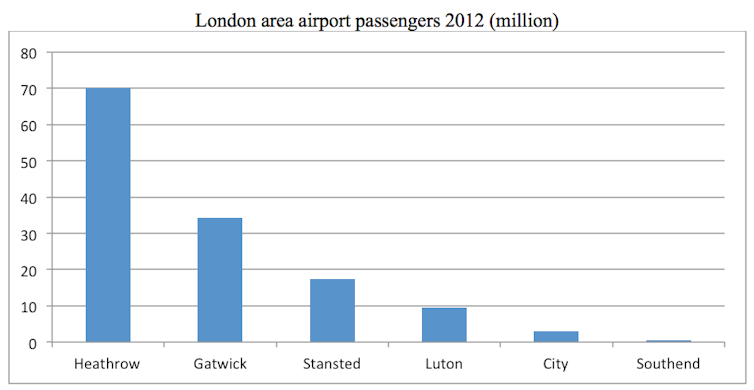 Primary vs secondary
Heathrow clearly dominates - the system's primary airport. However, 48% of London passengers still used other airports in 2012. To see how this has come about, it is worth looking at each of Heathrow's rivals.
Gatwick airport's early traffic grew as a result of charter flights. It also benefited from regulation by the UK government in 1978 designed to achieve a "better" distribution of traffic between Heathrow and Gatwick, the UK's two main international airports at the time. Conversely, the airport was the victim of later deregulation in 2008, when the EU/US "Open Skies" policy resulted in the loss of many North American services back to Heathrow. The airport is now unique in that it offers a mix of scheduled full-service (both short-haul and long-haul), scheduled low cost and charter carriers. Unlike London's other secondary airports, no single sector dominates.
Stansted exhibits the classic traffic volume volatility and market specialisation of the secondary airport. In just five years from 1998 to 2003, passenger numbers grew from 7m to 19m, driven by rapid expansion among low cost carriers. By 2003, Ryanair operated services from Stansted to 66 destinations in competition with easyJet (23 destinations), buzz (21) and Go (20). But this was as good as it got. Both of the Stansted start-ups buzz and Go ceased operations around this time, and the airport's traffic peaked at 24m in 2004 before showing a significant decline to 17m in 2012.
Luton also played an important role in the growth of the inclusive holiday tour flights in the UK. It is now dominated by budget carriers, being both easyJet's headquarters and first operational base. This low cost sector accounts for 86% of passenger traffic with charter passengers now reduced to just 4% of business and full-service airlines taking 10%. Luton is notable for successfully avoiding the traffic volatility of Stansted, with consistent passenger numbers of 9-10m in the last five years.
London City airport's small size and geographical proximity to the City of London and Canary Wharf allow it to offer a unique experience to business passengers that can never be matched by other London airports. Despite the global economic crisis, the airport's traffic has remained stable around at around 3m passengers per year since 2007.
Southend, now a base for easyJet, is the new kid on the block. With direct rail links to London Liverpool Street from the airport station, 600,000 passengers used the airport in 2012. The numbers are small compared to established rivals, but Southend started from a low base: passenger numbers were negligable in previous years.
Region to region
Heathrow's status as national hub and primary London airport is threatened by two other trends in the aviation market. UK regional airports have created direct passenger flights to other regional airports in Europe, bypassing national hubs. Regional UK airports are now directly connected to regional France and Italy, for example, thus avoiding the use of the London, Paris, Rome or Milan airport systems.
Furthermore, larger regional UK airports like Manchester, Birmingham, Glasgow and Edinburgh have also encouraged North American and Middle Eastern carriers to replicate the connections they originally only offered from Heathrow. This connects these airports to the global networks of airlines like Delta, United, Qatar Airways and Emirates without the need for passengers to transfer through London.
But, thus far, Heathrow has shown great resilience as both national hub and London's primary airport. Potential threats to business from low cost carriers in the London secondary airports, direct regional European connections and competition from foreign flights to larger UK regional airports have made little impact on Heathrow's market share in the very challenging economic climate since 2008. Even with very constrained capacity, its share of both the London and UK markets has shown considerable growth in recent times. Perhaps the biggest threat to Heathrow comes not from its rivals, but from politicians.