Jan. 29, 2017 must be remembered as the date of the worst mass murder to take place in a house of worship in Canadian history. This was the day when six Muslim men were shot dead after evening prayers in a Québec City mosque.
A local halal grocery store owner, a professor at Université Laval, three civil servants and a pharmacy worker were brutally slain that night. They originally came from Morocco, Algeria and Guinea. They were fathers, sons, husbands, brothers and respected members of the local Muslim community.
Remember their names: Ibrahima Barry (aged 39), Mamadou Tanou Barry (aged 42), Khaled Belkacemi (aged 60), Aboubaker Thabti (aged 44), Abdelkrim Hassane (aged 41) and Azzedine Soufiane (aged 57).
One year later, it is time to pause and reflect on some of the lessons we must learn from this tragedy.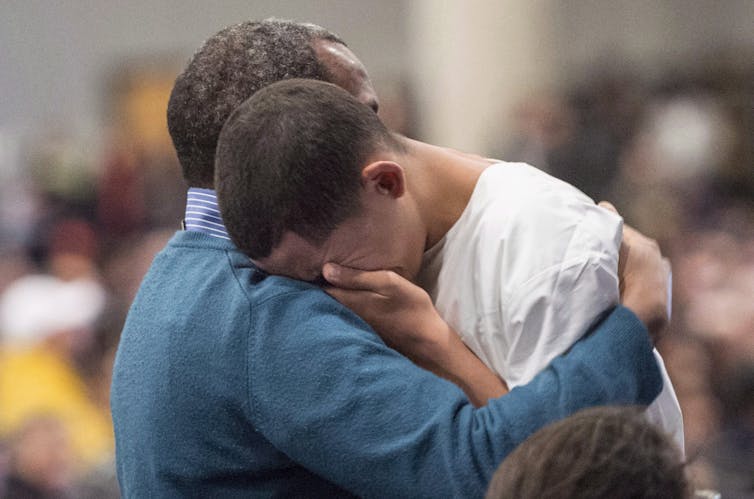 Lesson 1: The alibi of white exceptionalism
While condemned as a terrorist attack by many, including Prime Minister Justin Trudeau, the accused shooter, Alexandre Bissonnette, a 26-year-old student from Université Laval, faces first-degree murder charges but has not been charged with any terrorism crimes. Legal experts have said sections of the Criminal Code dealing with terrorism are aimed at those who commit the crime in collaboration with a terrorist group, meaning it's difficult to prosecute a lone gunman.
Yet others were quick to point out that when the assailant is Muslim, the same consideration is rarely extended, lone wolf or not. In fact, the first suspect in the Québec shooting was a Moroccan man, Mohamed Belkhadir, who was in the mosque during the attack and called police who then misidentified him as a suspect.
This goes to show how easily and routinely Muslims are associated with criminality and terror. The consequences of this kind of labelling as suspect is felt by all Muslims. When a lone Muslim commits a crime, the burden of guilt is collectively levelled against all other Muslims who suffer the backlash. The same is not true for white perpetrators and their communities.
Part of the privilege of whiteness is the exceptionalism that allows white people to be regarded as individuals in that their actions will not, by association, affect the status or safety of others from their group.
Whiteness is an alibi that allows a mass murderer to be the bad apple that spoils the bunch, instead of painting all white people as potentially violent and criminal, even though lone white men are most typically engaged in mass shootings.
All Muslims, however, must contend with being labelled as potential radicals, jihadis and threats to the nation even when — as in the case of the mosque killings — they are the victims.
Lesson 2: Islamophobia is 'home grown'
The Québec massacre was a shock to Canada's multicultural utopia. And yet some of us wondered how this had not happened sooner. Canada's "home grown" Islamophobia had impacted Muslims long before this tragedy made it a headline.
Liberal multiculturalism has long masked the inequality behind the Canadian "cultural mosaic" that was rightly characterized by sociologist John Porter as a "vertical mosaic" stratified along the lines of class as well as racial, ethnic and religious difference.
For example, a 2017 Angus Reid survey found 43 per cent of Canadians had unfavourable views of Islam as compared to other faiths, while a 2016 Leger poll found a steady decline in Francophone views of Islam since 2012, with 48 per cent of Québec respondents holding negative views. Statistics Canada found hate crimes against Muslims in Canada grew 253 per cent in four years.
It is not insignificant to note that in the same mosque where the attack occurred, a pig's head with a sign that said "bon appétit" was left at the door a year before.
After the massacre, Motion 103 was tabled by Liberal MP Iqra Khalid to address Islamophobia, systemic racism and religious discrimination, and implement measures to research, document and challenge these concerns. This was met with virulent Islamophobic rhetoric and hate.
All of this came as an affront to Muslims who had barely had time to grieve the horror of the massacre before dealing with the onslaught of Islamophobia and anti-Muslim racism.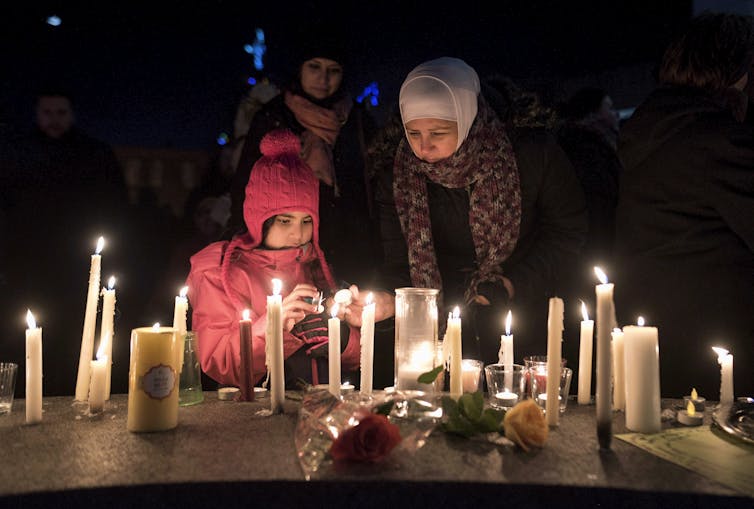 Lesson 3: White nationalism and the myth of Canadian exceptionalism
There was a rush to blame this tragedy on anti-Muslim hatred south of the border, exemplified by U.S. President Donald Trump's travel ban on Muslim countries and fortified by his Islamophobic rhetoric. Canadian's confidence in their exceptionalism — the idea that Canada is less racist and Islamophobic than the U.S — was secured by this move.
But relying solely on Trumpism as source of the problem denies the fact that Canada has its own history of policies that promote Islamophobia.
The Harper era was riddled with "Trump Lite" policies that target Muslims, such as the Barbaric Cultural Practices Act, Security Certificates (involving secret evidence and trials), the Anti-Terrorism Act and the proposed niqab ban at citizenship ceremonies (all still exist except the niqab ban at citizenship ceremonies). Not to mention: Harper's unfounded comment about radicalization taking place in "basements" or "mosques", which legitimized Islamophobic fears and anxieties and heightened suspicion toward religious spaces through dog whistle politics.
Québec's policies, such Bill 94 banning the niqab from public and civic spaces and the Charter of Values, also contributed to this breeding ground of Islamophobic fear and white angst. Such policies and rhetoric north and south of the border served to embolden and authorize the views of white nationalist groups who have found renewed currency in this political climate.
There are approximately 100 white supremacist groups operating in Canada. Hate groups that specifically target Islam include PEGIDA, Never Again Canada, Rise Canada, Jewish Defense League, the Canadian Coalition of Concerned Citizens, while in Québec, groups like La Muete promote hatred and fear of the sharia bogeyman].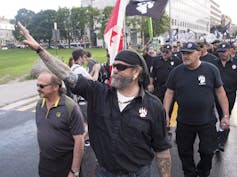 Stepping out of the shadows of internet chat rooms and congregating openly through public rallies across Canada over the past year, the presence of white supremacist nationalism is gaining renewed impetus through Islamophobic hate. A recent study on the the white nationalist website Stormfront found that Islamophobic sentiments were more prominent from Canadian subscribers than in the U.S. The veneer of Canadian exceptionalism is stripped bare by such facts.
Lesson 4: Fear and moral panic
Muslims have been constructed as the "enemies within" and represent the new folk devils that threaten the stability of the nation, a role other ethno-racial groups in Canada have played in the past.
The spread of Islamophobic fear and moral panic provide the ideological breeding ground for both right-wing populism and neo-fascism, as well for the recruitment efforts of extremist groups like Daesh/ISIS and al-Qaida that rely on Islamophobia to set the stage for attracting disaffected youth to their cause. These conditions legitimate draconian security policies and racial and religious profiling that continue the vicious cycle of vilification, provocation and violence.
Lesson 5: Courage, resilience and solidarity
Amid the violent chaos of the gunshots in the mosque, some escaped death but were left with debilitating injuries. Aymen Derbali was paralyzed after trying to stop the shooting. He is a hero and his selflessness saved lives. Others are emotionally and psychologically scarred by the trauma.
Yet in a spirit of resilience, they have joined survivors of the Montréal Polytechnique massacre in 1989 in raising awareness of gun violence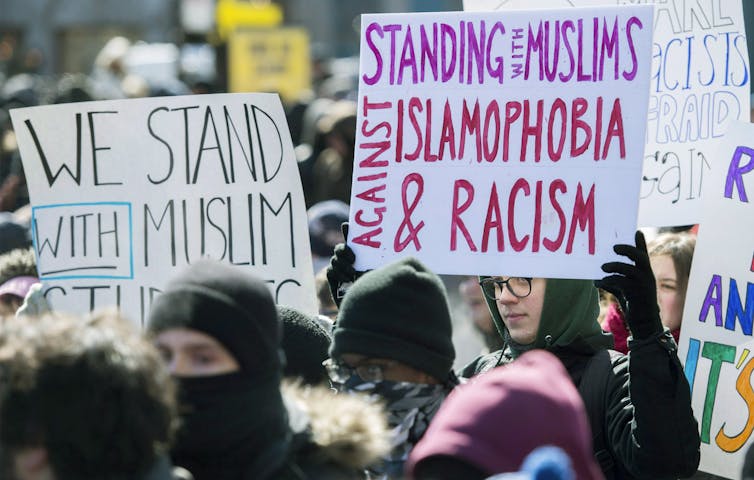 This massacre will continually haunt the nation's history. Yet the moments of sharing solidarity, inter-faith support, mourning, and outrage with other Canadians has been healing. The vigils and memorials help to restore the sense of community that was shattered by this tragedy.
The National Council of Canadian Muslims, with the support of over 70 Canadian Muslim associations and organizations and over two dozen community partners, are calling for Jan. 29 to be designated as a National Day of Remembrance and Action on Islamophobia. Having other Canadians support this effort will go a long way to ensuring that the lessons learned from this tragedy will not be forgotten.