Former dictator Jean-Claude "Baby Doc" Duvalier may be dead and buried, but real democracy remains a very distant prospect in Haiti.
After ongoing failures to hold elections that should have taken place nearly four years ago, the nation's parliament has been dissolved, effectively leaving President Michel Martelly to rule by decree until his mandate runs out at the end of next year.
In an apparent attempt to restore democracy, Martelly has announced that he has formed a new government but appears to have kept many of the same faces in his team. He has also appointed allies to key positions. As these unelected figures begin to rule, many Haitians remain without food and shelter, five years on from the earthquake that killed hundreds of thousands.
The US-backed president has faced unenviable challenges during his time in office. The earthquake damaged every part of Haiti's socioeconomic activity, and was soon followed by a devastating cholera epidemic introduced by UN peacekeeping forces.
In these urgent conditions, Martelly has been a painfully ineffective leader. He has invested in tourism and industry in the north of the island, far from the epicentre of the quake, and left it to international forces to house many of the displaced. More than 200,000 people – many of them children – continue to live in temporary shelters. Unemployment officially stands at 39.5%, but the real figure may be even higher.
Equally worrying is that Martelly, a former popular musician, has been accused of being a neo-Duvalierist. He has also associated himself with opponents of Haiti's first democratically elected president, Jean-Bertrand Aristide.
Sweet Micky the dictator
In a 1997 interview, Martelly declared:
First thing, after I establish my power, which would be very strong and necessary, I would close that congress thing. La chamber de deputés. Le sénat … out of my way.
This bravado perhaps came from "Sweet Micky", Martelly's eccentric musician persona, from which he has distanced himself in recent years. But its promise has come to pass. Martelly now rules Haiti as a de facto dictator with a self-appointed and unelected government.
When first elected, Martelly sparked controversy by pledging to re-install the Haitian military. This was the nation's dominant political force since its introduction by US occupying forces nearly 100 years ago until it was dissolved by Aristide in 1995. He also signed an amendment to the constitution that appeared to many to re-criminalise Vodoun, the nation's widely practised but much maligned sacred belief system, although he has since publicly attended a Vodoun ceremony.
He has also faced criticism for giving too warm a welcome to Baby Doc when he returned to Haiti in 2011. He and his father were thought to have caused up to 50,000 deaths during their collective 29-year rule, yet Martelly appeared to feel no need to hold them to account.
Stalemate
Martelly has never been a popular president. He came to power via a questionable election in which just 4.3% of Haitians of voting age backed him in the first round. He only reached the second round because US pressure forced the ruling INITE (Unity) party, which had initially been ranked ahead of Martelly, to withdraw.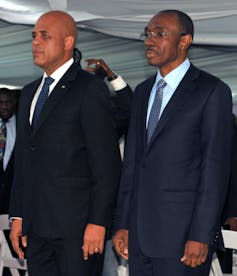 The contested results of this event have limited Martelly's parliamentary authority. For this reason, he cannot be held totally accountable for the current political stalemate.
They have also left him beholden to local and international business interests, which represent his only real support base. Pressure in this respect has held down wages and exacerbated the nation's rampant poverty.
Haiti's economic system is currently tailored to benefit the nation's tiny elite and foreign capital. Ongoing international support for Martelly in light of the current crisis shows that a political stability that will benefit foreign interests is the goal, rather than meaningful democracy.
Haitians have long been a key source of low-paid labour for the US market, producing clothing for leading brands such as Gap, Levi's, Walmart, Old Navy and Fruit of the Loom.
Such a strong foreign business presence can be traced back more than forty years to the beginning of Baby Doc's rule. The focus on Haiti as a source of cheap labour helps to explain why a nation born out of a slave uprising currently has the third highest forced labour rate per head of population in the world.
In the light of ongoing political uncertainty and poverty, protesters have spent months calling for Martelly's resignation. In Port-au-Prince in December, UN peacekeepers opened fire on a group of demonstrators. Despite such violent retaliation, protests are likely to continue unless Martelly finds a way to restore meaningful democracy or steps aside.
The good news is that, unlike the Baby Doc, Martelly lacks a grassroots support base. If he attempts to act imperiously or even to extend his mandate like many of his predecessors, he may well lose the external backing he currently enjoys. In the meantime, the guns of the UN's so-called peacekeeping forces can be expected to hold meaningful grassroots protests in check.