It's been a tumultuous month in Africa. In Nigeria, Muhammadu Buhari has been sworn in as president. During the lengthy handover period between former president Goodluck Jonathan and Buhari, the Nigerian army finally began making major gains against extremist group Boko Haram – but the militants showed their strength just before the inauguration with attacks on Maiduguri, a major city that also has an ancient Islamic heritage.
In Burundi, a coup was launched – and then failed – against a president seeking a third term in office. Violence has erupted and regional leaders have urged Pierre Nkurunziza to postpone plans to hold an election in June.
The Economic Community of West African States has decided not to adopt a region-wide resolution against presidents standing for third terms. The planned initiative to limit terms was the result of the riots in Burkina Faso that recently led to the end of a bid for a further term by the president there.
Most of the objections came from francophone states, such as Togo, but also from Gambia. These states have presidencies drawn from the model of Charles de Gaulle who, in the post-war French crises, established the most constitutionally powerful presidency in Europe.
Even in the absence of crises, those sweeping powers and privileges are hard to give up. The French presidency was, for many decades, seven years long, so two terms, which was the limit, amounted to 14 years. Three five-year terms is only one year more.
Quality over longevity
But the real issue is not length of time in office – it's rotation and, implicitly, the right to choose who should next be rotated to the highest office in the land. It has been a long time since a grassroots reformer has come out of nowhere to win a presidency. It is the political elite that is rotated.
In a way, this is one of the driving forces behind the rise of groups like Boko Haram. Despite all the doctrinal commitments and all the atrocities, there is still – or once was at the beginning of their insurrections – a political agenda that struck out against the monopoly of political elites.
Buhari must not only provide petrol for his people, and bring military victory to the north, he must address the underlying problems of a deeply cleaved Nigerian society. If he, an older man, a former military man, an Islamic believer, a northerner, and a man with a reputation for rising above corruption cannot do this, Nigeria could be facing a difficult period, torn between progress and violence. Southern states, with the shining example of Lagos, are becoming prosperous financial capitals, moving well ahead of the northern cities and states – particularly Boko Haram hotspots.
An endless presidency
Meanwhile, many Africans continue their perilous efforts to cross the Mediterranean on migrant boats in an attempt to reach the shores of Italy, Greece and Malta – and Europe has reluctantly agreed to make room for 40,000 of them.
As well as Syrians fleeing a terrible war, it now seems that a huge number of these people are Eritreans escaping regime imposing a huge conscription drive to swell the country's armed forces.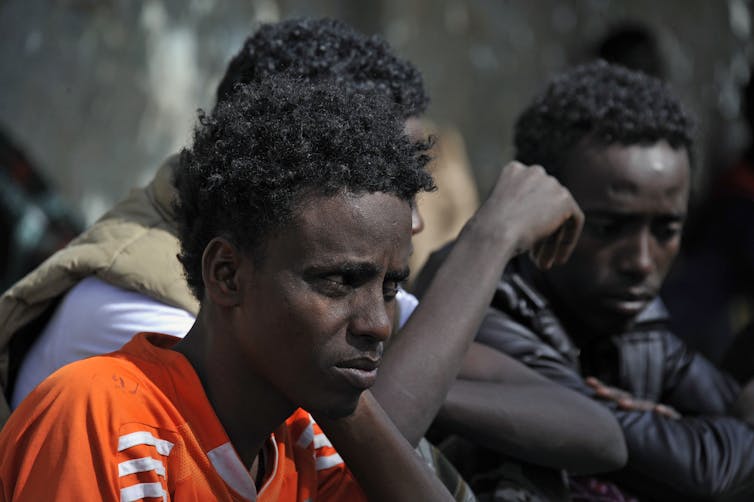 Military service is indefinite and, for the young, the future is a life on the front line defending the nation against an imaginary Ethiopian foe that long ago ceased to be a threat. The Ethiopians have their transport link to the sea now through Djibouti. They don't need Massawa, the port city of Eritrea.
It is estimated that more than 300,000 Eritreans have fled the country in the past decade and with a president, Isaias Afwerkim,who has limitless terms, they see little hope for change.
Testing a new model
Presidents who look backwards, presidents who want to stay in office, insurgent groups that grow out of unaddressed political agendas – African nations find themselves at one crossroads after another at the moment.
For the immediate future, all eyes will be upon Buhari. Will he be the unlikely model for a new type of presidency? One that is not corrupt, but which is efficient.
He has the resources at his command. He seems to have the integrity. But Nigeria is not an army. It does not develop according to orders. How inclusive and persuasive he is will be just as important as how stern or honest he wants his government to be. But he will find it hard to put together a cabinet that doesn't feature political figures with very mixed records and, at the top of Nigerian politics, the political elite will continue to rotate.