---
This article is part of a series on the Future of VET exploring issues within the sector and how to improve the decline in enrolments and shortages of qualified people in vocational jobs. Read the other articles in the series here.
---
Attending a Vocational Education and Training (VET) graduation can be an uplifting experience. There's the 45-year-old manufacturing worker who left school at 14 getting his first-ever qualification and a new job in construction, the Indigenous single parent who started a business based on what she learnt with her Certificate III in Hospitality, the female refrigeration apprentice who won a medal representing Australia at WorldSkills, and the Sudanese refugee who is now a university law student following his English Language and Tertiary Preparation Course.
These are not just inspiring stories about individuals. They show how the vocational system can increase workforce participation through developing skills in shortage areas, especially for disadvantaged groups.
Skills Australia once calculated if we raised workforce participation from 65% to the 69% they achieve in New Zealand, it would benefit the economy through increased tax and reduced social security income to improve government operating balances by as much as A$24 billion a year.
The sector needs a new national set of priorities and operating principles fit for the future. To achieve this, a national review is necessary.
The neglected middle child
Why is VET so often characterised as the problem, neglected middle child of our post-school education and training system? A lot of it has to do with conflicts over basic questions of form and function – who should run the system, how it should operate, what its primary purpose is and what its relationship with other sectors should be.
---
Read more: Deregulating TAFE is a big risk to the labour market
---
The last time the VET system had a largely agreed upon position on its purpose and operating framework was in 1974 following the Kangan Review of the sector. Some 44 years on, the sector desperately needs another review.
Industry's concerns on the decline of VET
Politicians and business leaders are now showing concern about VET's decline.
One argument is we now have too many people going to university. This is a waste of public money, it will result in critical skills shortages and is bad for some students who would be better off following the VET pathway.
Typically, the example is given of an apprenticeship that can bring higher initial pay and more certain full time employment. This is true for some traditionally male apprenticeships such as electrician, but less so for traditionally female pathways such as hairdressing or care.
You also see modern versions of the argument that some people prefer practical learning by doing, rather than academic learning, and that is a key feature of VET.
Why?
There are many aspects to this malaise. The sector is losing funding and enrolments, it's been battered by poorly thought out marketisation policies, and its students have been the victim of loan scandals by rogue providers.
VET operates in a confused mess of federal and state funding, governance and policy prescriptions. Externally, the labour market is changing with lots of professions – such as nursing – now demanding university degrees as entry qualifications.
---
Read more: Changes to VET might be good for business, but not for students
---
Universities have powerful alumni in business and politics. They prepare people for high-status professional careers, such as medicine or law. Critically, they have academic freedom.
In contrast the public VET provider, TAFE, is often treated like a government department. VET professionals are not free to comment publicly on government policy lest their views conflict with political positions or challenge direct ministerial control.
VET's own culture wars
Various stakeholders have different views of VET priorities. Crudely put, VET is seen by different people as primarily:
an industry trainer, similar to BHPs training department
an alternative to university in specialities such as fashion design and child care
a provider of foundation, "second chance" and initial vocational programs for disengaged adults and young people, similar to the Brotherhood of St Laurence.
For the last 30 years, VET has been experiencing its own "culture war". On the one hand there are some who work in the VET sector who like to look back to the "golden age" following the Kangan Report of 1974. The review emphasised life-long learning and educating the whole person, not just in technical skills. TAFE teachers needed graduate level qualifications in teaching to complement their industry qualifications and experience.
This vision lost out from 1990 onwards to a more instrumental one promoted by industry and trade unions which said VET's purpose was to provide industry with workers who were skilled for specific jobs.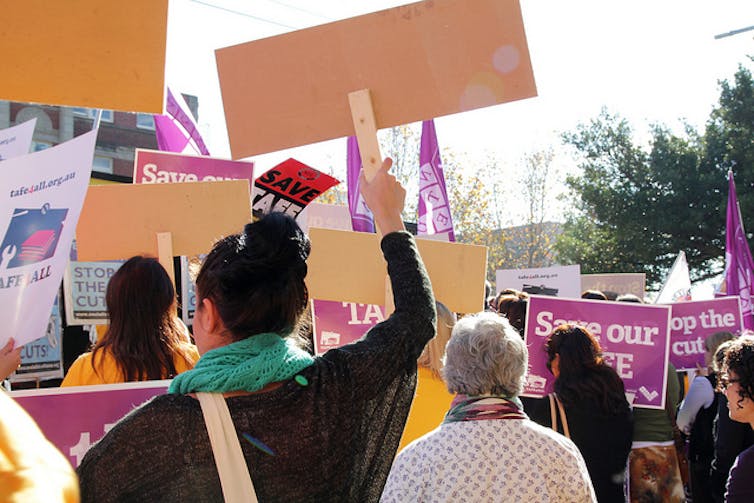 The demonstration of specific industry-defined competencies became the key factor in gaining a credential, with less testing of understanding theory and knowledge. Graduate teacher qualifications were no longer necessary in this world of Competency Based Training – just a VET Certificate IV in Training and Assessment.
Besides advocating a competency approach, the new leaders of the system wanted "choice". This led us through poor implementation and inadequate regulation to the VET FEE-HELP scandals we are now familiar with.
---
Read more: VET FEE-HELP reforms will merely paper over the cracks of a system prone to abuse
---
This competency-based approach is now being challenged. In an age where we're told many of tomorrow's jobs don't exist yet, it seems odd to prepare people solely with highly specific occupational skills. Especially because industry says it values generic skills such as communication, presentation, analysis and teamwork. Many VET graduates already never work post-study, or work for a very short time in the exact occupation they gained their credentials in.
The way forward
VET needs a new national settlement with a set of priorities and operating principles that are fit for the future. Achieving this will not be easy as it involves resetting federal-state relationships and balancing the sometimes competing priorities of students and industry groups.
It will take a new national review similar to Kangan. The review may need to cover the entire post-secondary system. But if it does, we can't forget VET is about educating people for the changing world of work, especially the disadvantaged. This not only makes good educational and social sense, but the pay off in increased workforce participation makes very good economic sense as well.