Since the beginning of his presidential campaign, the U.S.-Mexico border has been a focus of Donald Trump's anger and political appeal.
That border is where more than 18,500 of the country's 19,437 Border Patrol agents work, trying to stop people from crossing illegally into the U.S.
For all the heat and headlines around this border, few people really understand the job of a Border Patrol agent.
I am a sociologist who has studied and written about the U.S.-Mexico borderlands since 1977. I spent two years embedded with Border Patrol agents as they enforced immigration laws.
Here is the story of what Border Patrol agents do, told through the experiences of two agents working a night shift in south Texas and my research to date.
Routine work
The heat in Texas' Lower Rio Grande Valley can be brutal. It's April, and Border Patrol agents must ignore the 95-degree temperature and the 25 mile-an-hour winds even in the early evening.
Their job is simple: guard the borderline.
Their supervisors tell them to catch terrorists, drug smugglers and people without papers – whom they use the Spanish phrase for: "sin papeles." They rarely find any drugs, however, except by accident.
Two agents, Speedy Allison and Lefty McDonald (not their real names), began their work day at 8 p.m. with a meeting they called a "muster," where their supervisor gave them their assignment and intelligence report.
Every shift their assignment changes. Usually they cover a mile or so of the border depending upon how "hot" – active – the human and drug "traffick" are. Tonight they are "rovers," patrolling the borderline based on their experience and the intel.
The two men check out a four-wheel drive truck parked in the secured station lot and drive it over to their small piece of the "Valley," as Texans call it. It's a region filled with onions, nopal (prickly pear cactus), carrizo cane, stubby citrus trees, cotton and colonial settlements dating to 1757.
Tight-lipped about where he was born and raised, Speedy stands tall and wiry in his green uniform. Lefty is just as tall and was born in Puerto Rico. He's open about his passions, including bad coffee and donuts.
The two, sworn in more than six years ago as federal enforcement officers, count on each other at all times. For weeks or months they may never see an aggressive immigrant, a weapon or prison tattoos. But they never know who they might see, especially at night, miles from backup.
They drive under the McAllen-Hidalgo International Bridge and stop. Under a fading sun, Speedy and Lefty take a hard look at the bridge linking McAllen, Texas, to the industrial park in Reynosa, Mexico. They are working on a plan for how to spend their shift.
After inspecting the area, the two men are excited to find a "fresh" hole in the fence protecting the bridge.
"This is a gold mine," says Speedy. "It's perfect. We just sit here and catch them," as they squeeze through the hole.
There's a good spot for the men to hide behind the bridge abutment, but the challenge is climbing up five feet of bare concrete.
Fifteen minutes later, Speedy and I stand in that hiding place – and Lefty is making yet another try at scaling the concrete.
Finally behind the abutment, Lefty, watching the hole for signs of people coming through, talks about the "babe" at his favorite all-night Whataburger and whispers, "I'm married, but I still got eyes."
Migrants – and something else
There are more than 21,000 Border Patrol agents, which is a part of U.S. Customs and Border Protection, the largest federal law enforcement agency charged with safeguarding the border.
As the Valley became a hotspot in the last five years for those "sin papeles" and drug traffickers, many more agents – the exact numbers are classified – were transferred to the area.
Like Lefty, about half are Hispanic and 5 percent are female.
Given their own family histories, many Valley Hispanic agents are sympathetic to the plight of illegal immigrants. Many more, regardless of family history, feel immigrants should never be allowed to cross the border without papers.
And the data show their backgrounds make no difference in how they work. Job satisfaction, values and performance among Hispanic agents vary as much as those of Anglo agents.
What Hispanic agents do share with all Border Patrol agents is low morale about their jobs along with the personal drive to complete their 20 years because relatively high salaries and federal retirement benefits are then secured.
Chasing dead-ends
Speedy and Lefty would have stayed at the bridge, but the dispatcher calls out three hits from on a ground sensor a mile west of their position. Three hits for these error-prone sensors suggest some kind of traffick.
They head over to the spot – and find a starving cow.
From experience, they know the cow's owner is so poor he only feeds it stolen watermelons. Parts of these borderlands are the poorest regions in the country.
"Someone should call the SPCA" – the animal protection society – says Lefty.
"Yeah, right," says Speedy.
At first, Speedy and Lefty settle in near the cow. Then, through the darkness, they spot outlines of humans in an onion field.
The same blast furnace of heat that punishes Speedy and Lefty also hammers these migrants, who have just crossed the Rio Grande River from "el otro lado," the other side. Authorities often find their bones scattered in the vast desert lands north of the borderline where dehydration can take a heavy toll.
Minutes later Lefty shouts over his radio to Speedy, who is now running to get behind the irrigation channels and the 7-foot nopal cactus to push the migrants towards Speedy. "I don't know how they did it, but they're on the road."
A woman in her 30s sits crying in the dirt. She wears a muddy skirt, a baggy T-shirt and tennis shoes without socks. Next to her, calmer, are her 16- and 11-year-old daughters. In spite of the heat, the youngest is wearing a hat. Speedy runs down two men, finding later that one is their "coyote," or human smuggler.
The agents drive the five back to their station in their truck. Lefty supervises the processing including gathering as much information as possible from the immigrants themselves. That's when Lefty sees a tumor hidden under the 11-year-old's hat.
Speedy and Lefty are caught, as they often are, between official policy and common sense. Lefty makes a split second decision.
Lefty makes sure the three females are not hassled by other detainees and agents. The minority of agents who commit criminal acts of violence do so at the point of arrest – especially incidents involving rocks thrown – on the way to the station or in other isolated places where there are no witnesses but the victim.
Bad agents can make everyone else look bad when the victims, against all legal chances, report the violence to authorities. The bad agents get the publicity, while daily acts of bravery among the majority of agents are rarely in the media.
Time to head home
After processing, Lefty and Speedy don't see the mother and her two daughters again.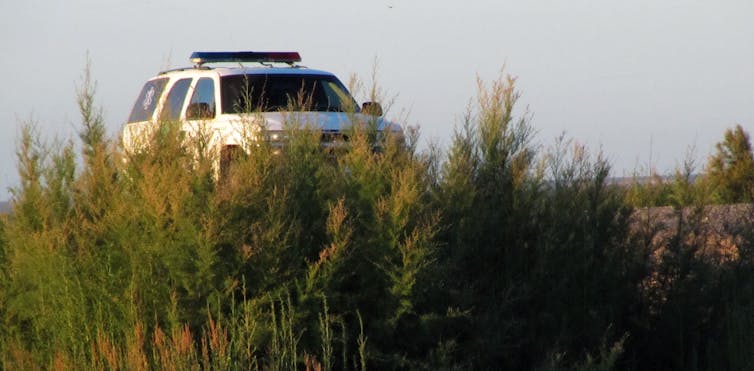 Ignoring the brutal heat, Speedy and Lefty guard their small piece of the borderline. The two agents do this in ways many Americans do not want.
This daily work, however, reflects much larger political issues, including the feelings many Americans have about Trump's border wall and our present immigration system. These agents, however, have little reason to change until their supervisor tells them to change. Their only real option: to quit a high-paying, secure job with a federal retirement plan during a time of decreasing wages.
It is after 6 a.m. Their night shift over, Speedy and Lefty clean up at the station and drive home to their families.