The future of the United Kingdom as a single nation state is firmly on the table this election. This is not merely a question of the Scottish National Party's policy on independence for Scotland, however. A far more pernicious influence is coming from the centre-right.
Under pressure, the Conservative Party – and the Conservative supporting press – is making the influence of Scottish politicians at Westminster a central feature of its election campaign, testing relations between Scotland and England in so doing.
This has reached new heights now that Cameron has unveiled a remarkable proposal to produce an annual report detailing how decisions made by the Scottish government affect the rest of the UK. This so-called Carlisle principle would then allow the other parts of the union to respond by taking compensatory action.
Treating the Scots as naughty children to be given report cards by their apparently wiser elders and punished if they do anything wrong is likely to further fray the ties that bind after May 7. But the danger goes further, and has been driven at least in part by the Conservative Party's rhetoric regarding the SNP and Scottish MPs as a whole.
Fighting dirty
This Conservative narrative started in September. After voting to stay in the union, Scotland's reward was to be told that its elected representatives could have even less power in the UK parliament. Under plans announced by David Cameron, MPs from Scotland would be prevented from voting on laws deemed to only affect England. This add-on had been missing from campaign literature calling for a No vote.
There are legitimate reasons for debating such a law – as well as obvious dangers and problems with it in practice – but the timing was a slap in the face to Scottish voters. The subsequent debate over English votes for English laws also tipped into English nationalist language from some Conservative MPs.
Current electoral predictions suggest a centre-right coalition will be difficult, if not impossible to form. The Conservatives are therefore placing more and more emphasis on questioning the legitimacy of the most likely alternative – a Labour government working in co-operation with the SNP.
To do this, the Conservatives are first playing up Nicola Sturgeons' debating abilities to undermine Labour's vote in Scotland. While the party is willing SNP victories it is at the same time portraying Scottish Nationalist politicians as illegitimate.
Conservative propaganda shows Alex Salmond as a sinister figure travelling to Westminster to make Ed Miliband dance to his tune, while Nicola Sturgeon plays puppeteer. Ed Miliband is seen sitting in SNP pockets.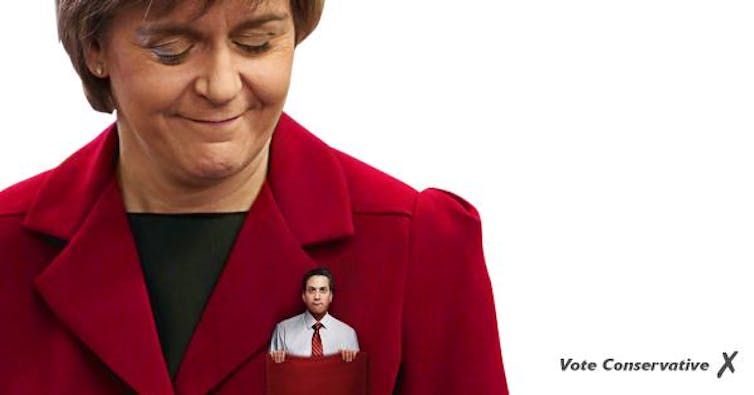 It's a grubby but effective technique. Almost inevitably, newspapers are suggesting that a minority Labour government that relies on the SNP votes would essentially be squatting in Downing Street – even if, constitutionally, that argument is highly questionable.
The Conservative message is plainly aimed at English voters and meant to undermine Labour south of the border. But it also sends a clear message to Scottish voters. Should they elect the SNP as their democratic representative, the message goes, they will be excluded from the British political system, having made an unacceptable choice.
Bashing the SNP as a political party with a secessionist ideology is one thing. The problem is that this Conservative rhetoric has in such ways grown to encompass the Scottish people – and their devolved government – as a whole.
Now, the Carlisle principle not only raises questions about the philosophical basis of devolution as a whole (that different nations carry out different policies in recognition of their differing electorate's wishes) it also formally seeks to change the relationship between the nations into one based on competition.
While to claim "the end is nigh" would be overblown, this electoral campaign may prove dangerous for the union – for the Conservative Party is willing to gamble it for the chance of winning a few more English seats.