An old video of a local preacher Abdul Somad has gone viral. In the video, Somad says that people who buy coffee from US coffee chain Starbucks will go to the hell due to the company's support for LGBT movements.
Putting aside the debates on Somad's remarks, I would like to explain the popularity of Indonesia's new generation of preachers, represented by Somad.
Abdul Somad Batubara, known as Ustaz (Islamic teacher) Abdul Somad, is one of the most popular preachers in Indonesia. The popularity of the 40-year-old has surpassed his seniors Abdullah Gymnastiar (Aa Gym) and Zainuddin MZ.
His sermons are always packed with people from different social and economic backgrounds. Before the Starbucks issue, his name also appeared in the media after he was denied entry, for unknown reasons, to Hong Kong, where he was scheduled to preach to Indonesian citizens there.
In the social media era, the popularity of a person can be identified from the number of his or her followers. In Somad's case, his Facebook followers reached more than 1 million people, while more than 2 million people follow him on Instagram. His official YouTube account, Tafaqquh Video, has been viewed more than 50 million times.
Somad represents a new generation of preachers in Indonesia who rose to fame due to their frequent exposure on social media. The title of "a preacher to a million followers" that belonged to the late Zainuddin MZ has been passed down to Somad as he became "a preacher to a million viewers".
However, I have identified other factors, aside from social media exposure, that contribute to Somad's fame.
Smart with social media
Following his predecessors, Somad is a preacher who takes advantage of technology advances to increase his popularity.
In the 1990s, Zainuddin MZ was popular as people could also listen to his sermons via local radio stations and mosques, which aired recordings of his preaching.
During the booming of the TV industry in the early 2000s, other names like Aa Gym, Yusuf Mansur, the late Jefri AL Buchori, Arifin Ilham and Dedeh Rosidah appeared.
In the digital era, many preachers try to reach out to the public via social media, including Somad. Somad knows very well how to take advantage of the public's current tendency to use the internet in their daily activities.
A 2017 survey released by the Indonesian Internet Service Providers Association showed that 43.89% of Indonesians' internet use was for at least one hour day, with the remaining use exceeding four hours a day. Almost 90% of internet users access social media, with 69.64% of them surfing the net to watch videos.
From these data, it is not surprising that Somad uses social media like YouTube to build his popularity. With technology, Somad manages to break various limitations set by conventional media and appears on the screens of his followers' gadgets anytime and anywhere. This can happen as gatekeepers who decide who's in or out on screens no longer exist in the new media ecosystem.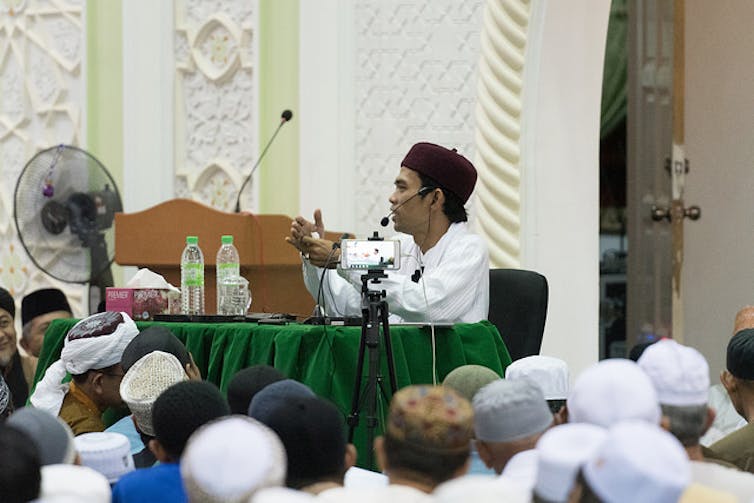 Social context
Many analysts argue that social context is important to understand the popularity of this new generation of young preachers in Indonesia.
According to sociologist Ariel Heryanto, the interest in anything related to Islam has increased in Indonesian society, especially among middle-class people. As a result, symbols that strengthen Islamic values are deemed important and the recent hijab trend is one of the perfect examples of this.
Ariel's argument can also explain the success of Ayat-Ayat Cinta (Verses of Love) which entered the list of 10 most popular films in Indonesia between 2008 and 2018. This new trend also happens in the television industry with the presence of successful religious dramas Para Pencari Tuhan (God's Seekers) and Rahasia Ilahi (The Secret of God).
The public's infatuation with Islamic values happens across sectors. People's daily practices have also become a target. We have seen so many banners announcing religious sermons from popular preachers in public space. Given this infatuation, it seems that Somad has found his niche market.
Distinct communication style
Abdul Somad is a good speaker. His sermons always make people laugh. This shows that the public does not only want religious teachings but also entertainment. And Somad gives it to them.
He has proved himself as a good public speaker by using humour to deliver his messages. Often, there is nothing new about his humour. But people like to hear what they want to hear instead of what they need.
In this case, it seems that Somad follows Aristotelian rhetorical principles. Aristotle argues that building a good relationship with the audience is important to ensure the success of a speaker. Somad has built solid connection with his followers through humour that's closely related to the public.
In addition, Somad's interactive style in delivering his sermons is another strategy to build a good rapport with his audience. His sermons are mostly about answering questions from the audience. This two-way communication can improve audience satisfaction.
As a speaker, Somad not only masters the audience, but he also meets three public speaking rules: ethos, pathos and logos.
One example of how he has nailed the public speaking theories was when he was asked about dating. Somad responded by sharing his experience when he was a student in Egypt. Here, he tried to build his credibility (ethos) as a person who could speak about the rules of dating, but at the same time he also built sympathy and proximity with his own experience (pathos).
For logos, he built an argument, based on his own experience, that pursuing education was more important as it would open more blessings. With this approach, people can accept and like Somad's sermons.