Alex Rodriguez, the New York Yankees' erstwhile third baseman, has had an interesting career in more ways than one. His use of steroids has resulted in a sullied reputation and a one-year suspension without pay, but now he is potentially back on the active player roster for the 2015 season and poised to receive US$61 million from the Yankees over the next three years.
How can a player who twice admitted to using performance enhancing drugs (PEDs) for several years and who repeatedly lied about his use, be allowed to return to the game? After all, the league has the option to punish him with as much as a lifetime ban if it deems his actions damaged baseball's image. And the Yankees have their own means at their disposal to try to penalize him if they so choose.
The answer, however, is complicated by ironclad contracts and the nature of PEDs, and benefits from a look back at how we got here, along with his tale's many twists and turns.
A-Rod confesses, kind of
It all began in December 2007, when George Mitchell's report on steroid use in Major League Baseball came out. The next day, Rodriguez told CBS' "60 Minutes" that he had never used steroids. Fourteen months later Sports Illustrated reported that Rodriguez had tested positive for steroid use under MLB's anonymous testing program in 2003. Ten days after SI's report, Rodriguez confessed to using steroids in 2001, 2002 and 2003, but asserted that he hadn't used them since.
Following various reports connecting Rodriguez to PEDs after 2003, in January of last year Rodriguez was linked to Tony Bosch and his Biogenesis Clinic in Miami – an infamous source of PEDs for various professional athletes. In August, MLB suspended Rodriguez through the end of the 2014 season for violating the league's PED policy, a total of 211 regular-season games plus any postseason games. He was one of 13 players suspended for their roles in the scandal.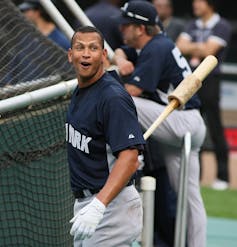 Although the standard punishment for a first offense under MLB's drug policy is 50 games, the league had the option of suspending Rodriguez for longer than that under the collective bargaining agreement if it determined his actions constituted conduct detrimental to baseball or it determined that A-Rod's various PED involvements entailed more than one offense.
A litany of lies
Almost immediately after the suspension was announced, Rodriguez declared he would appeal. He was the only one of the 13 Biogenesis players to do so; the others accepted season-ending 50-game suspensions without appeal.
In January, following a lengthy arbitration process, A-Rod's suspension was upheld. Defeated by overwhelming evidence and unwilling to take the stand, Rodriguez stormed out of his arbitration hearing. A-Rod then went on Mike Francesa's radio show and explained that the system of appeals was unjust and that Selig had a personal vendetta against him. He also stated unequivocally that he had not used steroids since 2003.
Rodriguez then issued a statement saying he would be challenging the arbitrator's decision but later changed his mind and accepted his suspension for the 2014 season.
A-Rod finally comes clean
This month it was revealed that Rodriguez had admitted to the Drug Enforcement Administration back in January that he had used performance-enhancing drugs. This was contrary to his strident claims 18 days earlier in the arbitration hearing and the Mike Francesa show.
Because MLB did not have an automatic punishment policy in place from 2001 to 2003, A-Rod was not suspended or fined for his earlier transgressions. But since the 2005-06 seasons, negotiations with the union led to a policy with stiff sanctions – probably the stiffest in US sports leagues – allowing for a lifetime ban after a third offense.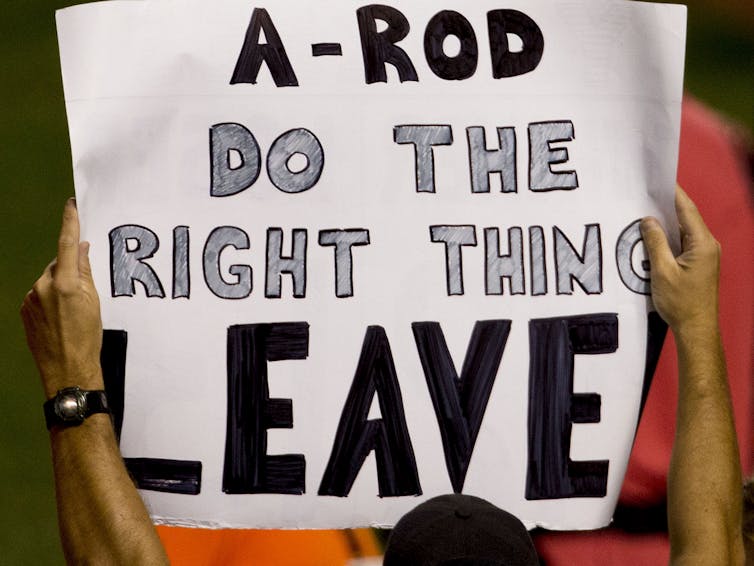 From the standpoint of the Commissioner's Office, MLB has to be very careful with any lifetime ban. For instance, whether getting steroid injections from Tony Bosch five times in one month and then getting caught in a laboratory test the following month constitutes one or five offenses is subject to interpretation. MLB would only have "analytic" evidence of one offense (the failed test), but it may have anecdotal or written evidence for all five offenses. If MLB argues for a lifetime ban in such a case, it would undoubtedly be challenged by the union. Thus, the difficulty in identifying the number of offenses and the politics of dealing with the union, make enforcement problematic. A-Rod's possible return to the Yankees in 2015 reflects this dynamic.
So how was he allowed to rejoin the team and keep his salary? The answer is that MLB has to play by the rules negotiated with the baseball's strong player union. The union has resisted more frequent testing and stiffer penalties on the grounds that players sometimes use PEDs unknowingly, that they should be given second or third chances and that tests can produce false positives. So MLB has been circumscribed, but still has a strong and effective program.
A murky future
As for A-Rod, his future is not so clear. After two major hip surgeries and numerous injuries, his soon-to-be 40-year-old body may simply be unable to perform. A-Rod needs to attempt to come back in order to assure his qualification for the US$61 million remaining on his contract. Should A-Rod be found unable to perform at spring training and he is forced to retire from baseball, the Yankees would still be liable for the US$61 million because the contract is guaranteed. The good news in this case for the Yankees is that approximately 80% of A-Rod's salary would be covered by insurance.
Still another outcome might be that the Yankees sue A-Rod for breach of contract. When A-Rod was signed to his record ten-year US$271 million (plus bonuses of up to US$30 million) before the 2008 season, A-Rod denied using steroids. Since steroids usually help players in the short run, but make their bodies break down in the long run (due to imbalances in their muscles and bones), the Yankees could claim that A-Rod's likely future productivity was misrepresented to them. The Yankees could then propose a settlement, buying out A-Rod for his remaining three years at a discounted price and potentially reducing the team's bill to MLB under the luxury tax.
There is, of course, another possibility. A-Rod could return to the Yankees' active roster, bat .300 and hit 30 home runs. And Mitch McConnell might come out against coal.