Every year, the NEC in Birmingham, England, becomes a magnet for dog lovers, as more than 22,000 canines assemble for Crufts. Founded by travelling dog-food salesman Charles Cruft in 1891, Crufts has become one of the world's largest and most prestigious dog events. Here, you can meet dogs of every shape and size, see inspiring human-dog partnerships and shop for all things dog-related. There's always a fascinating mix of people in attendance – and this year, I get to be among them.
So what is it about Crufts I find so enthralling? Well, far from being a beauty pageant for pampered pooches, these days Crufts is a celebration of all things canine – and for a self-confessed "dog person" like me, that's an exciting prospect. But more importantly, Crufts challenges me to reflect on the bond between humans and dogs from a scientific perspective.
Best of friends
There is no doubt that humans and dogs have a prolonged evolutionary relationship. Since dogs were first domesticated, humans have selectively bred them to bring out particular physical and behavioural characteristics. Selective breeding has resulted in the wide diversity of about 400 pedigree dog breeds recognised today, from the diminutive Chihuahua to the Great Dane. But sadly, many pedigree dog breeds suffer from defects and diseases, which affect their welfare and longevity – these are often a consequence of inbreeding.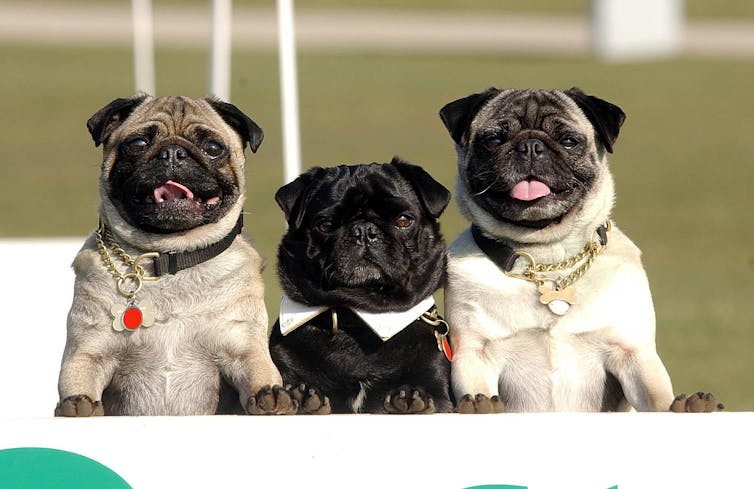 Yet it seems that science is coming to the rescue of our doggy companions. Recent research has shown that rates of inbreeding in many pedigree dogs are actually declining from a high in the 1980s and 1990s. This suggests that dog breeders are becoming better informed, and improving their practices. For example, genetic tests are now used by many dog breeders, to ensure that breeding animals are genetically healthy.
Crufts provides an ideal place to educate and inform dog owners, breeders and puppy hunters about the value of such health tests. Increasing our awareness of issues associated with all dog breeds – including "designer" cross-breeds such as cockapoos and labradoodles – can only improve quality of life for both dog and owner.
Health kick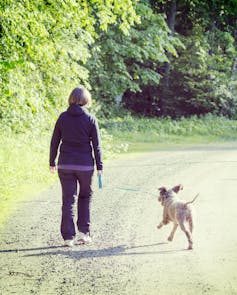 The deep bond between people and their dogs is also demonstrated in a wide range of canine activities at Crufts: from the frenetic relay races of flyball, to the precise movements of dog and handler in obedience. These activities offer a physical and mental challenge for dogs and owners alike. And with rising levels of canine obesity mirroring that of the human population, strategies to improve physical activity levels for both species will be of significant mutual benefit.
Crufts offers a great platform to promote schemes such as "Get Fit with Fido" – a weight loss competition run by the Kennel Club. Research suggests that many pet dogs aren't walked daily, so showcasing mutually enjoyable physical activities, such as agility training, might just encourage some dog owners to get a little more active with their pets.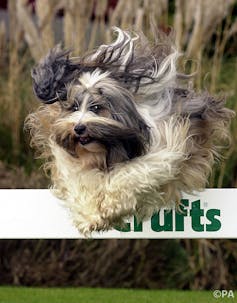 The activities at Crufts can help us to understand the science behind what makes a good canine athlete: from gundogs, to "dancing" dogs in the canine freestyle event, to world-class agility dogs. In fact, canine performance science is a rapidly growing area of interest, encompassing genetic selection, puppy rearing, training, housing, handling and health for working dogs. Crufts visitors will see many dogs trained using methods which have been improved by new insights into canine learning – a simple way that science has contributed to canine welfare.
Two way street
Yet this relationship goes both ways: in fact, dogs can be credited with providing many human health benefits, beyond the customary "walkies".
Dog owners report higher levels of perceived health than non-dog owners, and were found to have more vitality, and better social lives and mental health. One famous study even suggested that dog owners lived longer after a heart attack than non-dog owners. Whether this is a genuine effect of pet ownership, or a sign that people who own pets tend to have a particular personality type, has not been established – but it remains an area of fascination for those interested in the human-dog relationship.
Of course, assistance dogs such as guide dogs, hearing dogs and mobility dogs are essential companions and lifesavers. What's more, anecdotal reports of dogs signalling to their owners the onset of diabetic hypoglycaemic attacks or epileptic fits have been confirmed by scientific study. So-called "therapy pets" play a valuable role in homes, hospices and hospitals, making patients happier and acting as non-judgemental confidants. Some dogs have even been trained to detect prostate cancer, putting a whole new spin on the "lab test".
Many organisations involved in the training of these dogs are represented at Crufts, and the "Friends for Life" award recognises their exceptional bravery, support and companionship. There is no doubt about it: we humans share a special connection with our canine companions. And Crufts is the perfect place to celebrate it.