The world was bemused last week when Vienna unveiled its gay-themed pedestrian lights. Featuring both same-sex and heterosexual couples holding hands, the lights are designed to both improve traffic safety and to illustrate Vienna's official commitment to equality, diversity and tolerance.
The lights are also part of Vienna's hosting of the Eurovision Song Contest later this week. Both the positive and negative responses to the lights indicate the importance of gender politics to the high camp spectacle of the event.
Austria won hosting rights to Eurovision with their 2014 victory by Conchita Wurst, a bearded drag queen whose song, Rise Like A Phoenix, dominated the competition's notoriously idiosyncratic voting system - only a handful of nations ignored the stellar performance in their allocation of votes.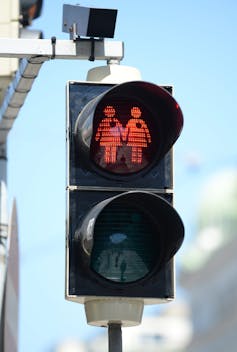 Since her victory, Wurst has become a global gay icon and a key figure in the push for LGBTI inclusivity in Europe. Not only has she featured in various gay pride festivals over the European summer, Wurst has also performed for both the European Union and the United Nations.
While Wurst's winning song was, in many ways, simply a campy, James Bond-esque torch song (in other words, fabulous) with no political message, her performance was automatically politicised by her drag persona, and the jarringly masculine presence of her beard against the delicacy of her build and the exquisitely applied makeup.
Eurovision came out, as it were, in 1998 when Dana International, the transgender representative for Israel, won the contest with her song Diva. Prior to this, Eurovision was closeted, its appeal to queer audiences coded in its camp spectacular.
Its popularity amongst LGBTI communities worldwide is now an acknowledged feature of the contest, accentuated by Graham Norton's commentary for the BBC and exemplified by Vienna's pedestrian lights.
The themes of equality, diversity and tolerance have gained increasing traction in the politics of Eurovision in recent years, particularly as membership to both the European Broadcasting Union and the European Union encompasses such politically and culturally diverse nation-states.
Despite official EBU sanctions against overtly politicised lyrics and performances, messages about diversity, tolerance and acceptance have been coded into many Eurovision entries.
These messages range from the politics of regional unity, found in Toto Cutugno's winning entry for Italy in 1990, Insieme, and Noa and Mira Awad's 2009 entry for Israel, There Must Be Another Way, to issues of social justice, exemplified by Icelandic band Pollapönk's No Prejudice in 2014.
Finland's Krista Seigfrids' 2013 performance of Marry Me included a kiss with a female backup singer as a bid to highlight the issue of marriage equality.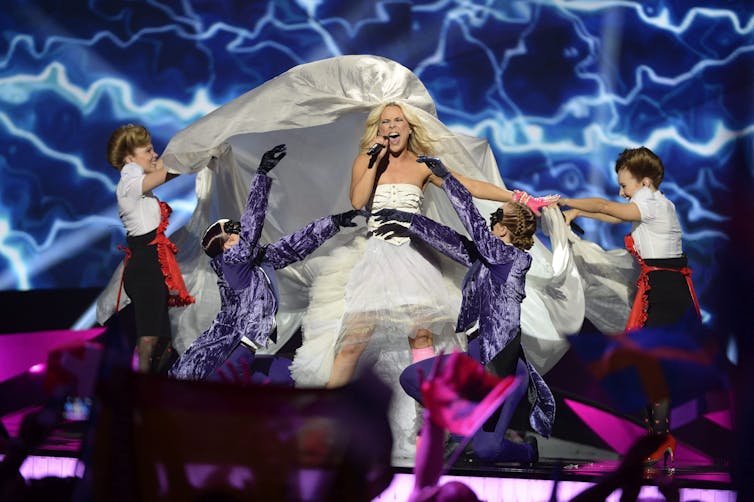 While Siegfrids indicated that she was commenting on the state of this issue in her home country of Finland, the message resonated with Eurovision audiences everywhere - even drawing ire from more conservative nations who protested that the performance breached ESC regulations about the incorporation of political messages.
Despite these protests, the kiss, practiced in all the rehearsals, passed official muster. The trick to getting it past the Eurovision officials, it seems, is to keep the political concern broad enough to appeal to reach many audiences without seeming like a targeted attack on any specific regional politics.
Yet Siegfrids' kiss highlighted how gender politics can both unite and divide Europe. Europe's official unitary bodies have made a commitment to addressing issues of social justice and equality, with special provisions regarding gender equity and diversity.
The Council of Europe, for example, requires its member states to assure particular standards in human rights and democratic equality. Accordingly, Azerbaijan, the small, resource-rich eastern European nation that for many was put on the map after its Eurovision victory in 2011, removed anti-sodomy laws from its criminal code as part of their 2001 bid for Council of Europe membership.
Despite these changes, Azerbaijan still courted controversy over its hosting of the 2012 Eurovision Song Contest as many fans and activists alike expressed concern over its human rights record, including threats against the LGBTI community from radical Islamist elements. Similar concerns about gender-based human rights issues were also voiced when Russia hosted the event in 2009.
The criticism goes both ways. After Wurst's victory, Russia announced its intention to revive the Intervision Song Contest, which was originally established in 1977 as a Soviet counterpart to the West's Eurovision.
The Intervision contest will take place in 2015 at Sochi, home of the 2014 Winter Olympics that caused global concern over Russian anti-gay propaganda laws. Organised by the Shanghai Cooperation Organisation, Intervision features both Asian and former Soviet states – it is a twitch at the old iron curtain in response to lingering ideological differences. We will have to wait for October to assess Intervision's success - and its political impact.
Eurovision is popularly heralded as the song that unites Europe, but these controversies about gender, social justice and human rights issues illustrate the ideological divides that remain in Europe.