Hundreds of thousands of people will picnic with their neighbours across the UK to mark the first anniversary of MP Jo Cox's murder. The Great Get Together has sparked renewed interest in togetherness, reinforced by Cox's declaration that:
We have more in common than that which divides us.
The event, on June 17 and 18, is happening at a time when families, communities and the nation have been left deeply divided by the EU referendum, the snap general election and uncertainty over the direction of Brexit negotiations. Today, more than ever, Britain needs to foster a new sense of togetherness.
People getting together with friends and neighbours to enjoy a shared meal or street party is not a new phenomenon. Street parties inspired by the non-profit Big Lunch enterprise have attracted at least 600,000 people a year since 2009. In 2012, 8.5m people took part in the Queen's Big Jubilee Lunch.
Diverse gatherings allow people to share food and traditions with communities from different backgrounds. As the anniversary of Cox's death falls in the month of Ramadan, many communities plan to hold a Lunar Lunch or Iftar – the shared feast which takes place to break the fast after sunset.
But can annual get-togethers and temporary festivals stimulate enduring shifts towards more collective and co-operative ways of living?
Reconnecting people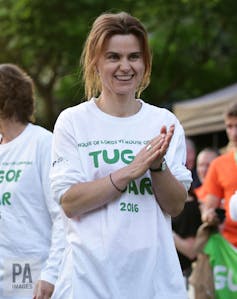 Cox was especially driven to highlight the damaging effects of loneliness. Her plans for a cross-party conversation have been posthumously realised through the work of the Jo Cox National Commission on Loneliness.
Loneliness is often caused not by a lack of friends or family but by how disconnected people feel from others around them. Homes in the UK are conventionally designed to emphasise individual private property. This "hyper-individualised" housing makes it difficult for people to get to know their neighbours, at a time when many more people live alone for much of their life, often lonely or isolated.
Street parties and festivals foster a spirit of togetherness, however fleeting, and this matters to community well-being. Shared meals also feature in collective, cooperative living arrangements, such as co-housing. This is a way of living which brings individuals and families together in groups to share common aims and activities while also enjoying their own personal space.
Co-housing communities typically have around 20 to 30 households and may be exclusively for older people or for mixed-age residents. Each household has its own self-contained home but shares in the management of the whole site and a shared "common house". My own research suggests how co-housing arrangements can offer a pragmatic utopian solution to severed connections between people and the places in which they live and work. There are currently 20 established co-housing projects in the UK, plus another 12 under construction or with land identified. More than 70 nascent groups, of all ages, are currently seeking to develop a variety of schemes.
Deep bonds
Other ongoing research I'm doing is exploring how self-organising groups form and how these communities cultivate deep and enduring relationships.
Jo Cox would have recognised the shared sense of purpose and mutual support among those putting on and attending the Great Get Togethers. She and her family chose to live in a co-housing-inspired cooperative community of residential and recreational historic boats on the Thames, Hermitage Community Moorings (HCM). From the outset, the group's intention was to create a close-knit community. The practical and emotional benefits of this are evident in the many ways that Cox's grieving family have been supported by HCM over the past year.
In this way, socially connected communities can provide more effective neighbourly support than conventional streets of houses. They offer social benefits for members and society at large, such as increased well-being, shared know-how, and mutual care.
Sharing and togetherness are popular buzzwords, and care must be taken to weed out superficial cases of sharing in "counterfeit communities" – where yearning for connection can be manipulated for commercial gain. This is evident in commercial blocks of student bed-sits where "togetherness" is sold by access to a cinema, gym and high-speed wi-fi – rather than by shared responsibility for supporting each other.
If they are to thrive for the inclusive benefit of all members, self-organising communities need to nurture skills of mutual understanding that are neglected in competitive "do-it-yourself" societies. Yet, in the run-up to a weekend of community events, we are witnessing promising green shoots of "do-it-together" conviviality.
The best way to honour the hopeful ideals that Jo Cox and her family have come to represent must surely be to build a lasting legacy from The Great Get Together of more socially connected communities.