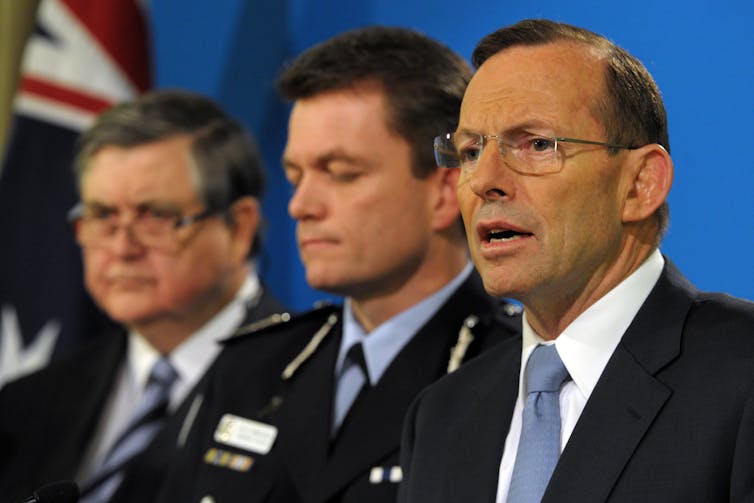 It was an unusual build up to Friday's raising of the terrorism threat level in Australia from medium to high, though the action itself isn't particularly surprising.
After ASIO's head David Irvine flagged it on television earlier this week, there was little doubt it would happen.
The decision was in ASIO's hands - although, despite protestations to the contrary, it is believed there was some government influence. Irvine formalised it on his last working day before he hands over to his successor, Duncan Lewis.
The medium level - where Australia has been at for more than a decade, since a new ratings system was brought in – specifies an attack could occur; "high" says one is likely.
With some 60-70 people from Australia among the foreign fighters in the Middle East, and the comings and goings, a heightened threat level could be expected. Experience from the Afghanistan conflict indicates returnees pose risks. There has also recently been an increase in the British level.
Tony Abbott stressed the decision "does not mean that a terror attack is imminent. We have no specific intelligence of particular plots. What we do have is intelligence that there are people with the intent and the capability to mount attacks".
The level had been raised "based on an accumulation of indicators", he said. These were the number of Australians in the Middle East; the numbers who'd returned, having fought with terrorist groups; the numbers in Australia supporting these groups, "and the exhortations coming from the Middle East to the supporters of these terrorist groups here in Australia to prepare to launch attacks here in Australia".
There has been a sixfold increase in counter-terrorism investigations by security agencies and police forces in the last year. Officialdom seems more concerned about isolated, so-called "lone wolf" type attacks than a larger plot, because the latter produces more "chatter" which is easier to pick up.
The government and security organisations have two imperatives.
They want people to be more alert although they don't want them to be alarmed (to recycle the Howard government from years ago). They also are extremely anxious not to be seen to be targeting the Muslim community. "This is not about any particular community – this is about crime and potential crime," Abbott said. "I just want to completely dispel any idea that this is about religion."
The practical effect will include more police at places such as airports and government buildings, and at some public events, for example AFL finals. Security plans for the November G20 leaders meeting in Brisbane have already been made on the assumption of high risk, given the number of VIPs attending.
With the government soon to receive a formal American request for military capability for the Middle East, it continues to say Australian involvement there won't increase the danger here, because we are already in the terrorists' sights.
But the general escalation of that conflict is likely to feed into the terrorists' narrative.
When it comes to terrorism, the world is indeed a global village. One highly potent new feature, even compared with a decade ago, is the pervasiveness of social media. Security sources speak of kids looking at graphic images on their phones while waiting for a bus to take them to school.
Those going to join the fight are young – mainly between 17 and 25. They include people who are well educated. In some cases these young people are partly attracted by the sense of adventure, and then become socialised into extreme radicalism once they get to the conflict zone.
The authorities have recently stepped up the number of recommendations for cancelling passports. There is an attempt to some influence people who have been prevented from leaving, although this obviously won't be successful with hard core extremists.
From the authorities' point of view, caution suggests it is better to have the public aware of the possible danger.
For the government, the higher alert will be an additional argument as it pushes its security proposals (two of the tranches yet to be introduced) through the parliament. Its intention to force the retention of metadata and its plan to ban people visiting designated overseas places without being able to show good reason are controversial. While the opposition has expressed some concerns, all the pressures will be towards trying to reach agreement.
On the raising of the threat level Abbott and Bill Shorten are again at one, each expressing thanks for the other's co-operation. Shorten also agrees with Abbott's assessment that Australia's involvement in the Middle East conflict doesn't put people in added danger at home. "Australia would still be a target regardless of what we did in that region," he said.
As the opposition leader declared: "The Prime Minister and I are partners when it comes to national security, which is exactly what Australians expect of us".