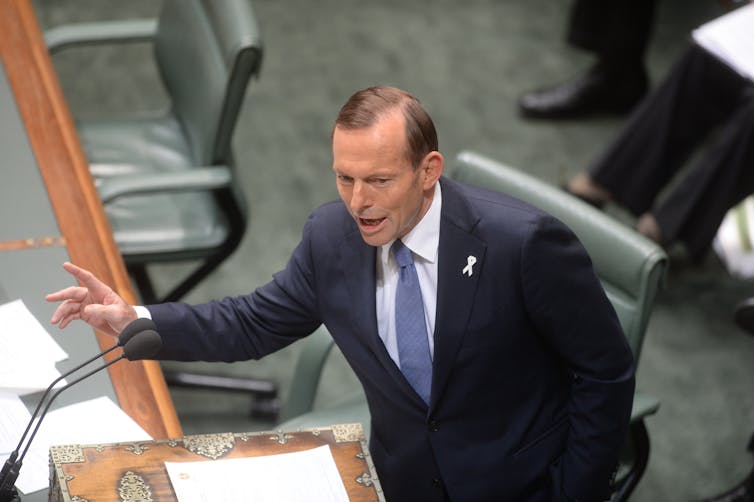 Tony Abbott has declared he doesn't need to apologise for Australian eavesdropping on President Susilo Bambang Yudhoyono and other leading figures, as he tries to deal with Indonesia anger while not giving too much ground.
In a statement to Parliament, Abbott today said he sincerely regretted any embarrassment recent media reports had caused the President.
But "Australia should not be expected to apologise for the steps we take to protect our country now or in the past, any more than any other government should be expected to apologise for the similar steps that they have taken".
Australian National University strategic expert Hugh White, a former defence department official, predicted Abbott would have to give the President as assurance his phone would not be monitored, if the situation is to be calmed.
Abbott's office declined to say whether the Prime Minister had spoken or would speak personally to the President.
Before the Abbott statement, Yudhoyono increased the public pressure on Australia, issuing his several tweets about the affair in English.
One said that Indonesia demanded an official response "that can be understood by the public". He also said: "We have expressed our strong protest" and, in a very direct hit at Abbott, "I also regret the [Monday] statement of Australian Prime Minister that belittled this tapping matter on Indonesia, without any remorse".
The Indonesian ambassador, who has been recalled, flew out of Canberra today. The President said Indonesia will review a number of items on the agenda of bilateral co-operation.
The eavesdropping occurred under the Rudd government in 2009, and was done by the Defence Signals Directorate (now called Australian Signals Directorate).
Abbott said that national security required "a consistent determination to do what's best for Australia, and that's why this government will support the national security decisions of previous ones, as we will expect future governments to respect ours".
"Australia shouldn't be expected to detail what we do to protect our country any more than other governments should be expected to detail what they do to protect theirs. Others should ask of us no more than they are prepared to do themselves."
Abbott stressed he wanted to make it "crystal clear that Australia has deep respect for Indonesia, for its government and for its people.
"I regard Dr Yudhoyono as a good friend of Australia, indeed as one of the very best friends that we have anywhere in the world" which was why "I sincerely regret any embarrassment that recent media reports have caused him".
But it was in everyone's interests, both Indonesia's and Australia's that "cool heads prevail", and to have the relationship grow closer, not more distant. "I pledge myself to build the strongest possible relationship with Indonesia", Abbott said. "It is the most important single relationship that we have."
Opposition leader Bill Shorten said Labor supported Abbott's commitment to national security, and it believed the relationship could recover.
He urged the government to consider the same course followed by the US after the revelation that the phone of German chancellor Angela Merkel was tapped.
Later a Shorten spokesman said he was not seeking to be prescriptive but to note that President Barack Obama had found a way through by direct engagement, with the two speaking.
Shorten told Parliament: "We should not allow these matters to fester for very long at all. We should not allow this matter to taint our relationship going forward, and we encourage the government to redouble its efforts to ensure that this is not the case."
It was a relationship that would prospectively thrive but it did require "Australia to recognise that our Indonesian friends have been offended".
The opposition did not underestimate the issue's seriousness. "We say to our Indonesian friends it's impossible to imagine our futures without positive and constructive friendship and dialogue between our governments and our peoples."
Shorten assured Abbott the opposition was "willing to join with the government in any effort, in any briefings, in any discussions in the pursuit of the task of rebuilding trust in this most important key relationship".
"Labor wants the government to be successful in rebuilding the relationship with Indonesia."
White said Abbott's statement was inadequate. "He's still not taking seriously SBY's expressions of concern."
While it was true all countries collected intelligence, Australia and its Anglo-Saxon partners were much more active and technologically sophisticated about it than Indonesia, so Australia should not be surprised at SBY's concern.
"Abbott can't afford to brush aside SBY's concerns because Abbott has made the relationship with Indonesia the test of his foreign policy – Jakarta not Geneva – and SBY has all sorts of ways of making sure Abbott fails that test.
"So Abbott has to find a way to satisfy SBY."
White said it was very unlikely that SBY would be satisfied with anything less than the assurance Obama gave Merkel. This was that the US was not now monitoring her communications and would not do so in future.
Abbott would not be able to hold the present line and would have to retreat further, White predicted. "The sooner he gets there the less the damage."
He said an Obama-type assurance was less important than an apology.
The Indonesian crisis is playing out as Senate estimates hearings are on in Canberra, which is enabling questions to be directed to some peripheral players.
Immigration minister Scott Morrison refused to say in Parliament this week whether the government had purchased any Indonesian fishing boats under its anti people smuggling policy, but the military head of Operation Sovereign Borders, Angus Campbell, admitted boat buying was not happening.
He told a hearing today that while this measure remained available it "isn't one the Indonesian government wishes to see being applied right now as part of our cooperative activities - which we respect."
The ABC's managing director, Mark Scott, also happened to be before a committee, where he defended the ABC running the phone spying story, which it had with The Guardian. "We're seeing a big international debate on intelligence activities in this digital age; what information can be procured, what information can be shared", he said.
The story "centrally went to that and therefore I think it was an important story that should have been told, and that's why we told it."
Listen to Andrew Wilkie on the Politics with Michelle Grattan podcast, available below, by rss and on iTunes.