Prime minister Tony Abbott's diplomatic and trade mission to northeast Asia can be hailed as a success. Overall, it met its main objectives.
The trip has strengthened the already deepening relationship with Japan. Crucially, Abbott secured a long-contested Economic Partnership Agreement (EPA) with Japan. While the EPA is highly compromised, with criticism mounting from various sectors as specific details of the agreement emerge, it does promise substantial economic benefits, including wider access to Japanese markets than enjoyed by any other country.
As well as the EPA, plans for closer military and intelligence co-operation are bringing the security partnership between Japan and Australia ever closer towards the level of a military alliance in practice, if not yet formally in name.
However, closer security ties raises concerns over Abbott's uncritical embrace of Japanese prime minister Shinzo Abe's revisionist nationalism. This is especially so as it becomes more likely that the Abe government will soon reinterpret Japan's constitution to allow participation in "collective self-defence".
While not sharing the same level of security co-operation, Australia's relations with Korea have also been reinforced. Abbott's visit to Seoul saw the formal signing of the previously agreed free trade agreement (FTA) between Australia and Korea and condemnation by Abbott of North Korea as an "outlaw state which is a threat to world peace". Abbott "faced off" against North Korean soldiers on a visit to the demilitarised zone that divides the Koreas.
China continues to be the far more complex and potentially fractious relationship for Australia to negotiate. While highly displeased with Australia growing closer to Japan, China may yet be willing to overlook this in order to gain any benefits from a potential FTA.
Securing preferential access to Australian commodities would assist China's ongoing economic growth, and so allow the upgrading of the People's Liberation Army to progress. With a large business delegation in tow, Abbott sought to reassure Beijing over Australia's closer ties with Japan. He declared at a business forum in Boao that:
Australia is not in China to do a deal, but to be a friend.
Notably, though, Australia and China are not "best friends". Abbott has already handed Japan that label.
While a FTA with China, Australia's largest trading partner, may not have been concluded yet, much diplomatic progress appears to have been made towards reaching that goal. This culminated in Abbott meeting with Chinese president Xi Jinping. Easing restrictions on investment in Australia by Chinese state-owned corporations may be the last hurdle to clear for a FTA to be finally completed.
Abbott has imposed a September deadline to complete the trifecta of northeast Asian FTAs.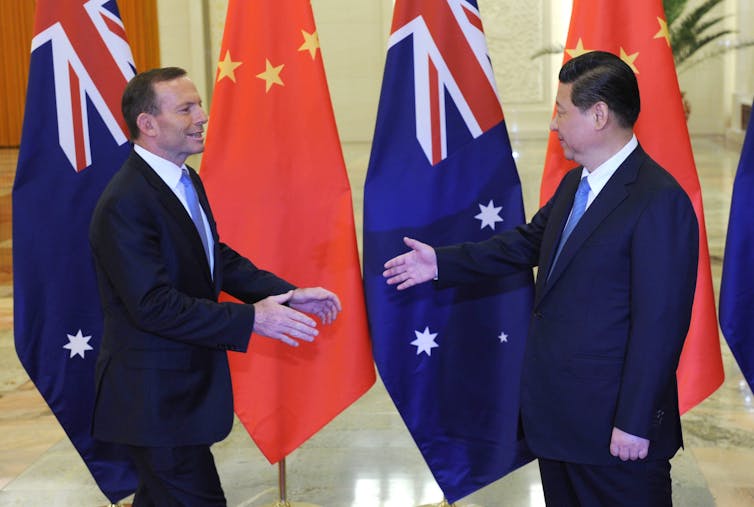 The Abbott government can take credit for finally signing EPAs with Korea and Japan, and for making progress on one with China. It achieved what Labor failed to finalise given that FTA negotiations with Japan commenced in 2007. The talks with Korea and China began in a similar timeframe.
In its defence, Labor could claim the efforts of the Rudd-Gillard governments were instrumental in progressing the instigation and eventual achievement of the agreements, particularly under former trade minister Craig Emerson. But whichever party was in power, it was diplomats from the Department of Foreign Affairs and Trade who primarily conducted the long, unglamorous bureaucratic slog of the negotiations.
Nevertheless, it is the government which signs the agreement that gets the triumphant photo opportunity with foreign leaders and the fortunate prestige of securing the final result on their watch. This is particularly the case when the results of negotiations are so uncertain for so long, with the risk of failure at any stage.
Abbott's FTA missions can be regarded as broadly in sync with America's overall neoliberal trade agenda in the region. However, the Australia-Japan EPA strengthens the diplomatic hand of Japan in its Trans-Pacific Partnership (TPP) negotiations with the US. It provides the example of a compromise deal on agricultural and other tariffs against the hardline, zero tariff position of the US.
TPP talks between Japan and the US this week failed to reach any agreement ahead of US president Barack Obama's scheduled visit to Japan later this month.
Beyond regional differences over trade, Australia's growing defence ties with Japan complement the steadily increasing deployment of US forces to the Northern Territory as part of the America's strategic "pivot" of the majority of its maritime forces to the Pacific. The Trilateral Security Dialogue between the US, Japan and Australia already has the potential to firmly entrench a more integrated US-led alliance system in the Asia-Pacific.
This alliance could eventually extend to include India if the nationalist Bharatiya Janata Party wins this year's Indian elections. This may be a possible step towards fulfilling Abe's vision of a "security diamond" alliance among the four major democracies of the Asia-Pacific, aimed at curbing China's growing maritime assertiveness.
While the US continually denies its pivot is aimed at strategically containing China, it is doubtful that Beijing believes any such reassurances, including those of friendship coming from Abbott. Should Australia finally manage to claim its ultimate diplomatic prize of a FTA with China, its strength could be undermined by the deteriorating geopolitical situation in the Asia-Pacific.