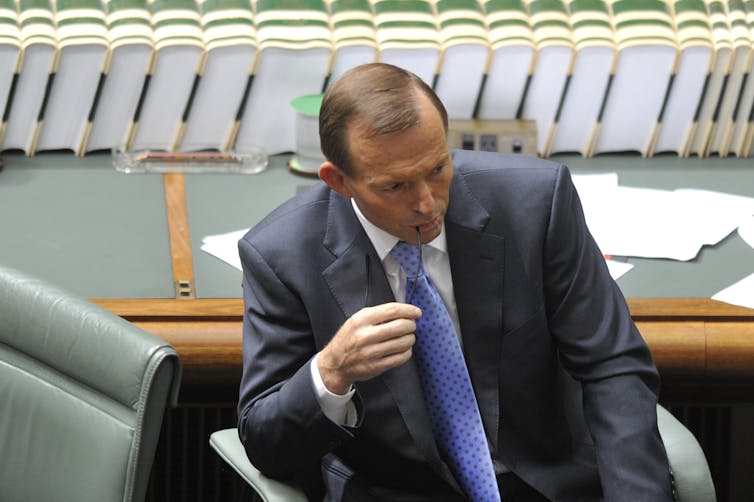 Tony Abbott had little choice but to welsh on his deal to pass the bill handing out big dollars to political parties - but the retreat comes at a big cost for him.
The man who has campaigned on how you can't trust the Prime Minister has been found untrustworthy.
The immediate question is: if he broke his word on this, can all those other promises he is making be believed? Julia Gillard quickly jumped on this. "If Mr Abbott says he won't cut to the bone, you can't believe him."
But Abbott had a massive revolt on his hands. It ran across the Liberal and National parties, and MPs and the party organisations. The Nationals were particularly concerned that independent Tony Windsor could exploit the issue against National Barnaby Joyce in New England.
Abbott's backflip has been a godsend for the government, which had been embattled over this issue, facing anger in its own ranks.
It means the offensive plan is scuttled, and Labor can home in on Abbott's unreliability, which at the moment is overshadowing the the substance of what was proposed.
Behind the immediate politics, we see how badly and cynically this matter has been handled.
The Abbott correspondence shows that the deal was done some time ago – the letter refers to the agreement being made by the former special of state Gary Gray, who left that position in March.Yet the government waited until this week to reveal it.
Abbott should have had better political instincts than to accept the plan in the first place. Surely he could have seen how this was be received by a public at the moment completely fed up with politicians.
One would have assumed his advisers would have sent up a red alert, so the incident will raise questions (that recur from time to time) about the fact that Abbott has a chief of staff, Peta Credlin, who is married to Liberal federal director Brian Loughnane. He negotiated for the Liberals.
All this is a most unfortunate end to the high hopes this government set out with to improve funding disclosure provisions.
It is not clear whether the government will try to salvage anything on that front. It has disclosure legislation in the Senate but that would need some amendment, which would be difficult at this late stage of the parliament.
This all-round debacle will just increase the general cynicism of the voters, who at least can console themselves that they snatched back some of their money as the dollars were heading into the parties' coffers.