Trees are important parts of our cities. They provide shade, cool and clean the air, and can even make us feel better just by being present.
But trees in public are also vulnerable to attack, from us.
When the Tree of Knowledge in Barcaldine, so important in the history of the Labor Party and Australian politics, was poisoned in 2006, a political motive was immediately suspected.
Similarly, when the Separation Tree in Melbourne's Botanic Gardens was vandalised in 2010 and 2013, there were again suspicions of a political agenda.
At the time of these killings it was noted that vandalism of trees in Australia is a rare and strange event, but is it?
Vandals strike, councils react
The truth is that many mature publicly owned trees are killed each year. Larger councils with 50-100,000 trees have somewhere between five and 10 trees killed each year.
Killing of large old trees to secure coastal views is common enough for some seaside municipalities to be experimenting with creative responses.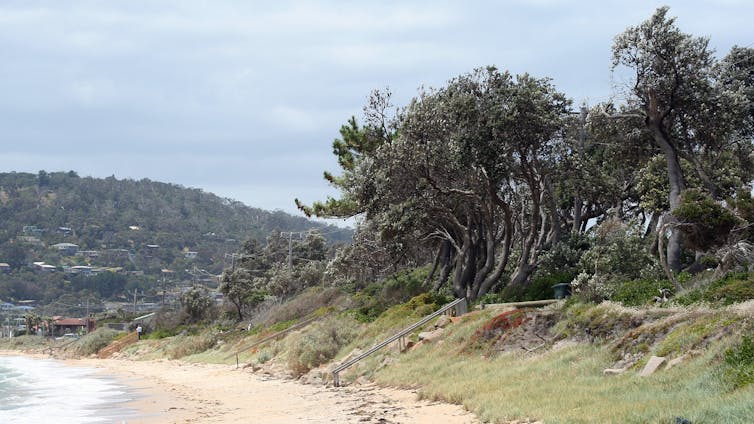 Many, including Tweed Shire Council in northern New South Wales, place large billboards, fences or shipping containers in the place where the tree once stood, advertising that a tree has been illegally killed. The billboards are left in place until the replacement tree has grown larger than the hoarding.
Waverley Council in the eastern suburbs of Sydney has a similar "shaming" policy, and also aims to replace every vandalised tree with two.
Young, recently planted trees are more common targets - around 10% are vandalised on average, but rates of 90% are not uncommon in some plantings. The damage ranges from theft and removal of whole trees to broken branches and shattered trunks.
In one seaside suburban planting, 90% of the trees were vandalised until arborists struck on the tactic of planting new trees with a large stake that wasn't tied to the tree. The stakes were regularly and frequently removed but the trees were left alone and vandalism fell to 10%.
Port Phillip Council in Melbourne has installed cages over new street trees, after losing 80-100 each year to vandals. The City of Sydney installed CCTV to monitor a grove that was attacked by vandals twice.
Whodunnit?
The real question that damage to trees raises is: "why do people do it?"
Some are poisoned by selfish residents who wish to secure a better view of the sea, or resent the nuisance of falling fruits, flowers and leaves. Neighbourly disputes over trees are common, sometimes ending up in the courts or leading to vengeful attacks on trees. Other trees are lost to random acts with no clear purpose, sometimes credited to teenagers or general "vandals".
Not all vandalism is about deliberate destruction. Thoughtless tugs and incorrect pruning can damage branches. Street trees are always at risk from car collisions, especially on road corners and bends. Accidental damage from machinery and fuel spills is also widespread.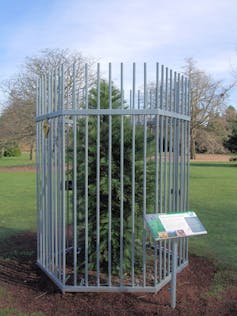 Rare or unusual trees and plants are sometimes stolen from public gardens by those craving a complete collection, or who convince themselves that they will give the tree better care.
In the early days of the rediscovery and release of the Wollemi Pine, several gardens had specimens stolen and others cosseted their trees in large steel guards and barriers for protection.
More trees are purposefully removed each year for powerline clearing, road works, utility installation and development than are killed by acts of vandalism. These thousands of lost trees can ruin suburban, regional and roadside landscapes for decades.
Even the nationally significant Ballarat Avenue of Honour was divided by the building of a rail line in 1993. The 22 km stretch of trees honouring Anzacs was finally reunited in 2015 with an overpass.
Tools of destruction
Poisoning with herbicides and petroleum products are very common and the method of choice for street tree vandals. Holes are drilled into trunks and filled with household herbicides, petrol, diesel and that old favourite, sump oil.
Luckily many of these attempts fail to kill trees, but it is not through lack of trying.
Chainsaws, axes and hatchets have also taken their toll, but they are less common because they are more obvious and culprits have a greater risk of being caught. Killing a large tree with an axe also takes considerable time and effort.
It took two deliberate attempts to kill the Separation Tree and even then the effects were not immediate. Most vandals are neither so determined or patient.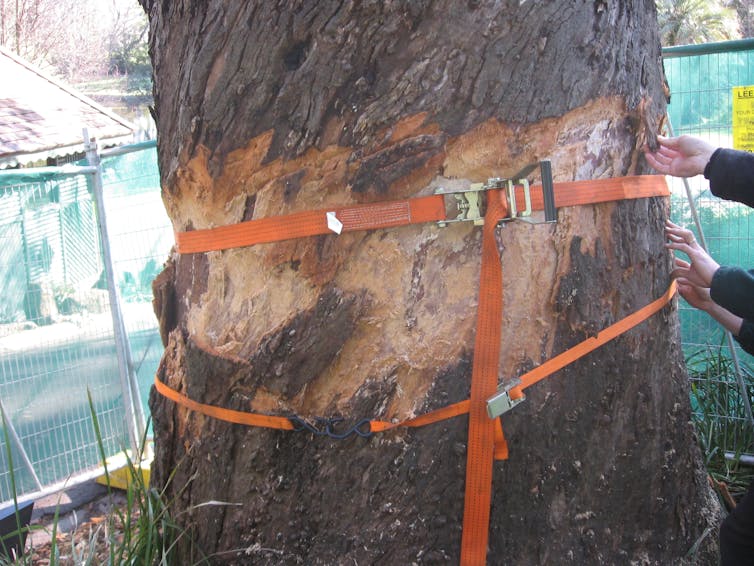 There is also natural vandalism to trees. Cockatoos are notorious for pulling fruits, foliage and bark from trees, while kangaroos, wallabies, hares and rabbits eat out the tops of recently planted seedlings and young trees, especially in revegetation plantings.
Consequences for all
Tree vandalism represents a real cost to individuals, local governments and communities.
Vandals are rarely caught and even when they are, the heavy demands of the burden of proof means that they are rarely prosecuted successfully. However, maximum fines are in the hundreds of thousands of dollars. Police are seeking a fine of $180,000 for the killing of three elm trees in Benalla, Victoria. Another vandal in Brighton, Melbourne was fined $20,000 for damaging a street tree to get a better view of Port Phillip Bay.
However, fines usually range from a few hundred to a few thousand dollars and are settled out of court.
Vandalised trees have to be replaced, and they aren't cheap. Young trees are costly to plant and establish, with an advanced tree costing between $500-1000 depending on size, the number being planted and ease of site access.
Large significant trees have an amenity value of somewhere between $15-30,000- depending on size and species. Young replacement trees will have to grow and be maintained for decades and sometimes centuries to achieve the same functional values such as shade and cooling.
However, the real costs to society go way beyond these immediate losses. Tree vandalism robs future generations of Australians of the joys, pleasures and benefits that great trees provide.