Tired of the multi-million pound deals, the superstar antics of some top players and same teams dominating the top spots? Well, you might find it interesting to have a look down underneath the Premier League, the globally followed top tier of English football.
For the new English Football League season that is getting underway offers even those watching on from afar some romantic sporting tales. For instance, the heartwarming story of Accrington Stanley – Accrington FC was a Football League founder member back in 1888 and the club is about to play its first ever match outside the lowest division of the league. Come on – what's not to like?
But another telling football story from the lower ranks has revealed something about the very fabric of the English game. Last season, Milton Keynes Dons were relegated to the EFL's League 2, while AFC Wimbledon went the other way, promoted to League 1. Why does this matter? It's a long story.
Back in 2002 an FA tribunal agreed that Wimbledon FC could transfer its operations to Milton Keynes – and in 2003 it did just that. Frustrated by small crowds and the lack of local support for funding a new stadium in south London, the then Wimbledon chairman, Sam Hamann, even explored moving his club to Dublin. Meanwhile, the Milton Keynes Development Corporation had fluttered its eyelashes at any number of Football League clubs, before finally finding the FA and Wimbledon's new Norwegian owners in one accord.
In effect, when Pete Winkleman's Inter MK Group bought the relocated club it was buying a Football League franchise and, in 2004, Wimbledon FC – under Winkelman – was renamed MK Dons and settled into a bright new stadium, some 60 miles from its original home.
But most Wimbledon fans cried foul and they formed their own club from scratch, AFC Wimbledon, starting down in the lower basement of non-league amateur football. After successfully slogging their way up the football pyramid the club will now play for the first time in a higher league than their rivals.
Sport as franchised business
This kind of sporting franchise action goes on around the world, of course. In the USA, for example, baseball and NFL clubs sometimes relocate in the middle of the night to avoid any unnecessary unpleasantness. Australian Rules (AFL) clubs have also upped sticks for a better deal elsewhere. But for professional football in England, the MK Dons episode was something of a modern first – and it was not well liked. The respected national football magazine When Saturday Comes still refuses to include the Dons in its pre-season predictions – and fans at rival clubs have little time for the Milton Keynes faithful.
This audacious – or atrocious – move, depending on your predilections, gets to the very heart of the debate about the relationship between sport, local communities and place. Nearly all football clubs in England and Wales are still named after the places they were formed. History matters. As yet, no sponsor's name has been directly attached to a club, though some recent owners with global ambitions have tried to alter club names and kits).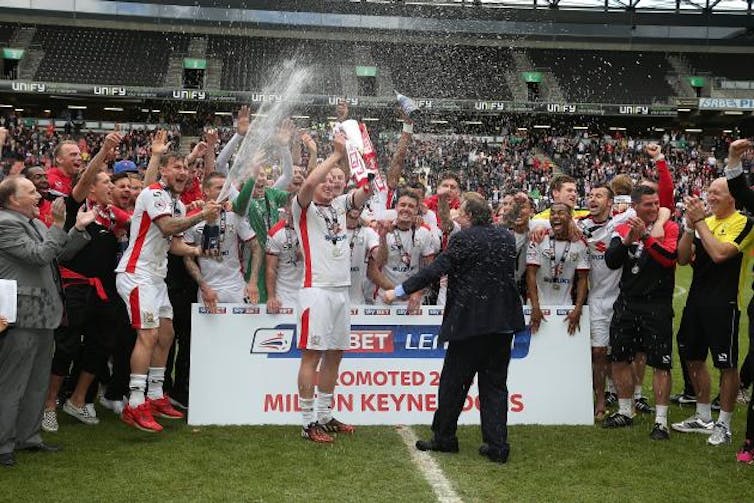 Thus far, at least in some respects, football – and sport generally – in Britain has resisted the model of the USA, which fashions sport as "entertainment" – a consumer product to be bought and sold like any other. If your customers don't buy what's on offer in one location, then find a place where they will. It's business, stupid.
Sport is certainly a strange beast these days, one which is increasingly resistant to place narratives. The resolutely northern Rugby Football League in England, for example, already hosts the Catalan Dragons and recently invited Canada's Toronto Wolfpack club into its orbit.
And there is plenty of persistent talk in football's Premier League about the "value" of relocating some attractive fixtures abroad. Recently, too, the Uefa president Aleksander Ceferin casually conceded that the Champions League final, Europe's premier club fixture, could "easily" be played outside Europe. "For the fans, it's no problem," he said. You think?
No place like home
It is possible, of course, that in a few years we will be looking back at the story of Wimbledon FC and MK Dons as a key moment when British sport finally rid itself of that tiresome, anti-business, historic connection between sport and place. But, somehow, I doubt it.
Because for all its global ambitions and cash-driven expansion, elite sport in England is still, in a very fundamental sense, about promoting and selling local identity; a narrative about who we are and where we come from. And even the FA, the Premier League executives and the arch-capitalists in English football understand that important message – don't they?