A quiet revolution is happening in housing development in Australia. It started small, with a group of architects in Melbourne, but has the potential to transform the way urban housing is conceived, funded, and designed across the country. The architectural community has been watching closely, and with excitement.
The process has not all been smooth. But when, last week, site work finally began on the architect-led, affordable, high-quality "deep green" housing development known as Nightingale 1.0, I was wildly enthused. You should be too.
The story begins with Jeremy McLeod, founder and director of Breathe Architecture. McLeod has recorded a wonderful TEDx talk which explains his thinking better than I ever could, but the conundrum is this: Melbourne (and by extension, all of Australia) will experience massive growth over the next decades – but where will these people live? And perhaps more importantly, how will they live?
The answer is certainly not more suburban sprawl, but it's also not necessarily high-density high rise. Victoria doesn't have New South Wales's invaluable SEPP 65 controls on minimum design quality in apartments – and in Melbourne the overheated property market has led to the construction of some truly terrible high-rise housing.
So what might be an alternative to some of the poor quality, environmentally destructive, socially alienating and prohibitively expensive housing on the market today?
McLeod describes how, back in 2007, he and a group of five architect colleagues got together to address exactly this question. They proposed The Commons: a medium-density housing development in Brunswick. The Commons looked to fulfil a "triple bottom line" approach: pursuing social, environmental and financial sustainability.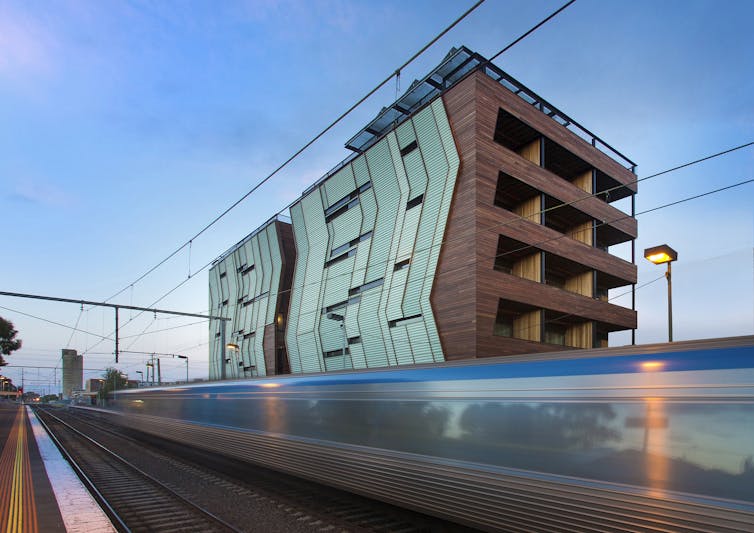 By making strategic savings in some construction costs (no air conditioning, no basement car park, single bathrooms and communal laundry), following basic passive environmental design principles (double glazing, designing to admit or exclude sunlight according to season) and by avoiding environmentally costly materials (ceramic tiles, chrome tapwear), apartments could be cheaper to buy and to run, more sustainable, with a high level of spatial and design quality – and the added bonus of creating a community of like-minded individuals.
The Commons was a success in design terms. It pretty much scooped the pool at the Victorian and national architecture awards in 2014, and is universally admired as a case study in sustainable housing. It has the middle-class fairytale allure of beehives on the roof and a yoga studio on the ground floor – I'd love to live there myself.
But, as McLeod candidly says, it was a failure in financial terms: the global financial crisis meant that the consortium of architects couldn't borrow the money for construction, so they had to find an "ethical developer" at the last moment, and thus relinquished the control that they had set out to achieve in the first place.
It was at this point that McLeod and his collaborators made their revolutionary move, beyond The Commons (a building, albeit a very good one) to what they call the Nightingale Model (a financial paradigm). This shift is the real genius here: moving beyond an architectural model to a financial one, redesigning the funding process before designing any building.
The Nightingale Model works on the same principle of paring back construction costs (the lack of car parking has been controversial, but if you don't have a car, and you do have a train, a tram, and a bike path outside your door, then it seems like a no brainer). It then goes further – by connecting directly with potential owner-occupiers it cuts out the marketing budget, relinquishing the need for an expensive display suite, or real estate agents. These savings are passed on to buyers.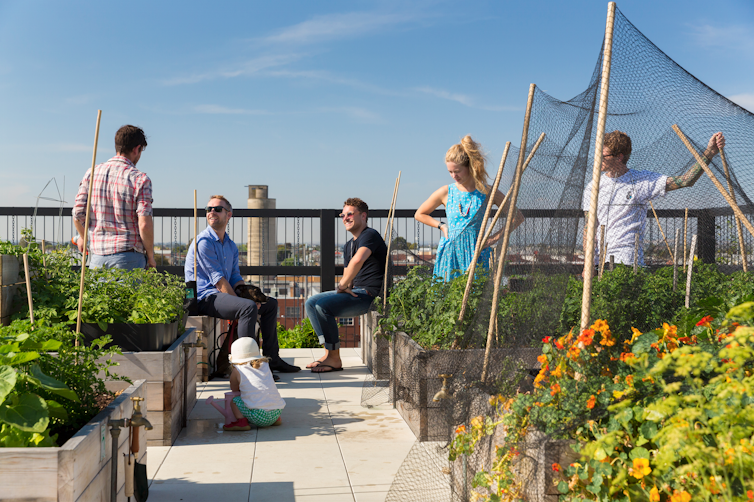 Any big construction project still needs financiers, and Nightingale 1.0 has twenty five of them, in addition to the future homeowners themselves, and the architects in the collective. But these are small investors, and their profits are capped at 15%, not the usual developers' minimum of 20%. The cap removes any incentive to increase profit by squeezing quality, and there's also a limit on how much apartments will be able to be sold for – for twenty years they can only be sold for the average price rise in the suburb on top of their purchase price. One can only imagine the skulduggery that people will get up to in future to get their hands on one of the apartments, but the point is that this is not an investment property which can be flipped to turn a quick buck.
The Nightingale model is scalable and replicable: it is not specific to a particular site or design, and can be rolled out across every city in Australia (hell, the world!). Sure enough, there are already three projects at various stages of development – Nightingale 1.0, across the road from The Commons, has finally achieved council approval and begun site works, while another project in Fairfield, this time designed by Six Degrees Architects, is well advanced, and a third is in planning stages.
There has been so much interest from potential buyers in Nightingale 1.0 (reportedly 800 people on a waitlist for 44 apartments) that they had to be selected by ballot. Other property developers in Melbourne are reportedly flabbergasted at the project's popularity in spite of its having broken all the rules about what people (supposedly) want in apartments. This, of course, should make us wonder about the influence of the real estate market in dictating the normalisation (and arguably mediocritisation) of housing design – and the arms race that it produces, in expectations for environmentally wasteful features such as multiple bathrooms.
So, what do we make of all this?
The Nightingale model is in fact quite close to a housing collective – a model with a long (and still active) history in Australian cities. But Nightingale goes beyond the post-hippie gaggle of friends that makes up many housing collectives, to a scale that is much larger, and much more ambitious. It's no coincidence that all the collectives I know are packed with architects – who invariably believe that there are other values more important than money, and that architecture is more than a branch of real estate.
That said, it's not common for architects to initiate a project from scratch. As the critic Reyner Banham once wrote, architects, like lawyers or engineers, spend their professional lives standing ready to be "propositioned" by a client:
[They] depend upon someone coming forward with the proposition in one hand and the money bag in the other.
The one who holds the money bag holds the power, and thus the ethos of the architect is usually trumped every time: by client/developers focused on maximising profit and minimising risk, advised by real estate agents as to what the market wants, constrained by banks who will not lend on unconventional or insufficiently profitable projects, and restricted by planners who favour the status quo.
The person who will eventually live in the dwelling barely gets a look-in. There is a fundamental disconnection in values and motivations, between the people who fund, design, sell, and live in housing.
The Nightingale Model resets the hierarchy and relationship between these four players, elevating the owner-occupier and the architect as the most important components. As an alternative to the current commodified housing market in Australia, it's an inspiring and exciting step forward.