Friendship is rare and to call a person "friend" is a serious matter. It's not complicated – it implies really looking forward to the next conversation with that person. It implies sharing ideas, hopes, disappointments and, most importantly, dreams. It implies standing by your friend and leaving all else and going to their aid if they need you, no matter how inconvenient.
It also implies being very happy that your friend may be about to become the president of Afghanistan at the same time as worrying yourself sick knowing that this means he is putting his life on the line.
For nearly 30 years, Ashraf Ghani, who in all likelihood will be the next president of Afghanistan, has been such a friend to me. We first met at a conference in Istanbul, as academics often do. Such encounters don't necessarily lead to friendships – within weeks, faces and personalities fade away until what lingers are a few remarks, some bits of information, perhaps, entered hastily in a note pad.
This was not the case with Ashraf; you remembered him. When he asked a questions he listened to the response, looking you in the eye and making you feel like you were, at that moment, the centre of the world.
Professor Ghani didn't appear to engage in conversation to show off his knowledge or his interlocutor's lack of it, he did so because he really wanted to learn from the other person and to contribute himself – and he did so with genuine warmth and regard.
What I noticed at that meeting, both in talking to him or observing him at a distance, was that Ashraf had retained a touch of old–fashioned learnedness with gentle, respectful manners showing humility without self-effacement, and a genuine curiosity. My Ottoman grandparents would identify him as a Muslim gentleman.
At our first meeting, I also noticed a shadow of deep sadness in his eyes which remained with me for many years until 2004 when I met Ashraf and his wonderful wife, Rula, at Istanbul airport and the shadow in his eyes was gone.
Holiday snap
At this stage, Ashraf had been Afghanistan's finance minister and had been a central figure in the re-building process after the 1990s. Rula, with a great deal of resistance on Ashraf's part, had to tear him away from his hectic schedule and drag him to Istanbul for a ten–day break. Of course, Ashraf had not thought of informing the Turkish authorities about his arrival, which – obviously – he was expected to do, as we found out from the Turkish ambassador to Afghanistan whom we met at the airport.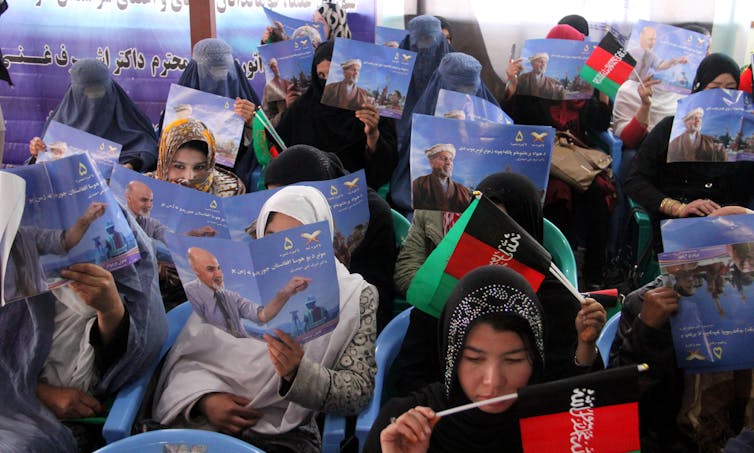 The ambassador was scandalised as Ashraf tried to explain the situation, assuring him that he did not mean to violate any rule of protocol but he had no choice but to obey orders from his wife and his Turkish sister (referring to me) and take a vacation which he had not done for three years as finance minister.
That April day I took Rula and Ashraf to my summer house in Buyukada (one of the Princes' Islands on the Marmara sea close to Istanbul). I left them there for ten days with instructions that they were not to leave the island but rest, take walks and eat fish at the local restaurant.
On the boat to the island, Ashraf told me about what he was able to do as finance minister, including launching a new currency, centralising revenue, setting up a central bank, developing a cellular telephone system, among many other things. He was telling me all this while on the phone giving directives for adding international flights to the schedule of Afghan Airways.
I was seeing a different Ashraf: content and at peace with himself; the shadow in his eyes had disappeared. No doubt he was then, and continues to be, exhausted and frustrated. But he was finally at home in Afghanistan and able to channel his immense physical and mental energies in the service of his country. He has been able to bring the benefit of the knowledge he has cultivated as an academic over the years about Muslim societies: their history, law and social organisation.
Then there is his experience as an official of the World Bank, applying universal models of social and economic development in China and Russia where such implementation had been an uphill process.
Themes of service and an interest in processes as much as outcomes have also been central to our friendship. We recognised in each other a sense of service to one's society which our upbringing has instilled in us.
Lucky country
Now Ashraf will probably be Afghanistan's new president. I have very mixed feelings about this: of course, I am happy for Afghanistan, but as his friend I am anxious for his safety, and obsessively follow every Tweet on the election campaign.
Ashraf is no help – when I talk to him on the phone I find him to be cheerful and full of energy; his voice is not the voice of a person who is putting his and his family's lives on the line. He makes me feel embarrassed for entertaining such gloomy thoughts. Perhaps, I begin to think, that is the secret: not to allow oneself any dark thoughts to sap your energies – I am already planning a trip to Afghanistan this month.