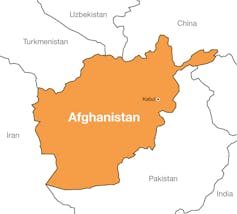 Afghanistan's challenges in 2017 will not be new ones, but those that have lingered from many years of war and violence. They involve armed conflict with the Taliban and related issues of terrorism, attacks on minorities, displacement, rehabilitation of refugees, and engendering gender equality and women's political participation.
The biggest challenge will come from Taliban-led extremism and terrorism. Both Pakistan and Afghanistan blame each other for providing sanctuaries to terrorists unleashing violence in their territories.
The most recent bombing of the Sufi Shrine of Lal Shahbaz Qalandar in Sehwan, Sindh on February 16 has escalated tensions with Pakistan. The border has been sealed. The Pakistani government is protesting the attacks and demanding the terrorists be handed over.
Afghanistan has repeatedly pointed out that both Pakistan and Iran are sponsoring terrorism in its territories and backing the Taliban. Afghanistan looks to India as a regional ally to put pressure on Pakistan, but more political will is needed from all sides to end this cycle of violence and fight extremism and terrorism.
Gender equality, women's rights movements and law reforms have gained momentum. Public discourse and activism, along with international scrutiny, continues to put pressure on the government and the legislature. The continuous demand has been to include women in the peace talks.
A National Action Plan for implementing UN Resolution 1325, which takes practical measures to uphold women's rights while maintaining piece and security, was approved in 2015. The plan was further developed in 2016. However, no budget allocation and concrete implementation strategies have been identified.
Putting this plan into action will be the big task for 2017, and international pressure from women's groups and donor agencies will be important to support local efforts.
Thirty young Afghani women in hijab took the stage at the World Economic Forum at Davos in January and performed in an orchestra. They received death threats and accusations of bringing dishonour to their families and communities. Their music is the ultimate act of resistance and courage that shows how destinies can be shaped in Afghanistan.
As the Pashto proverb says:
Destiny is a saddled donkey, it goes wherever you lead.