In recent years, increasing numbers of people have moved from all parts of Africa to Australia. The largest numbers have come from South Africa, Sudan, South Sudan, Zimbabwe, Egypt, Ethiopia, Kenya, Somalia and Sierra Leone.
Two years ago as many as 380 000 people indicated in a census that they were born in Africa. The migrants have enriched communities and all areas of cultural life in Australia, including music.
African Australians contribute to all major musical genres. Among many others, the diverse artists who have attained success include Timomatic, Sampa The Great, Nhatty Man, Ajak Kwai, Ras Jahknow and Joseph Tawadros.
Timomatic
Nigerian-born singer-songwriter, dancer and actor Timomatic (Tim Omaji) migrated to Australia as an infant. As a child Timomatic played percussion in his family band. He also sang and danced. In his early twenties, he rose to prominence through success in reality television shows. Timomatic went on to establish himself as a leading figure in dance pop, production and musical theatre, as well as taking on TV judging roles.
He will soon play the role of South African activist Sam Onatou in MADIBA the Musical – A Celebration of the Life of Nelson Mandela.
Timomatic's own tracks are mainly love and attraction songs for the dancefloor. However, he sometimes moves into autobiographical territory, as with his 2012 track "Rest Of Our Lives":
Coming from nothing, living alone

Working 'til daylight, writing my songs

Posters of MJ up on my wall

And after fighting all these years

I'm finally here!
Sampa the Great
Zambian-born, Botswana-raised Sampa the Great (Sampa Tembo) is known as one of Australia's leading hip hop artists, but her work draws on a wide range of musical, lyrical and performance styles. Sampa the Great grew up with African beats, reggae, soul and gospel, before developing her interests in hip hop, jazz and neo-soul. She raps in a range of languages, including Nyanja and Bemba from Zambia, Setswana and the indigenous Australian languages Pitjantjatjara and Yankunytjatjara.
On stage, Sampa the Great engages audiences with humour, personal interactions and call and response pieces, as well as her personal style and dance moves. Her lyrics often address various forms of unfairness or hypocrisy. They also celebrate people who struggle, especially women, and promote paths of empowerment or healing.
Sampa the Great's most recent album, "Birds and the Bee9", was released on the highly rated Big Dada label. It features tracks such as "Black Girl Magik", which includes these lines:
Yemaya told me in a dream I was conscious

No I was not woke I was live in a concert

And I spread my voice I was choked and belittled

Then I resurrected part two as the sequel

No I'm not your voice I just wanna be equal

Gotta stand tall we the ones we the people

Look me in the eyes this the cards you've been dealt

I don't need your table I can sit by myself.
Nhatty Man
Ethiopian-born Nhatty Man describes his broad-ranging music as "Ethio jazz, Afrobeat, reggae, dancehall". As well as producing and creating innovative remixes, Nhatty Man performs and collaborates widely, gaining fans across musical genres around Australia and elsewhere.
He mainly works with his five-piece band Gara, producing songs in both Amharic and English. Nhatty Man recently released an ode to his son, "Mamesgegnaye".
Ajak Kwai
Born in Bor, Malakal County, in South Sudan, Ajak Kwai fled the devastation of war and loss as a young woman. After spending eight years in Cairo, she moved to Australia, where she has gained a broad range of fans as a singer-songwriter, theatre performer and community worker.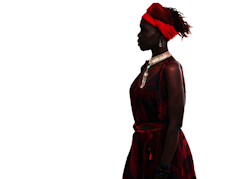 Ajak Kwai formed the band Wahida in 2001, before moving into solo and collaborative work with various other Australian artists. She sings in Dinka (a South Sudanese dialect), Arabic and English. She draws on her memories and uses Afrobeat and gospel music to create her own smooth style.
Ajak Kwai's fourth album, 'Of Cows, Women and War', traces the cultural and life experiences of people in South Sudan, especially from the perspective of girls and women.
Ras Jahknow
Cape Verdean-born Ras Jahknow has been a prominent figure in Australian roots reggae, especially since he formed the Ras Jahknow Band in 2010. The band has featured musicians such as Mauritius-born multi-instrumentalist and vocalist Judex Rose and Ethiopian-born bass player Yoseph H Bekele and percussionist Zelalem Negatu.
Singing in English and Creole, Ras Jahknow, like Ajak Kwai, seeks to enhance understanding and promote peace through his music. One of his most popular and characteristic tracks is "Jah Sta Li".
Joseph Tawadros
Egyptian-born Joseph Tawadros is known internationally as a leading oud performer and composer. The oud is a lute, a stringed instrument used across North Africa. Tawadros moved to Australia at three and grew up with a diverse range of musical influences, from the traditions of his musical family to jazz, pop and metal, and a classical education.
Tawadros is loved for his virtuosity, his willingness to experiment and collaborate across all borders, his personal style and his humour. He has composed for a range of films and for television, performed around the world and recorded prolifically.
Through his diverse collaborations, Tawadros, along with his brother James, has introduced the oud and other instruments to new audiences. Just two examples of this are his performances with the BBC Symphony Orchestra and his work with accordionist Jean Louis Matinier.
The above six artists are just a few of countless African Australians contributing to the country's musical life. Further musicians include Lamine Sonko, Thando, Fasika Ayallew, Moussa Diakité, Bitsat Seyoum, Yusupha Ngum, Yaw Faso, Tkay Maidza and Blaq Carrie.