After three tense days of waiting, Ecuador's National Electoral Council has confirmed that former vice president Lenin Moreno, of the ruling Alianza Pais (AP) party, won the first round in the country's presidential election, with 39.36% of votes. His main rival, banker Guillermo Lasso, of the right-wing CREO party, received 28.09%.
This outcome ensures a run-off, as neither candidate obtained the necessary 40% of votes (plus a 10% gap between first- and second-place finishers) to be declared president.
Moreno fell short by less than 1%, setting Ecuador on edge and triggering the three-day vote count. Both AP and the opposition suggested fraud, and the CREO party urged authorities to declare a run-off before the count was finalised. Lasso himself questioned the validity of the electoral council on Twitter.
De-Correafying Ecuador
Ecuador's current president, Rafael Correa, is the most popular leader since the country's return to democracy in 1979. Elected almost without contest three times (in 2006, 2009 and 2013), his AP party dominates parliament. So the February 19 vote was globally interpreted as a referendum on Correa's leftist legacy in a continent where the right is now making serious inroads.
Though he wasn't on the ballot, Correa was omnipresent throughout the campaign, in which two major political approaches faced off: la des-correizacion, or "de-Correafication", embodied by Moreno, versus the anti-Correa stance of basically every other candidate.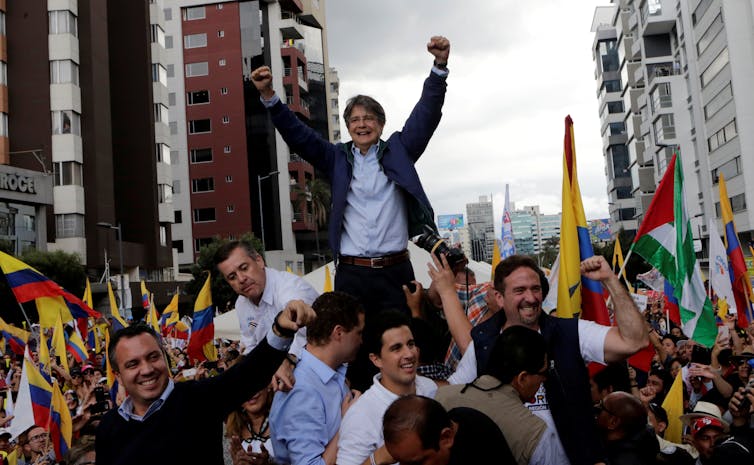 Though AP would have preferred to win without a run-off, first-round results nonetheless show that the party Correa founded continues to be Ecuador's most powerful political movement. It maintained a legislative majority and won a pioneering ballot initiative prohibiting public servants from opening bank accounts in tax havens.
Correa is still popular, with an approval of 50%. But the international dip in oil prices and accusations of corruption at high levels of his government have frustrated some citizens.
In this context, Moreno positioned himself as leader of a de-Correafication process. It gave him – the ruling party's chosen successor – a way to offer both change and continuity as well as to undercut the opposition's monopoly on exploiting Correa fatigue.
Since declaring his candidacy in October 2016, Moreno emphasised that he was a conciliatory politician open to dialogue, differentiating himself from the confrontational style of AP's "great leader".
"I know how to listen, I'm reaching out to everyone," he often repeated on the campaign trail.
In addition to rejecting polarisation as a governing style, Moreno spoke about the need to "refresh the country's international relations", implying he would distance Ecuador from Hugo Chavez's Bolivarian Alliance of Venezuela, Bolivia and Cuba, among others.
Moreno also promised greater flexibility on certain hard principles of Correa's post-neoliberal agenda, responding to demands from diverse sectors. He mentioned eliminating required early tax contributions, for example, and ending protectonist import policies.
But Moreno couldn't stray far from Correa's "citizen revolution" discourse. AP's approval rating has never dropped below 30%, and Ecuadorians cherish its policies of accessible health care, universal public education and poverty alleviation.
So, in the final weeks of his campaign, Moreno presented his Plan for Life, which emphasised fighting poverty and strengthening protections for vulnerable populations like children, the homeless, and the elderly.
His lack of a clear platform and shifting tacks didn't go unremarked. Moreno sent mixed messages and left lacunas. Even core party members at times confessed their bewilderment about an AP candidate who had stopped talking about Correa-esque concepts of "revolution", "national sovereignty", and "putting people before capital".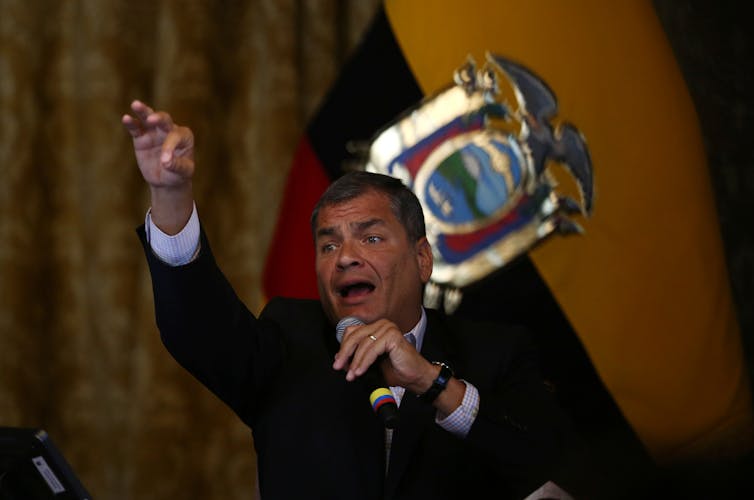 Neoliberalism makes a comeback (or not)
This centrist seesaw is obligatory in today's South America.
After the recent electoral defeats of Kirchnerism in Argentina and Chavismo's loss in Venezuela's legislature, as well as Evo Morales's failed bid to run for a third term in Bolivia and Brazil's impeachment scandal, many experts say the end is near for the region's left-wing populism.
Conservatism was well represented in Ecuador's election; Lasso and former congresswoman Cinthya Viteri together garnered 44% of the vote. And they had no problem with their political messaging. Ecuador's right wing has long been focused on erasing from Ecuador every trace of Correa's citizen revolution.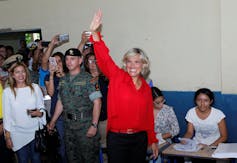 To that end, Viteri and Lasso focused their criticism on the Correa administration's emphatic decision-making, calling him "authoritarian", and "against freedom of expression". Such accusations are linked to Correa's intolerance of political opponents.
They also followed the current global rightward trend, declaring that "21st century socialism has failed." To support this claim the opposition pointed out the shortcomings of a development model centred on public investment, market regulation, protection of domestic production and wealth redistribution.
The fact is, until 2015 Correa's strategy had spurred dynamic economic growth in Ecuador (averaging 4.38%), lower poverty (which dropped 12.5% between 2006 and 2015 and a reduction in inequality (Ecuador's Gini coefficient went from 0.551 to 0.458 in the same period).
But in the past two years the country's economy has cooled down. An oil-producing nation that uses the US dollar as its currency, Ecuador has struggled with the recent drop in its principal export and the high value of the dollar. These global events shook Correa's model.
And so Ecuador saw a resurgence in the kinds of neoliberal recipes that dominated the region from the 1980s until the early 21st century, as have Argentina and Brazil.
Despite the rise in anti-Correa sentiment over the last two years, the right's biggest problem on February 19 is that it arrived at the big day fragmented, with two candidates who competed for the same votes. The two biggest conservative factions – one lead by Lasso and the other by the powerful mayor of Guayaquil city, Jaime Nebot, who threw his weight behind Viteri – couldn't agree on running a single shared candidate.
The April 2 run-off between Moreno and Lasso is shaping up to be fierce. Ecuador's democratic institutions will be put to the test, as will the contradictory legacy of the nation's most ambitious social transformation project since it restored democracy. Who will come out on top?
Correction: This article has been updated to correct a typo in the original version. The opposition garnered 44% in the February 19 election, not 34%.