The Fuego volcano puffs smoke against a clear blue sky, as it has done for centuries.
Here in Antigua, 10 miles away, people go about their daily business: Students rush to school; tourists snap shots of the UNESCO-protected city's Spanish Colonial architecture and cobblestone streets.
Volcano hikes are still marketed as a popular tourist activity. Guatemala's tourism board has even issued a press release reassuring tourists that Guatemala is safe.
That is not true for the tens of thousands of people who were caught by Fuego volcano's recent eruption. On Sunday June 3, El Fuego turned violent, spewing columns of fire, ash and rocks – pyroclastic flows that billowed up some 15,000 feet before raining over the region.
Some 60 square miles of mountainous central Guatemala were blanketed in deadly 400-degree ash. Families having Sunday lunch in the communities of San Miguel Los Lotes and el Rodeo were buried in 10 feet of ash and volcanic rock.
Officially, 110 people died and 197 are missing.
We are an anthropologist-photojournalist team who lives in the area. After the eruption, we interviewed survivors and photographed the devastation. We have come to believe that official death toll is grossly underestimated.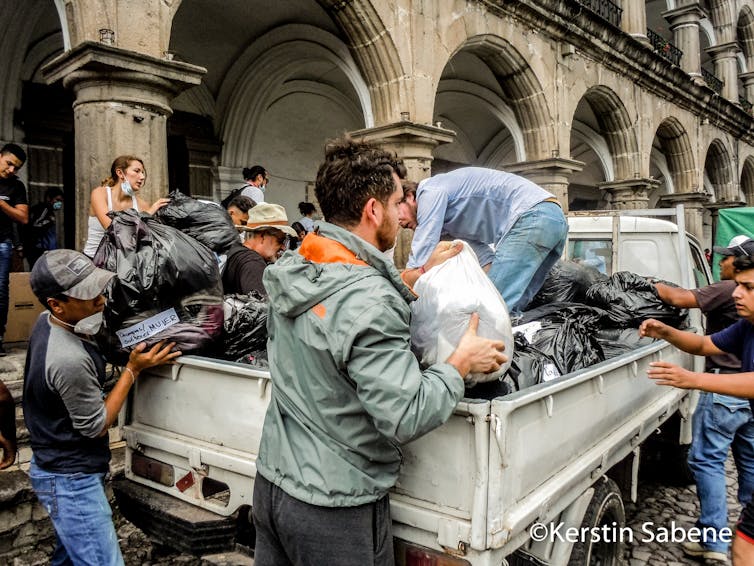 Insufficient government response
According to the National Coordination for Disaster Reduction of Guatemala agency, the region now buried in dense, gray ash is home to more than 1.7 million people.
But no one knows how many people actually lived in the disaster zone.
Guatemala's 2012 population census was cancelled for political reasons, so the last exhaustive door-to-door national census was conducted in 2002. That means population data from the affected areas is almost two decades old.
In that period, the country's population has grown from 12.2 million to over 16 million, according to the World Bank.
Poor, rural communities like those on Fuego's slopes are difficult to count accurately because they are remote and difficult to access. Census workers tend not to speak the indigenous languages that predominate in the Guatemala's Mayan highlands.
Misinformation
In our interviews with victims of the Fuego eruption and the volunteers helping them, several people have complained that the Guatemalan government is reporting information they know to be inaccurate.
It estimates that 12,823 people were evacuated and 3,613 people placed in shelters. Weeks after the eruption, the official death toll remains at 110. Local residents insist it is much higher.
"The government gives these numbers to look like it's in control," one rescue volunteer told us. "We know they are lies. Thousands died and will never be found."
Since the eruption, rain has regularly fallen across Guatemala, hardening the volcanic ash into something resembling concrete. Unless the government sends dozens of workers with heavy equipment, bodies will likely remain entombed where they fell.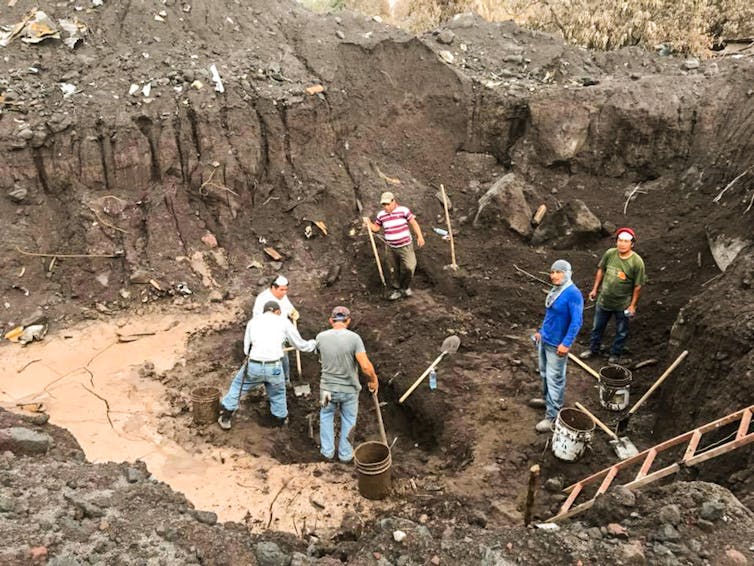 A fumbled rescue effort
The lack of up-to-date population information has made it even harder for Guatemala's cash-strapped government to plan an effective, coordinated rescue and recovery mission.
President Jimmy Morales has declared that Guatemalan law doesn't allow him to spend a penny of the national budget on emergencies. He has asked Congress for US$26.7 million in emergency relief funds.
Considering that simply repairing the 10.5 miles of national highway RN14 destroyed in the eruption is estimated to cost $30 million, many Guatemalans say this budget is clearly insufficient.
Officially, the government's disaster reduction agency is charged with coordinating evacuation, cleanup efforts and providing supplies to victims during any national emergency. National police officers and soldiers are now in place to guard the disaster zone to keep survivors and rescue workers out of the eruption zone.
But the larger rescue effort was mounted by people outside the government. Local volunteer firefighters and emergency workers entered the disaster zone to rescue victims from the hot ash and shuttle survivors to shelter. Social media and civil society organizations – including the academic Guatemala Scholars Network – have played a bigger coordinating role in local aid activities than Guatemala's national disaster office.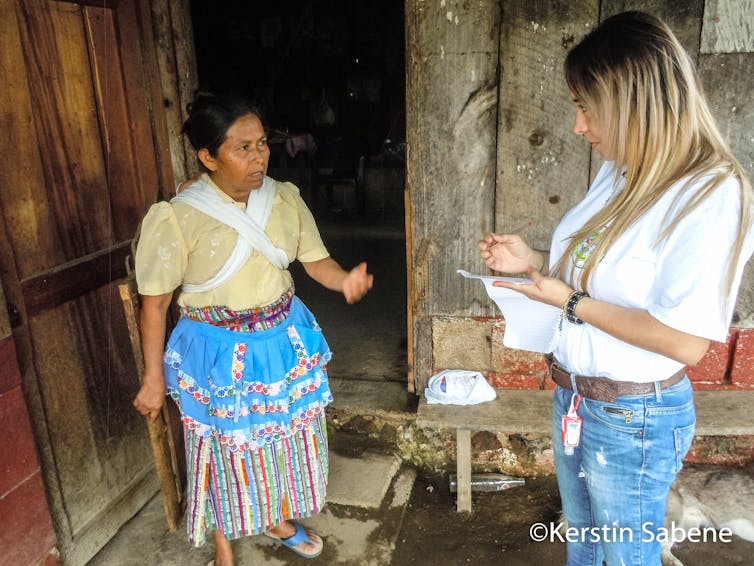 Morales, an unpopular leader, was already enmeshed in a campaign finance scandal. His party is under investigation by a United Nations anti-corruption prosecutor.
Now, the Guatemalan press is skewering him for his ineptitude in responding to this national disaster.
Local response
People did not wait for the Guatemalan government to help after Fuego exploded.
On the Sunday of the eruption, La Merced Church, in Antigua – which was not affected by the volcano – rang its bells, calling parishioners to help the priests who were already loading trucks of supplies to help the victims. Church officials tell us they have sent an average of four trucks daily to shelters, full of collected food, clothing, medicine and other items.
Hangars at La Aurora International Airport, in Guatemala City, have become temporary storage for relief goods pouring in from private donors around the country. It is one of 21 donation centers where hundreds of volunteers bag and label food, clothing, medication, cleaning supplies and personal hygiene items. They are then driven to affected areas.
Volunteers in Antigua's central plaza are accepting donations, too. They deliver food and medicine now. Other items they're housing for later.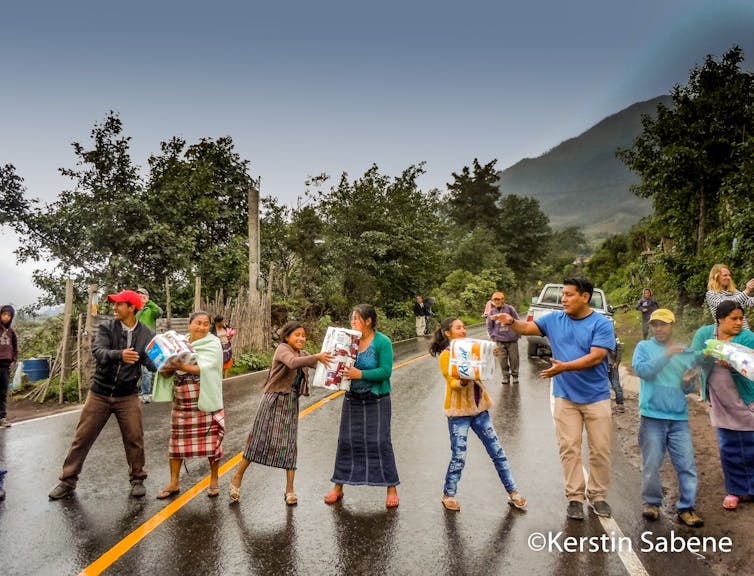 "The media will soon move on to something else, people here will grow weary and the government won't do what it needs to do," explained one woman receiving donations. "So we're collecting anything and everything that is given and saving it for later."
A delegation of volunteers lead by firemen from Antigua are making regular 34-mile trips to the ash-covered village of Paraíso El Xab, where people are now contending with poor air quality, water contamination and damage to crops. Eswin Cabrera, president of the town's Community Council Development Organization, says unripened coffee beans will soon begin to rot.
The National Coffee Association estimates that the eruption destroyed 15 square miles of Guatemalan coffee fincas.
Accustomed to disaster
Neighbors helping neighbors is standard practice in Guatemala.
Guatemala has Latin America's sixth-smallest economy, according to the World Bank, and one of the world's highest crime rates. Almost 60 percent of people live below the poverty line.
Guatemalans know they cannot rely on the national government to provide. And they know how to handle natural disasters. Four of the 37 volcanoes in the country are active. Fuego has erupted some 60 times over the past 500 years, most recently in September 2012.
On June 17, Guatemala suspended its search for bodies and survivors. Local rescue workers, however, continue their grueling efforts.
Kerstin Sabene a photojournalist currently based in Guatemala, contributed original photography and reporting to this article.