When I heard that Asia, and particularly China, started to show interest in cheese, I automatically assumed that the French would be leading the race of cheese exports to the region. How wrong I was. Australian and New Zealand producers will have the most to gain from a booming Chinese demand for cheese.
The introduction of Western-style cheese to the Chinese urban middle class has been gradual. It may have started with large supermarket chains stocking cheese on their shelves to cater for expatriate communities. Even so, it was certainly the international fast food chains and their offerings of pizzas and cheese burgers that shaped the taste of cheese of China's biggest cities.
The impact of fast food on urban communities was such that, by the late 1990s, Chinese consumers had accepted processed cheese or 'nai lao' (milk jelly) into their diet.
But the taste for cheese has come about mainly in large urban areas.
No Roquefort for me
Anecdotal evidence suggests a dislike of "Old World" cheese in China. Most people asked to sample a range of French, Italian and Spanish cheeses said they disliked the smell of the most potent cheeses.
The idea of ingesting old rotten milk is found off-putting in a country that traditionally had no dairy in its diet and where lactose intolerance is common.
Despite the fact that cheese is alien to traditional Chinese gastronomy, imports of processed cheese or "New World" cheese – as it is often called – have been growing at an impressive rate.
Overall, the yearly consumption of cheese per capita is still very low at 200 grams compared to the French consumption of 26kgs per person per year or the yearly Australian consumption of about 12kgs per person.
With an average annual growth rate of 20%, China imported some 30,000 tons of cheese in 2011. This is good news for the three major suppliers of processed cheese to the Chinese market. New Zealand supplies 40% of the import market. Australia and the US make up another 40%.
Unsurprisingly, the local Chinese cheese industry is still in its infancy with production levels of about 20,000 tons (2011) representing a drop in the bucket for the vast world of cheese making. In comparison, in 2011 Australia produced 340,000 tons of cheese of which some 215,000 tons were consumed domestically.
Chinese processed cheese manufacturers not only face aggressive competition from international players, but are still struggling to re-establish trust among their customers since the 2008 milk scandal.
Australian dairy manufacturers – who enjoy a reputation for quality, safety, and competitiveness – now have an opportunity for growth. This was confirmed with recent growth figures in dairy product exports released by the Bega Cheese Company.
Australia's competitiveness and low-cost production are attractive features to international corporations that are seeking an entry point into the growing Asian markets. Already Canadian dairy processor Saputo is in the process of acquiring the Warrnambool Butter and Cheese Company.
And the signing of a free-trade agreement between Australia and China will only bode well for Australian cheese exports. Negotiations have been difficult and lengthy but it is hoped that tariffs will be reduced to allow Australian dairy companies to compete with New Zealand's Fonterra on an equal footing.
Got milk?
But the story of cheese in China is part of much bigger initiative: the introduction of milk into the daily life of ordinary Chinese people.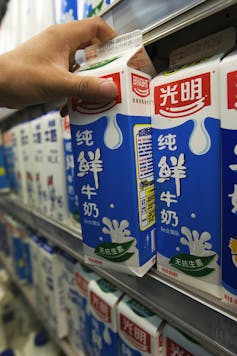 In 2000, the State Council of China set up a national school milk program to address public health concerns, but also to kick start a national dairy industry. Despite the 2008 milk scandal, the program has been going from strength to strength, boosting the average national daily consumption of dairy products two-fold in the last decade.
The burgeoning middle class and its demand for exotic tastes and products prove to be significant trend setters in changing diet as well. The 'Old World' or European-style cheeses have started to capture the imagination of this middle class who are still showing strong interest for European wine. As wine merchants have had to do, cheese manufacturers will have to educate their customers about cheese and its meaning within European gastronomy.
And no doubt European cheese makers are dreaming of achieving what wine makers have accomplished in China. Today, the affluent and urban Chinese youth is learning more about wine than ever before and as a result, the consumption of wine has not stopped increasing.
One sign that traditional cheese is making in-roads into the life of middle class urban China is the opening of traditional cheese-making retail outlets in Shanghai and Beijing.
The Beijing Cheese Maker, or 'Le Fromager de Pekin' as it is called, believes that the Chinese won't be put off by the tangy taste of traditional cheese for long.
So, either way, traditional or processed, things are looking good for cheese!