Japanese pop star Minami Minegashi made headlines worldwide after shaving her head and making an dramatic public apology on Youtube for violating her pop group AKB48's strict no dating policy.
While shocking to many in the West, such behaviour is relatively normal in the sometimes bizarre world of Japanese popular culture.
During a recent visit to Osaka, Japan, I visited one of my favourite haunts, Junkudo bookshop. Waiting in line at the checkout, I looked at the displays above the cashiers, usually reserved for Japanese popular fiction. This time I was surprised to see rows of young girls in bikinis, all soft focus and dewy eyed, staring down at me. The caption at the bottom of these books read AKB48. AKB48 are Japan's most popular all-female pop group.
While girl and boy groups are de rigeur across Asia, AKB48 has the novelty factor of consisting of 61 members. These members are ranked in order of when they joined, ranging from first generation "senior" members to "kenkyūsei" (trainee) members. Also unlike similar offerings in J(apanese)-pop AKB48 have their own theatre where they daily perform. The concept, dreamed up by the group's producer Yasushi Akimoto, is that the girls are relatively relatable and readily available for concerts and promotional meet and greets, "idols you can meet every-day".
Having lived in Japan between 2009 and 2011, I was aware of AKB48's superstardom, but I did not pay much attention to what I deemed typical bubblegum J-pop. On my most recent visit a fortnight ago I noticed the group's popularity had boomed. My friend's female children all had favourite "team-members" and could imitate AKB48's dance routines on cue. The group was everywhere but seemed to have two distinct marketing campaigns.
One was aimed at the pre-adolescent girl market. AKB48 graced the covers of magazines, advertised sweets and a myriad other "pre-teen" products and were even featured in video-games. The other market appeared to be directed at an older male audience. This was who the soft-porn books at Junkudo were aimed at. This incarnation of the group relied on the girls' "sexy" image and played on popular Japanese sexual stereotypes, particularly the "sexy schoolgirl". A recent campaign for Wonda instant coffeE featured AKB48 members, legs splayed and wearing thigh high boots with super short school uniforms, popping out of salarymens' coffee cans.
This is, again, hardly groundbreaking in J-pop, nor Western pop either. But the particular mechanics of the J-pop industry and the recent "sex scandal" involving a senior member of the group, Minegishi Minami, expose some of the harsher realities of J-pop and its attitudes towards women. J-pop groups are usually bound to a particular jimusho (management company), or in AKB48's case, a series of managers, with Akimoto at the top. These relationships are, like those in a kaisha (company), hierarchical and based on age. Most J-pop group members are initiated into the jimusho at a young age at around 14 years old. Also unusual are the strict terms of contract to which J-pop stars are obliged. In particular, male and female pop stars are restricted from dating, or doing anything which appears "unwholesome" such as taking drugs or drinking.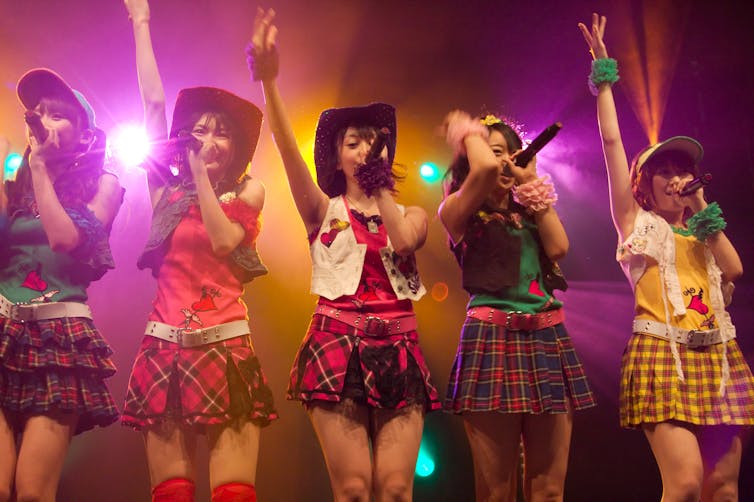 The parameters of what qualifies as "unwholesome" are particularly strict, with pop stars having to maintain an ingratiating naiveté and child-like image. While this is true for both male and female stars, it's when stars "break the rules" that the sexist nature of the jimusho system becomes visible. "Stars behaving badly" is a staple of gossip press the world over, and Japan is no different. In 2009, Tsuyoshi Kusanagi, member of boy band SMAP made Japanese headlines when he was arrested after running drunkenly around a Tokyo park completely naked.He held a press conference and made a public apology then went on to promote the band's latest film soundtrack. When Manabu Oshio, a pop-star and actor fled a hotel room with a dead hostess in it, he was only charged with drug possession and the dead hostess was never mentioned again.
Compare these with the most recent "scandal" involving 20-year-old Minegishi Minami. On 31st January 2013, it was announced that Minegishi would be demoted from senior status in the group to trainee because she had stayed the night at the home of fellow J-pop-star, Shirahama Alan. Within hours, Minegishi had shaved her head and made a public apology on AKB48's YouTube channel crying and saying that she does not expect forgiveness for her "thoughtless … behaviour".
Unlike the stage-managed apology of Kusanagi for his drunken run, Minegishi's statement is utterly affecting, particularly because of her shaved head. Shaving a woman's hair is a key signifier of shame, most notably it was used to humiliate women who slept with Nazis. In Japan, young women's hair is cut short (though not shaved) in years nine and ten to maintain their modesty at the onset of puberty. The members of AKB48 all have long hair.
Minegishi claims that it was her own decision to shave her head in order to display '"contrition" for her "lack of self-awareness". Though it might have been her own choice, it was made in the context of the AKB48 jimusho, a company focused on controlling the representation of its female pop group's bodies. For her apparent deviance from the cute, sexy, attainable, starlet image, Minegishi's body had to bear the shame of her act. Unlike Kusanagi, she was not allowed the dignity of a press conference. Her apology, and her shaved head, had only one purpose, to completely strip Minegishi of all dignity and rationalise her demotion.
It is interesting that some Japanese fans went on in an official Q&A after the incident, to ask AKB48's theatre manager Togasaki Tomonobu if Minami "really reflected on her actions" after she was seen "having fun" with other senior group members.
But ex-AKB48 member, Nakanishi Rina, debuted as a porn star in 2010 and barely a ripple occurred.
It seems that so long as your body and sexuality is on public display for others it's okay, but to be a woman with a private sex life is not.