Apparently, Jane Austen needs updating. Yet again. She's a stranger to the 21st-century world. Her novels need rewriting for a modern readership, and this is what The Austen Project aims to do to get younger readers interested.
Six novelists are rewriting six Austen classics, but this time, they are set in the 21st century. Alexander McCall Smith's modern rework of Emma has just been published, the third in the series. And, I have to admit, I'm intrigued to see what he's done. I'm a big fan of McCall Smith's No.1 Ladies' Detective Agency series, which so successfully translated that very English middlebrow detective genre to Botswana and gave us, in place of Miss Marple, the sage and worldly Precious Ramotswe. So I'm keen to see how this next act of translation goes down.
But I think it's fair to say that we're already well off for Austen adaptations. Jane mania has been alive and well since Andrew Davies' 1995 BBC adaptation of Pride and Prejudice. That coincided with Clueless, the Hollywood modernisation of Emma starring Alicia Silverstone, which was swiftly followed by Gwyneth Paltrow as Emma in the 1996 film.
As with so many of the usual candidates for adaptation – Gothic staples such as Frankenstein's monster, Dracula, Jekyll and Hyde, Sherlock Holmes and Dorian Gray – Austen, it appears, can be created and recreated for new audiences with relative ease. We've become accustomed to appreciate adaptations as creations in their own right, not simply as inferior copies of a hallowed original. So I've started thinking: if Austen's characters can dust themselves off and step into the modern world, which other literary characters have or could? What if we go further back from Austen?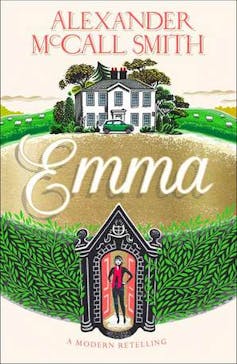 Mythical characters appear particularly versatile. Thanks to Freud, Oedipus Rex endlessly stalks through our modern consciousness. Antigone, too, has strode into the 20th century as a figure of resistance in various contexts: against the fascist dictator in the work of Virginia Woolf and Jean Anouilh, and against Apartheid in Athol Fugard's play, The Island (1973).
And then there's the legend of Faust, the 16th-century scholar who appears in Christopher Marlowe's Doctor Faustus to make his pact with Lucifer and goes on to resonate through 19th and 20th-century culture. Look at Bedazzled, which sees Faust set loose in a swinging 60s London, and again in the 2000 remake. But comedy aside, the fateful pact does seems less resonant for our more secular society. In a 21st-century version, perhaps instead of the Devil, a global corporation could be swapped in, or a superior alien life form? That might work nicely.
Travelling characters too seem, by their very nature, to travel well through time. The pilgrims of Geoffrey Chaucer's The Canterbury Tales stepped onto our TV screens with the acclaimed 2003 BBC adaptation and have more recently been brought back to life in Patience Agbabi's vibrant Telling Tales (2014).
And there have been some brilliant post-colonial and feminist rewrites of Daniel Defoe's Robinson Crusoe – J.M. Coetzee's Foe (1986) and Maxine Hong Kingston's China Men (1980) spring to mind – and Robert Zemeckis's Cast Away (2000), starring Tom Hanks playing a stranded Fed-Ex courier, illustrates how easily Crusoe can shuttle from his early imperial setting into our era of modern globalisation.
Samuel Taylor Coleridge's Ancient Mariner equally sails into the 21st century as a cautionary tale about man's destructive relationship with nature, as Nick Hayes reveals in his 2011 graphic novel, The Rime of the Modern Mariner. It remains to be seen what further explorations Crusoe and the Mariner might undertake in a world now made small by satellite and travel technology – the perils of the Antarctic, ocean trenches, the moon?
So it seems we've no problem adapting pre-1900 texts to the modern day. What about the Victorians? Let's take the Brontë sisters, for example. Jane Eyre has been adapted in numerous ways for stage and screen – and through literary appropriations such as Henry James's The Turn of the Screw (1898) and Daphne DuMaurier's Rebecca (1938) – though DuMaurier never declared this was actually her intention. Jean Rhys went back in time rather than forward in her influential prequel, Wide Sargasso Sea (1966) and Jasper Fforde sped ahead in The Eyre Affair (2001) to an alternative universe in 1985. But, for all that, I'm less sure how we'd respond to a text bringing Jane Eyre or Wuthering Heights to our 21st-century reality.
Imagine a Jane who appears to us as a highly-educated, well-paid live-in tutor, teaching her pupil as they jet between their country home and various exotic locations with her fabulously wealthy employer. So far so good. But then there's the Jamaican wife locked away on a private psychiatric ward. Or what about Heathcliffe, the socially-mobile rogue devoted to his childhood sweetheart, Catherine? He might be reincarnated as a footballer, but one with a cruel streak who dupes poor Isabella Linton into becoming his WAG to boost his celebrity profile. Neither sit all that comfortably, do they?
Brontë rewrites, like those of even later texts such as Michael Cunningham's reworking of Mrs Dalloway in The Hours (1998), are more challenging and less likely to reward us with the consoling fantasy of social order, which is what McCall Smith suggests is key to Emma's continued appeal. We're fascinated by them nonetheless. Rewriting classic texts for contemporary audiences is about so much more than enticing new readers – it's about recalibrating the old with the new, taking stock of the ways we've changed and the ways in which we don't want to change. And most of all, it's fun.