In just one weekend in December, a series of terrorist attacks killed nearly 200 people in five different countries. All of them claimed the lives of civilians, and all were claimed by different terrorist groups.
In Yemen, a suicide bomber killed 48 government troops at a military base in the port city of Aden, injuring 36 people besides; al-Qaeda in the Arabian Peninsula and the so-called Islamic State (IS) were variously cited as the likely culprits. In Turkey, two bombs killed at least 38 people and wounded well over a hundred outside a football stadium in Istanbul; the TAK, a Kurdish militant group, claimed responsibility.
In Nigeria, two girl suicide bombers died after detonating a bomb near a market in Maiduguri, a city in the north-east of the country; an additional 17 people were injured and officials blamed the Islamist group Boko Haram. In Egypt, a bomb exploded inside a Coptic Christian cathedral complex in Cairo killing at least 25 and injuring dozens more, with the perpetrator supposedly IS. Just one day earlier, six policemen were killed in a separate bombing attack on the road leading to Giza, allegedly by a newly formed militant group called Hasm. And in Somalia, 29 people and another 48 were wounded in a suicide car bombing at the entrance of Mogadishu's largest port near a police complex. The violent Islamist group al-Shabaab was reportedly responsible.
This is a horrific spate of attacks, and it should disturb us all. As the scale of what had happened became clear, there was naturally some speculation that the attacks were somehow connected or co-ordinated. But while the resultant headlines are certainly alarming, all the attacks occurred in countries facing very specific challenges. Rolling them all together into one "wave" of violence is misguided, and misunderstands the real nature of global terrorist threats.
A way to make headlines
Nigeria's seven-year Boko Haram insurgency has claimed more than 20,000 lives and forced 2.6m people from their homes. Somalia, a country whose collapsed government propped up by the United Nations, has been fighting an insurgency against al-Shabaab for over a decade.
Turkey, meanwhile, has been involved in a three-decade long insurgency against the outlawed Kurdistan Worker's Party (PKK) in the south-east that has killed tens of thousands of people. Yemen is mired in a hugely complex conflict that has killed more than 10,000 people, while Egypt is still wracked by violent unrest after first a revolution and then a coup.
It's therefore not altogether surprising that these countries should be facing attacks that claim significant casualties, and nor is the use of terrorist tactics something particularly new.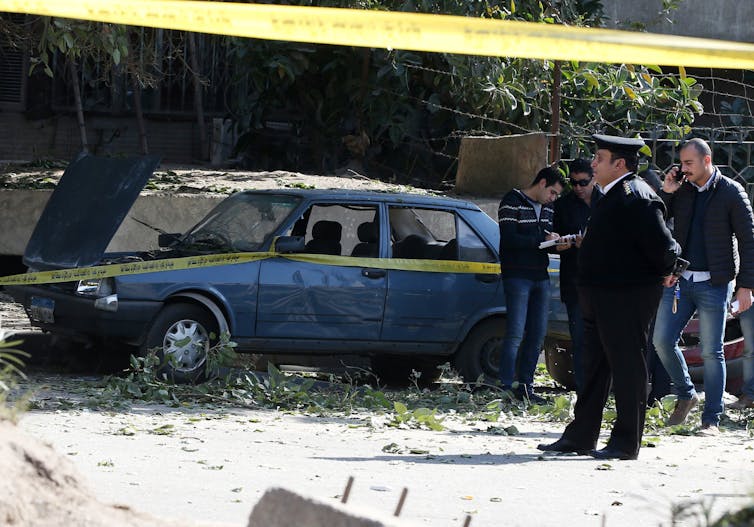 The nature of war has changed; most victims of conflict are now civilians, and more of the tactics used are unconventional. Terrorist attacks aren't just used by terrorist groups – who hide clandestinely in cells, but hold no territory and do not have a militia – but also by insurgencies, who use them as a tactic in low-intensity conflicts. Terrorism is a a cost-effective way to kill many innocent civilians – but more importantly, it's as efficient a way as any to make headlines.
In recent decades, terrorism was principally used by organised groups to strike against richer Western democracies. But today, 70% of all terrorist attacks are of the lone-actor variety, and terrorism is now more commonly taking place in zones of conflict and instability. And though these conflicts are all rooted in grievances of inequality and exclusion, each event is not linked to the other. While it's possible some groups have been inspired by each other – the Tamil Tigers, for instance, pioneered the use of suicide vests – an act of terrorism in Cairo has nothing to do with the bombings taking place in Somalia.
More common?
Whenever a series of terrorist attacks have taken place, it's tempting to jump to the conclusion that there is a pattern or connection. There may be an overwhelming feeling that terrorist attacks are taking place everywhere, and that a terrorism epidemic is turning into a pandemic. But while the number of attacks is high, the global death toll tells a different story.
It's true that the number of deaths attributable to terrorism spiked dramatically in 2014 (particularly in OECD countries), but it went back into decline in 2015 and 2016. At the time of writing, 15,320 people are known to have been killed in terrorist attacks since the start of 2016 – sharply down from 28,328 deaths in 2015 and 32,763 in 2014. Most of these people were killed in countries that are already unstable and troubled by war or insurgency – Iraq, Afghanistan, Nigeria, Pakistan, Syria. These five countries constitute 72% of all deaths from terrorism. But these numbers are decreasing, with Nigeria and Iraq having 5,556 fewer deaths, and Pakistan also seeing a decline in its overall death toll.
Many in the West cite terrorism as a top domestic worry, but that's perhaps because they underestimate just how deadly other forms of violence are. From 2001-2013, 406,496 people on US soil were killed by firearms, while during the same period 3,030 died due to a terrorist attack – the bulk of them thanks to the events of 9/11. In 2011, when 12,533 people the world over died due to terrorist attacks, Mexico saw more than 27,000 people die due to gun violence alone. For the US, 2015 saw around 13,000 people lost to gun violence, or about 2,000 fewer than the global terrorism death toll.
Terrorism's preeminent effects are psychological rather than a physical; it has a way of skewing our perceptions, meaning we perceive a bigger menace than actually exists. To fight it, we need to fight back against these psychological tricks. So long as we go on assuming that terrorist attacks are connected and trying to link them to a global extremist threat looming on our doorstep, we misunderstand the unique problems facing each country – and what's needed to defang them.